Read & Resist: W's Daily Briefing for June 15
Stay informed on the investigation into the hanging of Robert Fuller and the disappearance and death of Oluwatoyin Salau.
---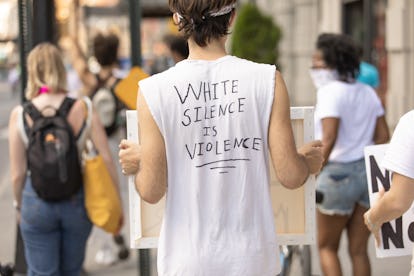 Serichai Traipoom
Back in the day, W started off the morning with a quick round-up of links to that day's fashion- and culture-related news. Times have changed; in the weeks since a white police officer named Derek Chauvin killed an unarmed Black man named George Floyd, protests have erupted across the country. Now, more than ever, it's important to stay up to date, which is why we're reviving "Chic in Review" as the slightly more radical "Read & Resist." Here are the stories, videos, and tweets we're hoping you don't miss this Monday:
Just 10 days and 50 miles separate the deaths of 24-year-old Robert Fuller and 38-year-old Malcolm Harsch. Both were Black men whose bodies were found hanging from trees in public—and whose deaths were quickly ruled suicides. As one of the many demanding further investigations put it: "Why was it right here in public, in front of City Hall, next to a church, in front of a library? Why was it like that? Who would do that? No Black man would hang himself in public like that."
Twenty-seven-year-old Rayshard Brooks spent more than 30 minutes talking peacefully with two Atlanta cops before one of them shot him twice in the back.
Nineteen-year-old Black Lives Matter activist Oluwatoyin Salau went missing the same day that she tweeted about being sexually assaulted. "We're doing this for every Black person, because at the end of the day, I cannot take my fucking skin color off," she said at a protest before her disappearance and death. "Wherever the fuck I go, I'm profiled … I'mma die about my fucking skin."
In 2015, Kerby Jean-Raymond screened a 12-minute film on police brutality at his runway show for Pyer Moss. In this oral history, the designer recalls the death threats and the near-loss of his business that came afterwards.
Around 250 Black fashion professionals have denounced the Council of Fashion Designers of America, accusing the industry of prioritizing "optics over the authentic pursuit of equity" and allowing "exploitative cultures of prejudice, tokenism, and employment discrimination to thrive, unbridled by the sort of watchdog intervention expected of an industry umbrella organization."
Barbara Fedida, a senior ABC News executive, has been placed on administrative leave following reports of abuse and mistreatment of employees as high up as Robin Roberts.
Audrey Gelman recently stepped down as CEO of The Wing. But racism at the women-only co-working space goes far, far deeper, according to nearly a dozen former and current employees who spoke with reporter Ashley Reese.
Newsreel
Food for Thought
Related: Will The Protests Change Instagram for Good? Maybe. Probably Not.