Real Girls: Two Youthful Designers Making Clothes You Want to Wear Everyday
Christelle Kocher and Nafsika Skourti are rising stars who have perfected practical chic.
---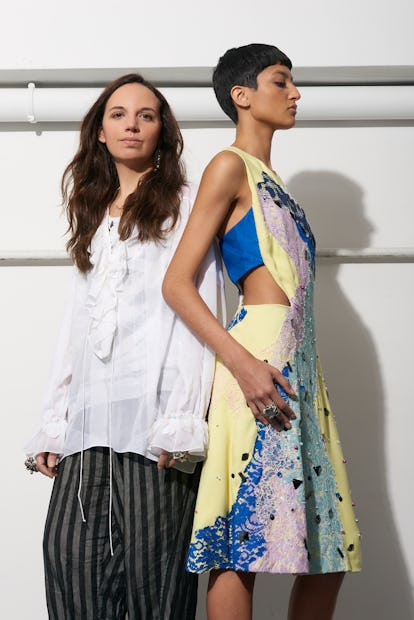 Real girls, according to the French designer Christelle Kocher, do not wear head-to-toe high fashion. Rather, they play the field, sporting a Chanel quilted bag, say, with jeans and a pair of Nikes. It is this distinctively modern approach to dressing that Kocher, 37, was promoting when she launched her elevated streetwear brand, Koché, last year. "I wanted to combine the comfortable with the exceptional," she says. Fortunately, her job as the artistic director of the Chanel-owned couture-adornment house Maison Lemarié—a role she's held for the past five years—has afforded her the opportunity. While loose-cut jeans and tees are made at her own studio, tulle-covered track jackets, paillette-encrusted bodysuits, and meticulously embroidered overcoats are crafted by hand at the atelier.
Photograph by Bachar Srour; styled by Pam Nasr; hair by Tarek Rizk.[/caption]
In much the same way, the 28-year-old, Amman, Jordan–based designer Nafsika Skourti, who studied at Central Saint Martins and then Ecole Lesage, where she learned the "magic," as she puts it, of couture embroidery and passementerie, balances exceptional craftsmanship with a youthful spirit—and is garnering a lot of attention. Her spring collection, which explores the notion of freedom in a war-torn region, features laser-cut dresses in a distorted camo print and army jackets with her signature zigzag pattern hand-embroidered down the back by local artisans. "Clothing should be practical," Skourti says. "But also beautiful."