The Captivating, Complicated, Charismatic Rebecca Miller
The writer and director could be a character in one of her own films.
---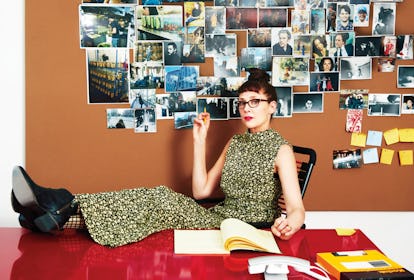 Photographer: Erik Madigan Heck Styled: Felicia Garcia-Rivera
On a rainy day in early spring, Rebecca Miller, who has written and directed five feature films, including Maggie's Plan, a ­refreshingly unorthodox romantic comedy currently in theaters, was studying a self-portrait by Elisabeth Louise ­Vigée Le Brun at the Metropolitan Museum of Art, in New York. ­Vigée Le Brun, who was a feminist before the term was even coined, became successful by painting portraits of fickle patrons, like the notoriously vain Marie Antoinette and members of the royal court at Versailles. After the French Revolution toppled the monarchy (ruining the artist's business in France), Vigée Le Brun, ever resourceful and committed to her art, traveled to Italy and as far as Russia in search of wealthy, powerful subjects. Although she's not well known today, the painter worked steadily into her 70s. "I really like this one," Miller said, transfixed by the image of Vigée Le Brun at her easel, which she did when she was 35. "She's not so young, but there's something wonderfully curious and engaging about her expression. She looks thoughtful, but she also has a kind of honest hopefulness."
Miller, 53, is similarly captivating: Her work—as an artist, a writer of fiction, and, most notably, as a director—has presented a clear-eyed but optimistic view of women during crucial moments in their lives. She has consistently looked inward to invent female characters that are an extension of her own emotional selves. Her first film, Angela, which came out in 1995, was an exploration of childhood told through the story of a 10-year-old girl; Maggie's Plan is about a single woman (played with madcap intensity and intelligence by Greta Gerwig) who sets out to have a child on her own, and her entanglements with two fellow academics (played to New York–intellectual perfection by Ethan Hawke and Julianne Moore). "If I'm being truthful, there's something autobiographical in all of my work," Miller said. "The characters are not me, but they do reflect how I felt as a daughter, as a woman on my own, as a parent, and so on."
Miller grew up in Connecticut in an artistic home—she is the daughter of the American playwright Arthur Miller and the renowned Austrian-born photographer Inge Morath, so her ­biographical reference points take on a particular resonance. Her mother was so obsessed with light that when she discovered that the local high school did not have windows in some of the classrooms, she enrolled Rebecca elsewhere. "We were very close, but I'm mostly unlike my parents," Miller told me over lunch in the Met cafeteria, where she had put together an eclectic meal of miso soup, taro chips, and frozen yogurt. "Ours was a very shy family, and I'm hotter of temperature: I'm more direct." Miller paused. "The one gift that my parents gave me was a strong work ethic. Indolence was not accepted in our house. And my parents took on opposite roles: My mother was encouraging, and my father was more withholding of praise, but in a good way. When I was 9, I wrote a series of stories about a mouse named Fleming, and I illustrated them. He liked those."
Miller smiled at the memory. She is tall and lanky and was dressed like a Western-wear version of the Little Prince, in a wide-leg denim pantsuit with a matching short jacket made by the Paris designer Consuelo Zoelly, elaborately hand-tooled cowboy boots, and a vaguely military Marc Jacobs topcoat. Her wavy brown hair was piled in a loose top knot, drawing attention to the earrings that looked like cherries descending from her lobes. Most notable, perhaps, were her bangs, which stopped at the middle of her forehead. Instead of classically beautiful, Miller came across as beautifully eccentric.
"As a director, one of my favorite things to do is costume fittings," Miller said as she ate her soup. "Character comes out in clothing." In Maggie's Plan, Gerwig's wardrobe—mismatched plaids, flat masculine shoes, colored tights—is contrasted by the cool gray furs and sleek ensembles worn by Moore's character, her sometime rival. Last October, at the premiere during the New York Film Festival, Miller made her own sartorial statement: She wore black corduroy knickers (a gift from her husband, the actor Daniel Day-Lewis), a short tweed jacket, argyle knee socks, and Scottish lace-up dancing shoes. While almost every other woman there was in a party dress, Miller was, as is her way, fantastically unique. "I thought no one else would wear knickers," she said, smiling. "It may sound pretentious, but clothes are another opportunity to be creative."
Miller started out as a fine artist: She studied painting at Yale, and, after graduating in 1984, she sold work consistently and was included in group shows at the prestigious Castelli gallery, in New York—she was well on her way to having a career as a figurative painter. Many of her images were based on dreams. One, in particular, led to a plan to build a kinetic sculpture in which two people on seats attached to a crane dip in and out of buckets of milk. "I was determined to make this crane," she said.
She needed $30,000 to finance the project, and, as fate would have it, Miller had just met Sam Cohn, the talent agent, who took one look at her and said, "You ought to be in pictures!" Cohn sent her on an audition for a role in the NBC miniseries The Murder of Mary Phagan. Miller got the part. And, oh, yes, she made exactly enough money to be able to realize her crane-milk project.
Miller's life is full of those sorts of charmed episodes. In fact, if she weren't so interesting, talented, and such a hard worker (she has been known to write as many as 30 drafts of a script), you might be inclined to write her off as simply being extraordinarily lucky. She has looks, a brilliant lineage, a dazzling husband, two remarkable teenage sons and one step-son (who's a musician), great personal style, and four impressive, successful careers: painter, actress, writer, director. And, yet, instead of envying Miller, I aspired to her thrilling commitment to making art of all kinds.
"I wasn't a great actress," Miller insisted. "But I did study with Elaine Aiken [a founder of the Actors Conservatory] and worked with great directors like Mike ­Nichols and Peter Brook. I distinguished myself by being in the worst films made by world-class directors." She became a spy on set, gleaning as much as she could from every director about how to put a film together. "I never got an answering machine, which may have been a sign that I didn't want to become a serious actress. I reasoned that if people really wanted to find me, they would just keep calling back."
When it came to directing, Miller was equally self-assured. "I didn't know how ridiculously hard it would be to make a movie about a 10-year-old who dies," she said regarding Angela, as she ate her swirled frozen yogurt. "Naiveté was on my side. In terms of life risks, I'm brave. I leap and then look. I rarely understand that what I'm trying to do is nearly impossible."
Angela was a sensation at the 1995 Sundance Film Festival. I told Miller that I recalled walking into a new-directors–type symposium where she was being bombarded with questions about being a female director and the difficulties of finding work as a woman in the movie business. "Not much has changed," she said. "A few weeks ago I was in Miami sitting on a panel about female filmmakers, and I realized, I can't do this again. If I do another female-director panel, I'm going to get so angry that someone is going to have to take me away. It's not that I object to women speaking out—that's great—but I do resist the idea that all female filmmakers should be lumped together. And I don't think a woman should be classified as an 'other.' In a weird way, these panels reinforce the idea that if we're anything other than white men, we're not entirely human." She paused. "Twenty years ago, I was saying the same thing about women in film: Maybe people should just watch movies without thinking about the gender of the director. I'm as different from ­Kathryn ­Bigelow [the Academy Award–winning director of The Hurt Locker], whom I admire greatly, as I am from anyone. We may as well be two different sexes, in terms of our interests. And that's how it should be."
It's a complicated, frustrating issue, made all the more fraught by the inherent difficulty of getting an independent film made in the age of the superhero blockbuster, regardless of gender. But Miller has always been resourceful: When she can't get financing for a screenplay, she will start a novel, or act, or do every job at once. This spring, she was promoting Maggie's Plan at festivals around the globe, had a supporting role in Noah Baumbach's latest film, and was working on a documentary about her father, who died in 2005. "I started filming him around 1991 and stopped in 1997," she said. "I felt that in interviews he had a different persona than he had in real life, and I wanted my sons to see what he was really like, to know their grandfather." She paused, perhaps thinking back to Elisabeth Louise Vigée Le Brun and that painter's need to both please her patrons and to make an artistic statement. "We've cut almost an hour of the documentary together, and even if my initial intention was to be 'nice' in a daughter-y way, I'm not thinking that way anymore." She smiled. "The filmmaker in me always takes over. The truth always wins."
Photos: The Captivating, Complicated, Charismatic Rebecca Miller
Rebecca Miller, in her studio in New York, wearing a Céline dress.

Photographer: Erik Madigan Heck Styled: Felicia Garcia-Rivera
Miller, on the set of her latest film, Maggie's Plan
John Pack/Hall Monitor, Inc./Courtesy of Sony Pictures Classics.
The film's stars (from left) Greta Gerwig and Julianne Moore.
John Pack/Hall Monitor, Inc./Courtesy of Sony Pictures Classics
Miller, with husband Daniel Day-Lewis, 1998.
Hal Garb/AFP/Getty Images.
Miller, in Mike Nichols's 1991 movie Regarding Henry.
Courtesy of Paramount Pictures.
Hair and Makeup by Eric Barnard at Aim Artists; Photography assistant: Matt Occhuizzo; fashion assistant: Hanna Corrie. Maggie's Plan: John Pack/Hall Monitor, Inc./Courtesy of Sony Pictures Classics (2); Day-Lewis and Miller; Hal Garb/AFP/Getty Images; Regarding Henry: courtesy of Paramount Pictures.