Rebel Wilson Goes Big
In case you missed them, here are the top style news stories of the week.
---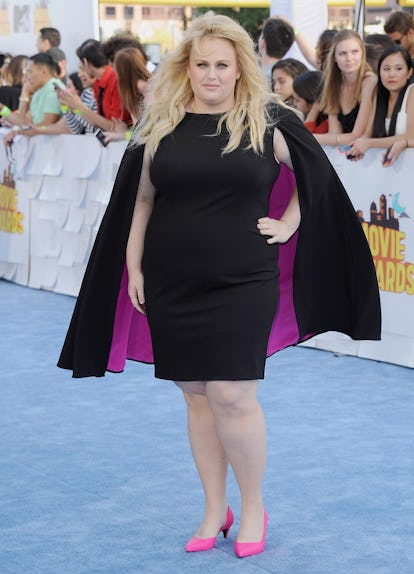 Blanchett, Cate Reveals that she's dated women "many times." And that's settled.
Calvin Klein Cast IRL model couple Jasmine Tookes and Tobias Sorensen in a campaign for Eternity Now. It's guaranteed to be steamy.
Charney, Dov The former American Apparel CEO filed a $30 million lawsuit. Well that was just waiting to happen, wasn't it?
Cyrus, Miley Left the house wearing only bandanas. What, it's laundry day.
De Blasio, Bill The mayor of New York is taking steps to confront issues suffered by nail salon workers. One mani pedi at a time.
Dubroff, Pati The celebrity makeup artist reveals that she hates contouring. Don't tell the Kardashians.
Farfetch Bought the legendary British boutique Browns. Now that's good shopping.
H&M Plans to launch a new beauty department. Will most likely stock contouring tools.
Moore, Demi Had clothing and couture stolen from a storage unit. No word if those Mrs. Kutcher shirts were left behind.
Mulleavy, Kate and Laura The Rodarte designers are directing a film. Will hopefully cast Tavi.
Kesha Revealed that she no longer wears glitter. Still contours.
Lawrence, Jennifer The actress is the new face—er, lips—of Dioraddict lipstick.
Martin, Stacy The Nymphomaniac actress is the new face of the first Miu Miu fragrance. So sweet!
Portman, Natalie To play Jackie O in an upcoming film. Katie Holmes is extremely offended.
Rihanna The pop star's face, lips, and body make their first official appearance in a Dior campaign.
The Devil Wears Prada Will be turned into a musical. Meryl Streep will certainly consider reprising her role.
Turlington, Christy The supermodel/activist is designing a maternity collection for Citizens of Humanity.
Van Beirendonck, Walter The Belgian fashion designer is collaborating with Ikea on a furniture collection. Now that's an upgrade.
Wilson, Rebel The actress is designing a collection for plus-size clothing line Torrid. How torrific!