4 Inspi(red) Pieces
Jony Ive and Marc Newson curated the design sale of the century
---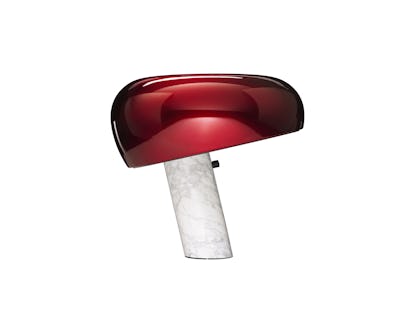 Five years ago, Bono teamed up with Damien Hirst and Sotheby's on a Valentines Day contemporary art auction that raised more than $40 million for (RED), the former U2 frontman's African AIDS initiative. So how could he possibly top that? By asking his pals Jony Ive and Marc Newson to curate the design sale of century. Among the 42 lots, which will go on the block Saturday, November 23, is a genuine Star Wars Storm Trooper helmet (donated and signed by George Lucas), a red Hermès saddle, and a vintage Ettore Sottsass for Olivetti typewriter. "I like to think that (RED) itself is a clever design, a new model, engineered to address a particular problem," writes Bono in the introduction to the catalogue. We couldn't agree more. Here are some of the spectacular things we have our eye on.
Photos: 4 Inspi(red) Pieces
Originally designed in 1967, this Achille and Pier Giacomo Castiglioni "Snoopy" Lamp, with a customized (RED) shade, is literally one of the highlights of the sale.
Jony Ive's father was a silversmith, and Marc Newson trained as one, so leave it to them to "improve" a design classic like Henning Koppel's "Pregnant Duck" Pitcher for Georg Jensen. The inside of this solid silver vessel has been lacquered in Pantone 1805C.
This aerodynamic aluminum desk, designed by Ive and Newson and produced by Neal Feay Studio, is a very solid investment: a one of a kind piece by two of the greatest design minds of our time, that, according Sotheby's Oliver Barker, weighs half a ton.
Nevermind that you only listen to music on your Ive-designed iPod, this Dieter Rams Vintage Hi-Fi System will look great hanging on your wall. It's a work of art after all. And rumor has it that the German designer, a twentieth-century icon in his own right, will be making a rare appearance at the Saturday auction.