Red Valentino Hosts a Store Opening Party During London Fashion Week
Young actresses including Sai Bennett, Emilia Jones, Petra Palumbo and Valentina Ferragni attended the Red Valentino store opening, followed by an after party at London's trendy private club Loulou's.
---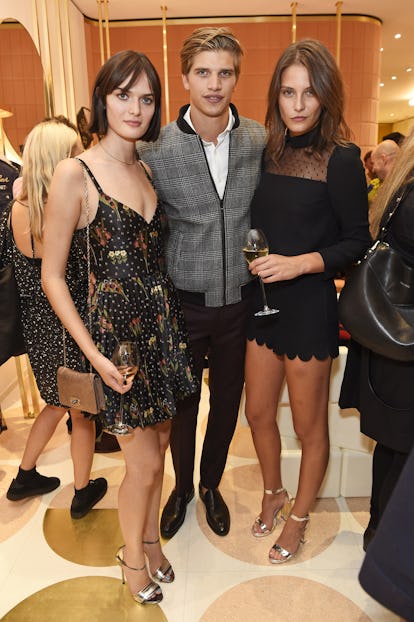 Dave Benett/Getty Images for RED Valentino
"Look, there are birds on it," exclaimed Jasmine van den Bogaerde, better known simply as Birdy.
The British singer-songwriter was admiring her blue and yellow Red Valentino dress – a standout number from Pierpaolo Piccioli's beach themed spring 2017 lineup – inside the brand's flagship in London on Saturday night.
Following an opening in Rome, Red Valentino can now also be found in the English capital, down the block from its parent label on Sloane Street. Featuring women's ready-to-wear and accessories, the shop reflects the brand's own aesthetic; it's elegant and yet edgy, exuding femininity while infusing romance with touches of eccentricity.
"It's amazing, stunning, isn't it?" said Birdy, the current face of the label, who appeared in their fall 2016 ad campaign and in a series of videos singing "Take My Heart" off her latest album Beautiful Lies. "This pink," she added, of the signature soft hue found throughout.
"There's always a softness in the boldness," said architect India Mahdavi, the woman behind the design. "The whole idea is that it's an identity that you recognize, but also, you feel comfortable with it. What I tried to achieve with Red Valentino is to define an identity that was coherent with who Red Valentino is."
Guests, fashion bloggers, models and young actresses – Sai Bennett, Emilia Jones, actor Torrance Coombs with wife Alyssa Campanella, Petra Palumbo, Valentina Ferragni – many of whom were in head-to-toe Red Valentino looks, sipped cocktails as they chatted and browsed aimlessly, snapping photos around the shop.
A capsule collection in collaboration with Brooklyn street artist London Kaye, who works exclusively with crochet, could also be found on shelves.
"It was wild," said Kaye, who was by the storefront putting together a window display installation during the event. "I posted on my Instagram and had a YouTube video that had a little buzz, and Valentino saw it and reached out to me."
"It was definitely something new for me, especially because I usually work on a very big scale for my crochet," she continued. "Making everything so small and delicate was definitely a challenge, but I was able to use that same style and translate it into something that people can put on."
Later, a select few were invited to an intimate dinner held by the brand inside Loulou's – London's private clubs du jour. Guests, including actor Jamie Campbell Bower, first mingled on the top floor terrace, chain-smoking and drinking champagne, then made their way to the restaurant level for an opulent multi-course meal.
"This place is insane," said a passerby, proceeding to take a photo of the restaurant interior.
"Wouldn't do that," said another. "No photos."
RED Valentino Celebrates a Store Opening in London
Giorgina Clavarino attends as RED Valentino celebrates the opening of their first London flagship store during LFW on September 17, 2016 in London, England.

Dave Benett/Getty Images for RED Valentino
India Madhavi and Birdy attend as RED Valentino celebrates the opening of their first London flagship store during LFW on September 17, 2016 in London, England.

Dave Benett/Getty Images for RED Valentino
India Madhavi and London Kaye attend as RED Valentino celebrates the opening of their first London flagship store during LFW on September 17, 2016 in London, England.

Dave Benett/Getty Images for RED Valentino
Jessica Hart attends as RED Valentino celebrates the opening of their first London flagship store during LFW on September 17, 2016 in London, England.

Dave Benett/Getty Images for RED Valentino
Lady Kitty Spencer, Sam Doyle and Sai Bennett attend as RED Valentino celebrates the opening of their first London flagship store during LFW on September 17, 2016 in London, England.

Dave Benett/Getty Images for RED Valentino
Lady Kitty Spencer attends as RED Valentino celebrates the opening of their first London flagship store during LFW on September 17, 2016 in London, England.

Dave Benett/Getty Images for RED Valentino
Lana Palumbo and Petra Palumbo attend as RED Valentino celebrates the opening of their first London flagship store during LFW on September 17, 2016 in London, England.

Dave Benett/Getty Images for RED Valentino
Laura Hayden attends as RED Valentino celebrates the opening of their first London flagship store during LFW on September 17, 2016 in London, England.

Dave Benett/Getty Images for RED Valentino
Laura Hayden and Sai Bennett attend as RED Valentino celebrates the opening of their first London flagship store during LFW on September 17, 2016 in London, England.

Dave Benett/Getty Images for RED Valentino
Lorna Andrews attends as RED Valentino celebrates the opening of their first London flagship store during LFW on September 17, 2016 in London, England.

Dave Benett/Getty Images for RED Valentino
Lydia Forte and Irene Forte attend as RED Valentino celebrates the opening of their first London flagship store during LFW on September 17, 2016 in London, England.

Dave Benett/Getty Images for RED Valentino
Matilda Lowther attends as RED Valentino celebrates the opening of their first London flagship store during LFW on September 17, 2016 in London, England.

Dave Benett/Getty Images for RED Valentino
Natacha Steven attends as RED Valentino celebrates the opening of their first London flagship store during LFW on September 17, 2016 in London, England.

Dave Benett/Getty Images for RED Valentino
Portia Freeman attends as RED Valentino celebrates the opening of their first London flagship store during LFW on September 17, 2016 in London, England.

Dave Benett/Getty Images for RED Valentino
Molly Moorish attends as RED Valentino celebrates the opening of their first London flagship store during LFW on September 17, 2016 in London, England.

Dave Benett/Getty Images for RED Valentino
Petra Palumbo, Lana Palumbo, Emilia Jones and Isabella Calliva attend as RED Valentino celebrates the opening of their first London flagship store during LFW on September 17, 2016 in London, England.

Dave Benett/Getty Images for RED Valentino
Petra Palumbo attends as RED Valentino celebrates the opening of their first London flagship store during LFW on September 17, 2016 in London, England.

Dave Benett/Getty Images for RED Valentino
Portia Freeman and Alice Naylor-Leyland attend as RED Valentino celebrates the opening of their first London flagship store during LFW on September 17, 2016 in London, England.

Dave Benett/Getty Images for RED Valentino
Sai Bennett attends as RED Valentino celebrates the opening of their first London flagship store during LFW on September 17, 2016 in London, England.

Dave Benett/Getty Images for RED Valentino
Lana Palumbo attends as RED Valentino celebrates the opening of their first London flagship store during LFW on September 17, 2016 in London, England.

Dave Benett/Getty Images for RED Valentino
Reem Kanj attends as RED Valentino celebrates the opening of their first London flagship store during LFW on September 17, 2016 in London, England.

Dave Benett/Getty Images for RED Valentino
Sam Rollinson, Toby Huntington-Whiteley and Charlotte Wiggins attend as RED Valentino celebrates the opening of their first London flagship store during LFW on September 17, 2016 in London, England.

Dave Benett/Getty Images for RED Valentino
Sam Rollinson attends as RED Valentino celebrates the opening of their first London flagship store during LFW on September 17, 2016 in London, England.

Dave Benett/Getty Images for RED Valentino
Shini Park attends as RED Valentino celebrates the opening of their first London flagship store during LFW on September 17, 2016 in London, England.

Dave Benett/Getty Images for RED Valentino