Good Jeans
2 denim designers share their favorite jeans, style icons, and more.
---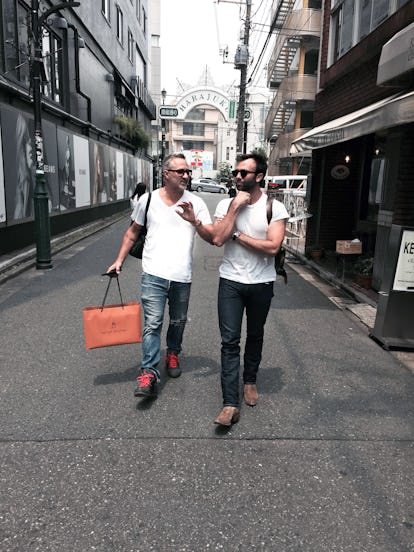 RE/DONE designers Sean Barron and Jamie Mazur reconstruct vintage denim into modern silhouettes, developing a cult following amongst the style set along the way. Here, they share their favorite styles, inspiration, and more.
What is the best pair of jeans you've ever owned? Sean Barron: Strangely enough, I have been wearing a test pair for the new RE/DONE men's line. They are my favorite by a long shot- they have great wear patterns and holes are starting to happen around the knees. Jamie Mazur: It was definitely a pair of early 1950's Levi's. The cotton they used to use to make the denim was different back then. The color was great too. They were a really deep indigo.
What new denim trends are you most excited about? Sean: We are preparing to launch a new fit in the coming months – a wide leg cropped high-rise. Jamie: As far as silhouette goes, a classic slim straight for men, and I love our high rise for women – it feels more womanly, and reminds me of the '70s. Each pair of jeans we make is one of a kind, so it is hard to point to any one favorite color, but generally my favorite jeans have lots of high low color contrasts with whiskering. It gives the jeans so much character.
What do you like about working with denim? Sean: Denim is the only fabric that gets better as you wear it. Jamie: Jeans are by far my favorite article of clothing. In particular I love vintage Levi's. When they are worn for many years, they develop the best wear patterns. They take on a life of their own. You can tell a lot about the wearer just from a pair of jeans – what they did for work, how frequently they washed their jeans, how they wore them, and what their habits were. Jeans are really the only clothing that feels alive. Plus, you can wear them with anything.
What's your secret to creating the perfect jeans? Sean: We receive a lot of our vintage jeans from Europe. Jamie: Wear them as much as possible, and wash them as little as possible. When you do have to wash them, wash them in cold water and don't dry them so as much indigo stays in the fabric as possible.
What denim styles would you resurrect from the past? Sean: I think it's best to leave them in the grave. Jamie: That's a hard one. I feel like all my favorite styles are having a moment right now.
What places most inspire your designs? Sean: I think every city around the world is inspiring. From Sydney to Paris and Los Angeles people all have unique ways of wearing denim. We are starting to shoot in different cites. Last week we shot an amazing French girl in Paris. The way she styled the shoot was totally unique and different from our Los Angeles campaigns. Jamie: Tokyo. In America, people might spend $3,000 on a suit and wear their purchase very proudly, but in Tokyo, people spend that money on unworn vintage Levi's from the 1940's and 1950's. When RE/DONE launched in Japan, we had a party and at least ten different people showed up wearing their unworn, unaltered, original Levi's. I've never see something like that anywhere else. They understand denim and its beauty.
Who are your denim style icons? Sean: I have so many…. Kate Moss, Bruce Springsteen, Emmanuelle Alt, truck drivers… Jamie: Bob Dylan in a pair of Levi's 505's.
Sean Barron and Jamie Mazur. Photo courtesy of the designers.
RE/DONE jeans. Photo courtesy of the brand.
RE/DONE jeans. Photo courtesy of the brand.
RE/DONE jeans. Photo courtesy of the brand.