Reed Kessler: It Girl, It Trend
The equestrian is galloping to the top.
---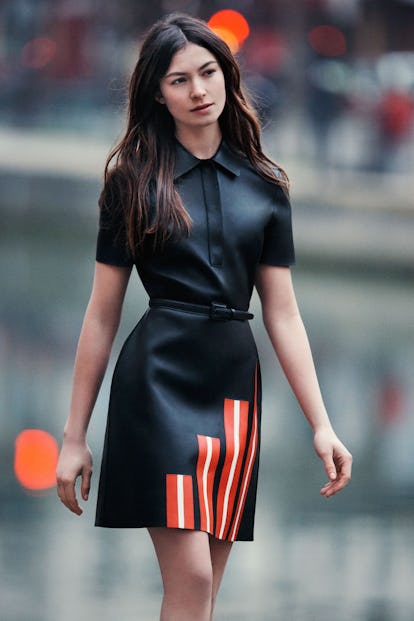 Photographer: Dominic Haydn Rawle Stylist: Omaima Salem
Youth is always a prize commodity, but for Reed Kessler, a member of the United States Equestrian Team who also rides on the Hermès U.S. Show Jumping Team, it was, for many years, an obstacle. A riding prodigy who took her first trot around the ring as an infant, she was often held back by the sport's age restrictions. "I was always the minimum age for everything I did," she says. In 2012, the first year she was allowed to compete on a full international Grand Prix circuit, she came in first at the Olympic trials—making her the youngest ever American rider at the games. (She had turned the requisite 18 just 10 days before they began.) Kessler's devotion to riding was practically predetermined. Her father, Murray Kessler, a tobacco CEO, and her mother, Teri, are amateur competitors, and, growing up in New York's Westchester County, Reed took care of the family pony. Now 20, she has a fleet of her own horses and trains near Dusseldorf, Germany. She has her sights set on the Pan American Games in July, not to mention Rio de Janeiro in 2016—this time without the pressure of being barely legal. "One of my friends said, 'You're not the wonder kid anymore!'" she exclaims with a laugh. "I'm a grown-up, like everyone else."
Photos: Reed Kessler: It Girl, It Trend
Fendi dress, price upon request, fendi.com; Saint Laurent by Hedi Slimane belt, $395, Saint Laurent, New York, 212.980.2970.

Photographer: Dominic Haydn Rawle Stylist: Omaima Salem
Balenciaga pouch, $6,650, similar styles at Balenciaga, New York, 212.206.0872.
Fausto Puglisi skirt, $1,452, Bergdorf Goodman, New York, 212.753.7300..