Reed Krakoff's Artistic License
In a new book, the photographer and designer shifts his focus to the women of the art world
---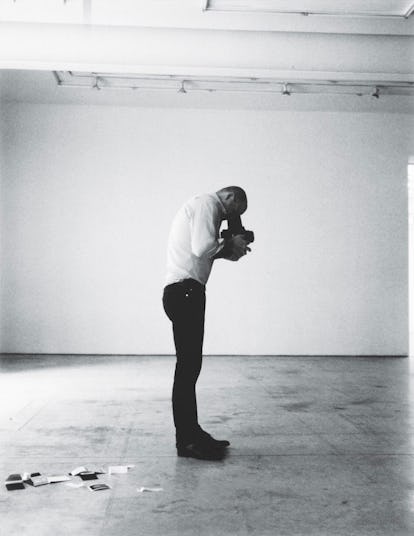 When Reed Krakoff was launching his eponymous line in 2010, he and his team began thinking about the sort of woman who would best embody the new luxury brand. Krakoff's ideal possesses a strong sense of style, of course, and is professional and serious but also passionate about what she does for a living. More and more, Krakoff found himself drawn to women who work in the art world. "That type of woman has always appealed to me," he explained in his office on Manhattan's West Side this spring, citing as examples the gallerist ­Marianne Boesky, the curator Clarissa Dalrymple, and the art adviser Dominique Lévy. He was reclining on a dove gray felt sofa he had designed with his wife, Delphine. A stainless steel Frank Stella sculpture hung imposingly on a far wall.
"I've been collecting art for many, many years," he went on. "At Coach, we have collaborated with artists in every way." (A tote bag emblazoned with James Nares's signature brushstrokes is just one such example.) Krakoff began taking large-format black and white Polaroids of women in the art world, wearing his clothes at their places of work—whether a gallery or, in the case of Art Production Fund's Yvonne Force Villareal and Doreen Remen, an outdoor installation on a freezing winter day. The portraits, along with each woman's quixotic answers to his questions, are being published as the coffee table book Women in Art: Figures of Influence, out this month from Assouline.
As Krakoff paged through an advance copy of the book, he stopped at a portrait of Caroline Bourgeois (favorite museum: "The one in my head"). The Swiss curator is in a dress from Krakoff's spring 2012 Audubon-inspired collection, standing next to an Adel Abdessemed charcoal drawing of an owl. "A happy coincidence," Krakoff noted. The designer, who shot ads for Coach for years and has also photographed every campaign for his namesake brand so far, was aware that working on these portraits would be a different experience than a fashion shoot. "People who aren't models don't want to have their picture taken for more than 20 minutes," he said. "You have to work quickly." Krakoff learned this lesson when he photographed Helen Gurley Brown, the late legendary Cosmopolitan editor, for a personal project about eight years ago. " 'Young man, it's very nice to have you,' " Krakoff recalled Brown saying to him as she regally sat down. After 10 minutes, she rose without warning and announced that the session was over. "I never saw her again," he said, with a touch of wonder.
He met some of the women who appear in his book for the first time when he dropped in on them with his camera. Others, however, are close friends. "That's the tricky part," he said of capturing the likes of the gallerist Jeanne Greenberg Rohatyn (favorite artistic period: "Now"), whom he has known for some 25 years. "There's a lot more pressure if you're going to see them again soon. And all of these women possess a very strong sense of how they want to be seen."