She Is Reese—Hear Her Roar
In a New York City photo studio one November afternoon, a blond two-year-old in a Gap polo shirt, cargo pants and scuffed white sneakers leans over a coffee table littered with fashion magazines...
---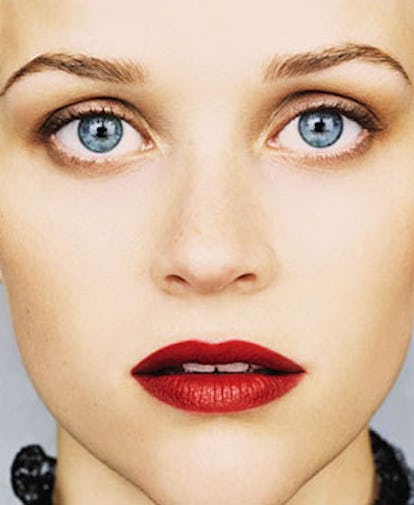 In a New York City photo studio one November afternoon, a blond two-year-old in a Gap polo shirt, cargo pants and scuffed white sneakers leans over a coffee table littered with fashion magazines. One of the glossies is lying open to a beaming, perfect-toothed Gwyneth Paltrow in a fragrance ad. The toddler takes a good, hard look at the Oscar-winning actress and, with remarkable dexterity, grabs a pencil and begins carefully doodling over her eyeballs and incisors.
"Mommy, Deacon was drawing on a lady in a magazine!" announces his six-year-old sister, Ava. Mommy, aka Reese Witherspoon, is sitting nearby in front of a lit-up mirror, having her hair blown out. Deacon trails behind his sister and beams up a giant smile.
"That's not nice! Come here, Mr. Dude," says Witherspoon with mock sternness, and scoops them both onto her lap. The two giggling kids grab at the brushes on the table, bounce up and down in the makeup chair, and proceed to nearly strangle their young mother with hugs. Together, their three heads are one big blur of hair so naturally, buttery blond it could make a Bel-Air trophy wife cry.
Witnessing this spontaneous display of affection by such a genetically blessed family, it's no wonder that the actress and her kids are stalkerazzi magnets. The iconic image of Witherspoon is not of her in an Alberta Ferretti gown treading the red carpet. Rather, it's of the off-duty actress hand in hand with a pink tutu-clad Ava walking to ballet class. Watching Witherspoon whip off Deacon's pull-up diaper or swing him on her hip, as she does now, even in four-inch heels, it's obvious that her role as Hollywood's most hands-on mom has nothing to do with acting.
Then again, it's acting that has made the Baton Rouge, Louisiana-born physician's daughter, who turns 30 in March, the $15 million-a-film megastar she is today. (In the hierarchy of actress salaries, only Julia Roberts and Nicole Kidman earn more.) "I'm not a spring chicken anymore," she acknowledges cheerfully over lunch at the Modern, the illuminated-glass-and-steel restaurant at the Museum of Modern Art that is one of her favorites in town. "I have these young girls come up to me and say, 'I've watched your career since I was little!'"
Dressed in well-worn jeans and a snug knit jacket, a giant Miu Miu handbag perched beside her and an hors d'oeuvre-size Asscher-cut diamond twinkling on her left hand, she looks at first like any young, well-groomed mom out for lunch when the kids are with the nanny. But there are those quick blue eyes, the creamy complexion and skinny brows, not to mention that famous bone structure, giving her what beauty magazines like to call a "heart-shaped face."
When she was just 14, Laura Jean Reese Witherspoon landed her first film role, in the coming-of-age tale The Man in the Moon, through an ad in the local paper. "I didn't know I was the lead until I got the script and my character was on every page," she recalls. After some modest successes (Pleasantville alongside Tobey Maguire; Cruel Intentions, with her now husband, Ryan Phillippe), she became the critics' new darling with her role as the rabidly overachieving Tracy Flick in 1999's Election. Two years later, she rocketed into a box-office phenomenon in the megahit Legally Blonde.
The Mira Nair-directed costume drama Vanity Fair in 2004 was supposed to be Witherspoon's dramatic breakthrough—her leap from playing girlish heroines with more spunk than soul. But the movie was largely panned by critics and never took off with audiences. Then her next film, last fall's lightweight romantic comedy Just Like Heaven, died upon arrival. But Witherspoon's recent missteps have been more than redeemed with her role as country star June Carter in the Johnny Cash biopic, Walk the Line. Not only does Witherspoon sing in the film, she also brings to the part more intensity, steeliness and maturity than anyone—even director James Mangold—expected.
"I had this instinct there was another side of Reese, a womanly side as a mother and a wife, that we hadn't seen on the screen," explains Mangold. "But it still surprised me how much power she had in the vulnerable beats. The entire movie's engine is built on John's movement toward June, so she had to be the sun and the moon for him."
Her performance as the passionate and independent woman whose love eventually helps the troubled Cash find salvation received a Golden Globe nomination and is the type that Academy members live to reward. Witherspoon spent months studying Carter's memoirs and taking autoharp lessons. Still, for all the industry accolades and talk of an Oscar nod, Witherspoon maintains a remarkably detached attitude toward the film's reception.
"I really remove myself. It doesn't feel very personal," she says.
Whereas many other actors say they can't bear to endure their own performances, Witherspoon had no problem watching herself sing solo on the big screen at the Toronto premiere. And not because she thinks she's a fantastic vocalist.
"At that point, there's nothing I can do to change the film," she explains, sipping an iced tea, like any good Southern girl. "You only have control over it while you're making it and once it's out I pretty much relinquish any sort of torment I have about it," she says. "And I don't read reviews."
It's hard to believe that someone so driven and so famously type A (as she named her production company) is not voraciously reading what the newspapers have to say about her work, but Witherspoon is firm on the topic.
"I really look to my friends and family for their reactions," she says. "My mom, dad and brother are finally going to see the movie this week, so I'm excited about that. But the opinion of somebody I don't know and never met is not going to change what I do or how I do it."
As she's always made very clear, Witherspoon's day-to-day existence revolves around an inner circle of people who have little or no relation to her industry. "I have a couple [Hollywood] people I feel I have a connection with, and I'll talk to them occasionally for support," she explains. "But most of my friends are moms, and these are the people I relate to."
Actress Selma Blair, one of Witherspoon's few actress friends, describes Witherspoon as a "sensitive little earthling." "Reese comes from a lovely family, which provides the foundation for everything she's created for herself," Blair says. "She's the antithesis of Paris Hilton. She's never courted the tabloids or wanted to be on parade for the drama. She's about doing good work."
Trying to keep her life as close to "normal" as possible is why Witherspoon has made such a strike back at the ever-intrusive paparazzi, speaking out against their "chaotic and lawless" behavior. Last October she scored one for the celebs when a photographer whom Witherspoon says harassed her family (and even roughed up a friend and her five-year-old child) on an outing to a Disney theme park was charged with child endangerment and battery.
She and Phillippe, who live in a six-bedroom house in a gated community in West Los Angeles, don't even employ a live-in nanny, a nearly unimaginable hardship for any Hollywood power couple who has chosen to spawn. "There are times when a babysitter has to live in our house, like when we're shooting at night," Witherspoon says. "But otherwise we just have babysitters, and that's it.
"I'm really lucky to be in a place where I can kind of say, 'I'll do maybe a movie a year, in Los Angeles and close to home,'" she adds.
When Witherspoon's not working, her life does resemble something close to a traditional suburban existence: She attends church weekly, cooks dinners in her beloved Crock-Pot ("I make a Mexican chicken that cooks all day and gets all shredded—I'll send you the recipe"), volunteers for school field trips and scopes out the neighbors' home improvements. "My girlfriend and I go running after we drop our kids off at school. I like to look at all the houses," she says, adopting a deeper Southern twang. "'Ooh, they put a new porch on their house!' Or 'They got a new tree!'"
She also admits to an addiction to a string of TV shows, particularly Lost, Grey's Anatomy, Barefoot Contessa on the Food Network and, fittingly, Supernanny and Nanny 911.
"I think it's really good for people to talk about parenting," she says of the reality shows, digging into her plate of chorizo-crusted cod. "Kids nowadays are getting less and less respectful. Parents are too afraid of the screaming and the public temper tantrums to say no."
In Witherspoon's house, there are rules, and these rules are meant to be followed: "Yeah, I'm pretty conservative, or old-fashioned, I should say. It's how I grew up. I think you have to let your children be individuals but you have to set boundaries," she continues. "I don't want my daughter shopping for clothes. That would just send her into a tailspin of wanting. And in my house you're not allowed to wear two-piece swimsuits. Other little girls come over in them, and that's fine, but I tell Ava, those are our family's rules. It helps that Ryan and I have similar ideas about all of it. You have to really support your partner in the things that are important to them and hold the line together."
Thanks to an admission Phillippe made in 2002 that he and Witherspoon had been to therapy, the state of their marriage, currently going on seven years, has been the focus of scrutiny for some time now. Witherspoon is unwavering in her portrayal of their tight-knit family despite the fact that her bee-stung-lipped hubby has been known to hit the L.A. nightlife scene without the company of his wife.
During our lunch, she brings up Phillippe several times, always with an example of how comfortable they are as a "great team" and how supportive they are of each other. "We're a really close family unit. We just have a great time together. We love each other," says Witherspoon, with the firmness of a woman who's fought and won a few battles in her time. Clearly, if there's one person capable of tackling a difficult situation, it's Witherspoon, who by her own admission has always been goal-oriented, organized and mature beyond her years. "When I was 12, I was writing my own checks from my own checking account because I wanted to be like a little grown-up," she says. "You know, I'd go to the Hello Kitty store and I'd write a check. Weird, right?"
She employs four women at her production company, whose first project was the Legally Blonde sequel. Other female-empowering films in development include Penelope, a modern-day fairy tale about a girl cursed with a pig face (Christina Ricci stars, and Witherspoon plays her best friend); The Reckoning, a drama about a female photojournalist who goes to Cambodia to investigate the U.S. government's recovery mission of soldiers' remains; Our Family Troubles, a thriller about a new mom whose home may or may not be plagued by an evil spirit; and Sports Widow, a comedy about a woman whose husband is married to his football games, the genesis of which was very personal. "Ryan is completely obsessed with the Philadelphia Eagles," she says, rolling her eyes.
On the subject of women, and especially women in Hollywood today, she has some very firm ideas that she doesn't hesitate to air. And although she won't mention any of the starlets by name, anyone who has watched The Simple Life or Newlyweds wouldn't have a hard time guessing.
"There is something in the zeitgeist right now about women wanting to portray themselves as stupid," Witherspoon says. "I don't know if these women are actresses or singers or whatever they are, but I know they're not stupid.
"The thing that worries me most is that this generation of young women hasn't been fully taught about the strides made by the women's movement in the not-so-distant past—the struggle for votes or to be recognized for legitimate opinions," she continues. "It irritates me that the sort of fad that 'stupidity is cute' might really be doing some serious damage. It's the cheap answer, and let's hope that their moment fades. Sorry, but I have a little girl."
At a time when informed and impassioned celebrities like George Clooney and Sean Penn are using their position in the public eye to talk about the direction of the country, the otherwise outspoken Witherspoon is notably elusive, even cagey, when the subject of politics comes up. "Obviously I have a set of political beliefs. I just don't believe in talking about them publicly," she says. "I'll vote, and I'll talk to my friends. Truthfully, my opinion is not more important than anyone else's. I'm just an actor, and if I had some really strong political conviction I'd run for office. We all have the right to have a voice, but it's mixed messages when you're selling movies and politics."
Would she ever really consider running? After all, Elle Woods traveled to Washington in Legally Blonde 2.
"Yeah, I would," she says. "I just think there's not enough strong political female figures. Hillary [Clinton] is the closest to representing the things I believe in, though I don't align with her on every issue. I'm just saying that I wish there was someone out there who represented more of my ideas."
Senator Witherspoon does have a nice ring to it—though women who share the actress's distinctive blend of traditionalism, feminism and religious faith may have to wait a while before she pulls an Arnold Schwarzenegger: There are plenty more films to produce and star in (Penelope will begin shooting early this year), an award or two to win, and perhaps even another baby to raise. Meanwhile, there's Geena Davis on the tube in Commander in Chief, a show Witherspoon calls "terrific."
"When Ryan saw the commercial for that one," she says, imitating her husband's sarcastic growl, "he said, 'Yeah, that's right up your alley.'"
Chanel silk taffeta dress.