Reese Witherspoon and Claire Danes Spent Friday Night At a Fancy Brooklyn Carnival
All of the best pictures of the week from the parties that you missed.
---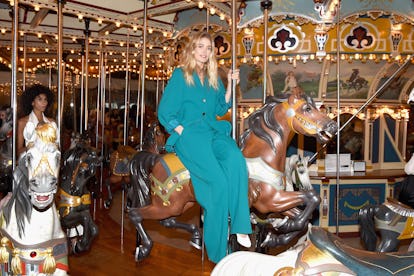 Nicholas Hunt
While weekend two of Coachella kicked off in Palm Springs, the real place to be was Brooklyn, where Tiffany & Co. was hosting their annual high jewelry Blue Book Collection. The star-studded event, which drew the likes of Reese Witherspoon, Claire Danes, and Ruth Negga, took over the St. Ann's Warehouse, complete with a fully functioning carousel. It was the cap to a party-packed week, thanks to the overlapping of Tribeca Film Festival and gala season. But it wasn't all film premieres and black tie; several designers hosted parties of their own, including a cocktail to celebrate the finalists and announce the winners of the inaugural CFDA + Lexus Fashion Initiative, recognizing brands with a high standard of sustainability and social responsibility (the Grand Prize winner, Erin Isakov, was awarded $150,000, while the two runners-up, Maria Cornejo and Wing Yin Yau were each awarded $50,000.) For all of the party pictures that you missed, click through.
Dressed in their finest wares, the A-list attendees of the Tiffany & Co. 2017 Blue Book Collection Gala posed for a picture on the Tiffany blue red carpet.
Inside the event, model Frederikke Sofie took full advantage of the carousel.
CFDA + Lexus Fashion Initiative grand prize winner Erin Isakov, along with runner-ups Wing Yin Yau and Maria Cornejo, celebrated their wins.
Rashida Jones opted for a gilded look to fete pal Brett Heyman's new Edie Parker home collection.
Lucy Hale found a four-legged friend to pose with while hosting the ASPCA After Dark cocktail party.
In Los Angeles, A$AP Bari teamed with The Standard to kick off a one day only VLONE pop-up shop.
Liv Tyler headed to Tokyo to help debut Belstaff's new flagship store.
While Tanya Taylor feted a store of her own, within the CFDA Retail Lab at New York's Cadillac House.
Athena Calderone got into the spirit of spring, hosting a cocktail party for Fabiana Filippi.
And Jenna Lyons embraced the arts at the Public Art Fund 40th Anniversary Benefit.
Related: Dakota Fanning Had Her First Kiss While Playing a Young Reese Witherspoon