Reese Witherspoon and Nicole Kidman Deny Major Big Little Lies Controversy
The stars disputed the report that creative control was taken from director Andrea Arnold.
---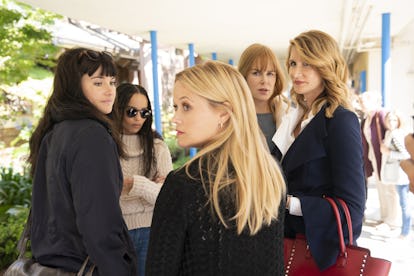 Jennifer Clasen/HBO
Earlier this July, IndieWire published a bombshell report about Big Little Lies. Their sources claimed that while indie favorite Andrea Arnold was hired to direct the second season of the HBO smash under the impressions she'd get creative control, executive producer and season one director Jean-Marc Vallée took creative control, re-editing Arnold's cut. While Arnold declined to speak to the publication, sources close to the director said she was "heartbroken" that her original, un-edited work was never shown. Fans were outraged.
Last week, HBO's president of programming Casey Bloys commented on the report, saying that nothing unusual had happened during Big Little Lies season two production. "There wouldn't be a second season of Big Little Lies without Andrea," he said. "We are indebted to her. I think she did a beautiful job. She got extraordinary performances out of this cast. But as anybody who works in television knows, the director typically doesn't have final creative control. So the idea that creative control was taken from a director is just a false premise. For anyone who understands television, this is business as usual. I would be hard-pressed to point to any show that airs a director's cut as its episode. It's typically the raw material that the producers work from."
And now BLL stars and executive producers Reese Witherspoon and Nicole Kidman, who has been criticized by some on Twitter for their silence, are backing that statement up. In a new interview with EW, the actors agreed with Bloys's assessment. "In our minds, there is no controversy. We just love the show. We had such a great time doing it," Witherspoon said. "There was a lot of misinformation and no credited sources on any of the information. This was an incredibly collaborative process for all of us and the idea that anyone was mistreated and not communicated with is completely not true. I was glad that Casey spoke so clearly about that and we are thrilled with the collaboration that yielded this season. It could have never been this show had it not been with these particular artists collaborating on this particular material."
"[Bloys] said it beautifully," added Kidman. "That's why we had Casey handle it. Obviously, he's the head of HBO. He really said it beautifully."
Witherspoon and Kidman also teased a third season, declining to clarify the season 2 finale (did the Monterey 5 turn themselves in to the police?) in case they decide to go ahead with more BLL. "It's a collaboration," said Kidman. "We work as a group. We are incredibly tight; we talk to each other, and we are on each other's side. So, we will decide as a group… Every single person who has made this has said this show is bigger than any single one of us."
Related: Nicole Kidman Says "A Lot of People" Told Her Not to Do a Second Season of Big Little Lies
The Best Houses Photographed in W Go Beyond Big Little Lies Levels of Real Estate Porn
The sitting room opens onto a courtyard through a wall of windows, inside the home of Danh Vo. Photograph by Martyn Thompson for W Magazine.

Martyn Thompson
Inside Alejandro Jodorowsky and Pascale Montandon-Jodorowsky's home. Photograph by Aya Yamamoto for W Magazine.

Aya Yamamoto
The living room of Alberto Pintos's Paris apartment on Quai d'Orsay, 1990. Photograph by Giorgio Baroni for W Magazine.

Giorgio Baroni
Inside Edward Mitterrand and Iana Moreno's home, Liam Gillick's Rescinded Platform, 2015, hangs above Cap Martin armchairs by India Mahdav. Photograph by Matthieu Salvaing for W Magazine.

Matthieu Salvaing
Inside Fernanda Feitosa's home. Photograph by Fran Parente for W Magazine.

Fran Parente
In the living room, a painting by Xue Song hangs above the Paul Evans sofa. The Embryo chair is by Marc Newson, the silver seating sculpture by Ron Arad, and the Monogold coffee table by Yves Klein. The 18th-century Jean-Baptiste Boulard armchair was a gift from Fares's mother. Inside of Tania Fares's home. Photographs by Ambroise Tézenas for W Magazine.

Ambroise Tézenas
A javelin in the entryway is, in fact, a sculpture by the artist Leonor Antunes. Inside the home of Danh Vo. Photograph by Martyn Thompson for W Magazine.

Martyn Thompson
Es Devlin's living room, with a view of the garden through a glass wall at the back of the house. Photograph by Catherine Hyland for W Magazine.

Catherine Hyland
The "link" between Marilyn Minter's studio and residence is furnished with pieces by Anton Alvarez, Kueng Caputo, and Patricia Urquiola. On the wall are, from left, Kara Walker's Untitled, 2009, and Kenny Scharf's Madoil, 2010. The jumble of boxes, designed by the architect Giancarlo Valle, conceals a coat closet. Photographs by Jason Schmidt for W Magazine.

Jason Schmidt
The rooftop bedroom is more hideout than penthouse inside the home of Danh Vo. Photograph by Martyn Thompson for W Magazine.

Martyn Thompson
Inside Alejandro Jodorowsky and Pascale Montandon-Jodorowsky's home. Photograph by Aya Yamamoto for W Magazine.

Aya Yamamoto
Marlene Dumas's The End of Christianity, 2000, and Pawel Althamer's Chiara and Daniele, 2013 (from left), in the entry hall inside Craig Robins and Jackie Soffer's apartment. Photograph by Martien Mulder for W Magazine.

Martien Mulder
Eli comes face to face with Damien Hirst's Black Sheep, 2007. Alex Israel brings Eli into Art House, designed by Tadao Ando. Photograph by Adrian Gaut for W Magazine.

Adrian Gaut
Inside Sarah Morris's home, floor-to-ceiling bookshelves visually connect the apartment's two levels. Photograph by Jason Schmidt for W Magazine.

Jason Schmidt
Mel Bochner's To Count: Intransitive, 1972–2009, at the Hudson Valley Art Farm. Photograph by Jason Schmidt for W Magazine.

Jason Schmidt
Inside Fernanda Feitosa's home. Photograph by Fran Parente for W Magazine.

Fran Parente
An ornate chandelier is offset by a photograph of a Christmas ornament by the artist Maria Cristina Finucci, inside Sofia and Lucia Odescalchi's home. Photograph by Laura Sciacovelli for W Magazine.

Laura Sciacovelli
A trio of Tokujin Yoshioka's paper loungers in the living room surround Eric Serritella's Cherish Teapot, 2014, atop a Wendell Castle table inside Craig Robins and Jackie Soffer's apartment. Photograph by Martien Mulder for W Magazine.

Martien Mulder
Inside Paris Hilton's home. Photograph by Mayan Toledano for W Magazine.

Mayan Toledano
A view of the dining room inside the Lake Como Estate of film legend Luchino Visconti. Photograph by Guido Taroni for W Magazine.

Guido Taroni
Es Devlin's kitchen and its wall of enhanced bricks. Photograph by Catherine Hyland for W Magazine.

Catherine Hyland
Alex Israel's Self Portrait, 2013, in Anita and Poju Zabludowiczes' London home. Photograph by Jason Schmidt for W Magazine.

Jason Schmidt
A Frank Gehry chair on the stairway landing in Kulapat Yantrasast's home. Photograph by Todd Eberle for W Magazine.

Todd Eberle
A Franz West sculpture next to the indoor pool inside Thierry Gillier and Cécilia Bönström's home. Photograph by Wikkie Hermkens for W Magazine.

Wikkie Hermkens
In Es Devlin's studio, one of two replicas of the giant hands made for a 2017 production of Carmen. Photograph by Catherine Hyland for W Magazine.

Catherine Hyland
A view of the living room and kitchen in Sophie Hicks's home. Photograph by Adrian Gaut for W Magazine.

Adrian Gaut