Rei Kawakubo and Raf Simons Are In, Carven's Design Duo Is Out
The Comme Des Garçons designer will be just the second living designer to get a Costume Institute retrospective, while Carven's creative directors Alexis Martial and Adrien Caillaudaud part ways with the brand.
---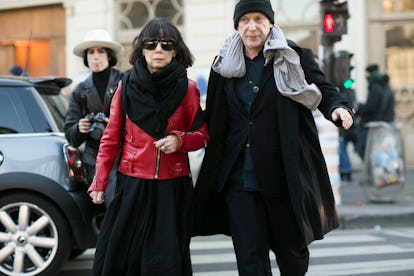 Getty Images
Alaïa, Azzedine The French-Tunisian designer doesn't know his age and doesn't show on the fashion calendar — his latest show debuted Sunday, several weeks after the close of Paris Fashion Week — but he's dressed women ranging from Naomi Cambell to Greta Garbo.
Carven Alexis Martial and Adrien Caillaudaud of Carven are departing the brand after just a year and a half as co-creative directors. When will designers just sit still?
Chung, Alexa A true jetsetter. When you travel like Alexa Chung, sometimes you meet Seal and Rashida Jones in first class. Don't forget your Uggs.
Jacobson, Abbi Gets her Matisse fix with Ilana Glazer; prefers colored pencils over crayons; imagines Martha Stewart with a handmade fanny pack in her new book, Carry This Book.
Kawakubo, Rei The next designer whose work will go on display at the Metropolitan Museum of Art's Costume Institute Gala. We lamented earlier this year that the 2016 Met Gala played it safe. Curator Andrew Bolton says he's hoping the Comme Des Garçons gala will get weird. "I would love for mistakes to happen," he told the New York Times.
Rocky, A$AP Back with new music and a new, La Haine-inspired short film-slash-music video.
Simons, Raf Will show his eponymous label at New York Fashion Week: Men's. Since the Calvin Klein announcement, Simons has gone all-in on his new American roots.
Spears, Britney The boss lady of celebrity fragrance. Her reportedly billion-dollar franchise is backed by Elizabeth Arden and, more than a decade after it initially launched, still going strong.