Designer Rejina Pyo Joins Friends Maryam Nassir Zadeh and Kate Foley at New York Fashion Week
The Seoul-born, London-based designer comes across the pond to New York Fashion Week for the first time ever.
---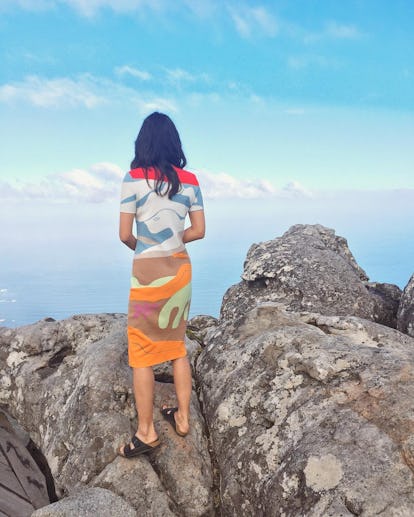 Fashion designer Rejina Pyo, 33, was born in Seoul, South Korea, but currently lives in London with her chef husband Jordan Bourke, who keeps her fueled when she's deep in the design process. Founded in 2013, Pyo's namesake brand is now carried in buzzy New York stores like Sincerely Tommy, and today, with the help of her friends, designer Maryam Nassir Zadeh and stylist Kate Foley, Pyo will present her Spring 2017 at New York Fashion Week for the first time ever. "I love meeting new people, so I decided to take my collection to New York," Pyo says. "And I just wanted to gather people that I love and have a good time!"
Like Pyo's personal style, her designs are artful and effortless, with splashes of color tactfully diffused throughout her otherwise minimalist and architectural line. Here, she explains the inspiration for her most recent collection, and why bright lipstick is the secret to surviving fashion week madness.
Three words that describe your brand's aesthetic: Artful, elegant, effortless.
What do you hope to convey for spring 2017? Living in the moment, being expressive and confident in your own way.
Standout pieces you're super excited about: Marigold Jamie volume dress.
Three things pinned to your most recent mood board: Brancusi's atelier picture, Picasso sculpture, vintage wedding dress from the 1940s.
What's your design process like? Do you sketch? Shop for fabric first? Take smoke breaks? I do everything. I sketch and drape at different times. Sketching is good to get your vague notion out of your head and draping is a marriage between the 3D shapes and the character of the fabric, which I love. You don't know what you will end up with. And when I get stuck in one area, I usually try the other to work my way through it. I think about the fabric as I do this and work it into the designs. I don't smoke, but I love food and my husband, Jordan Bourke is a chef, so I take food breaks!
Design rules you live by: Would I wear this?
Style icons or inspirations: My mum; she knows what she wants and what suits her. She's got her own style.
Fashion pet peeve: Putting too much effort into one's appearance. I feel it almost overshadows your natural beauty. I like it to be as effortless as possible.
Daily uniform: Jeans with a t-shirt or Nancy Stella Soto t-shirt dress.
Night out look: Rejina Pyo Elliot 3D sleeve dress.
Preferred footwear: Flats.
Beauty secrets: Keep makeup to a bare minimum. I love organic brands like Neal's Yard Remedies. I use Korean hair gel/oil just to give texture after washing. And a Diptyque Oud candle while having bath is heaven.
Best recent discovery: Laura Lombardi jewelry.
Last purchase: Yuul Yie X Rejina Pyo shoes.
Lusting after: Le Labo s new city edition scents.
What's always in your bag: Oyster card, Comme des Garçons hologram wallet, Ruby Woo Mac lipstick, and Projekt Produkt X Rejina Pyo sunglasses.
Something you would never wear: Really tight bodycon dress.
Secret to surviving Fashion Week madness: Eat well to not to get sick and bright lipstick covers the tiredness of your face!
Something you're looking forward to wearing this fall: Rejna Pyo black Josephine jacket with ring belt!