Remembering Debbie Reynolds and Her Massive Collection of Hollywood Costumes
The Singin' in the Rain actress, who died Wednesday a day after daughter Carrie Fisher, helped to collect and preserve some of Hollywood's most iconic costumes.
---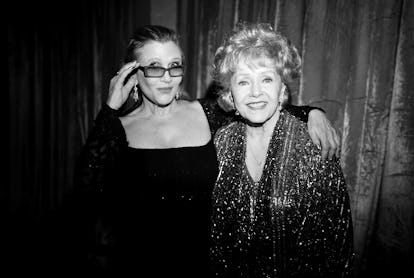 Photo by Charley Gallay/WireImage.
Debbie Reynolds, the legendary actress and singer, died Wednesday at the age of 84 following a stroke and the death of her daughter Carrie Fisher. She leaves behind a legacy on film as the star of classics like Singin' in the Rain, Divorce American Style and The Unsinkable Molly Brown. Less known is her work as an activist, as the president of mental health organization The Thalians, and as perhaps one of the greatest historians and collectors of film fashion.
Beginning with the 1970 Metro-Goldwyn-Mayer auction, Reynolds worked tirelessly to collect and preserve Hollywood memorabilia with an emphasis on its costumes at the time when few in Hollywood cared about preservation. Her collection included the gingham dress and "Arabian"-style ruby slippers worn by Judy Garland in The Wizard of Oz, the infamous white dress Marilyn Monroe wore in The Seven Year Itch, Charlie Chaplin's bowler hat, Julie Andrews' costumes from The Sound of Music and Audrey Hepburn's Ascot dress from My Fair Lady.
"They literally threw away our history and I just got caught up in it," Reynolds told The Hollywood Reporter in 2014. "The stupidity and the lack of foresight to save our history. Oh yes, they gave them away if you came up and said that you have something you had to offer. It was no matter about the history."
Reynolds, who earlier this year received the honorary Jean Hersholt Humanitarian Award at the Academy Awards, ultimately hoped to assemble the collection in a museum, but that plan never came to fruition. The vast majority of her collection ended up being sold at auction, but it is thanks to the late actress that they were preserved in the first place.
Though the collection never found a permanent home together, pieces have been shown publicly throughout the years. Here, a look at just some of the pieces in her possession.
Debbie Reynolds' Hollywood Costume Collection
Reynolds poses alongside one of the original costumes she wore in the "The Unsinkable Molly Brown."

Getty Images
The Ascot dress Audrey Hepburn wore in My Fair Lady.

Alberto E. Rodriguez/Getty Images
The "Arabian" ruby red slippers from The Wizard of Oz were also once in Reynold's collection.

Jemal Countess/WireImage
Marilyn Monroe's iconic white "subway grate" dress.

Amanda Edwards/Getty Image
Alberto E. Rodriguez/Getty Images
Yul Brynner's costume from the 1956 classic Rogers& Hammerstein movie The King and I.

Photo by Kirk McKoy/Los Angeles Times via Getty Images
Debbie sits on the throne from the 1955 movie "Virgin Queen" and with dress worn by Berre Davis(R) and Joan Collins(L).

Photo by Kirk McKoy/Los Angeles Times via Getty Images
Another dress from the 1955 movie Virgin Queen.

Photo by Kirk McKoy/Los Angeles Times via Getty Images
Costumes from The Sound of Music.

Photo by Alberto E. Rodriguez/Getty Images
More outfits from Reynolds' collection.

Photo by Amanda Edwards/Getty Images
A headpiece from one of Reynolds' own films.

Photo by Frazer Harrison/Getty Images
Photo by Frazer Harrison/Getty Images
Photo by Frazer Harrison/Getty Images
The tiara Barbra Streisand wore in Funny Girl.

Photo by Frazer Harrison/Getty Images
A headpiece from Gone With The Wind.

Photo by Frazer Harrison/Getty Images