Required reading in the Hamptons, Aspen & LA
Beckett in Brentwood? Murakami on Main Beach? It's summer, and that means settling down with a big pile of fresh new hardcovers. We rang up three in-the-know booksellers—Charline Spektor, co-owner of BookHampton (above) in the...
---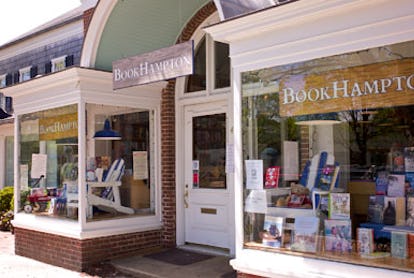 Charline Spektor, co-owner of BookHampton (above) in the Hamptons; Margaret Durney, buyer at Explore Booksellers in Aspen; and Steven Salardino, a manager at Skylight Books in Los Angeles—to hear what's selling and what they're recommending. Their picks reflect the heritage of their stores, from lit-heavy BookHampton to Skylight's more bohemian vibe. And who knows, you might pick up more than just the latest release. According to Salardrino, Skylight has become a standard meeting point for blind dates in Los Feliz. "People from Missed Connections on Craigslist come here to meet for the first time or whatever," he says. "They'll ask me, 'Have you seen a tall, lanky guy?'"
What are some of your bestsellers right now?
Salardino: Pride and Prejudice and Zombies by Seth Grahame-Smith [the Jane Austen classic featuring characters from the undead], Ugly Man by Dennis Cooper and the paperback of David Sedaris's When You Are Engulfed in Flames, which just came out. A book that always does well with us is Haruki Murakami's The Wind-Up Bird Chronicle. It's become what Catcher in the Rye once was—a literary book that's also a bestseller.
Spektor: The Letters of Samuel Beckett —there's something you wouldn't think goes flying off the shelves! Roberto Bolano's 2666. And Everything Ravaged, Everything Burned by Wells Tower. One other book that's going to be our bestseller is Brooklyn by Colm Toibin, about an Irish woman in America. He's such a muscular writer; anyone would be well served by picking it up.
Durney: The Help by Kathryn Stockett and, in nonfiction, Robert Wright's The Evolution of God. And Carlos Ruiz Zafon's The Angel's Game is a book with legs—it's going to continue to sell for quite some time.
Are customers generally looking for lighter fare in the summer?
Spektor: If someone wants a great beach read and I give them Anna Karenina, it opens up an entirely different interpretation of what a beach read is.
Durney: The vampire thing is still big, particularly Charlaine Harris's books, like Dead and Gone.
Salardino: During the summer we get a lot of tourists who've heard about the store, so we typically sell more of everything.
Is "chick lit" as hot as it used to be?
Spektor: We look at things as being worthy of reading—something that's fascinating, something that requires a lot of commitment. What's the corollary to "chick lit"? "Dick lit"?
Durney: Jodi Picoult always does well. I'd call that high-end chick lit.
You all operate in well-off communities—do you see conspicuous consumption in book shopping too?
Spektor: Jack Nicholson came into the store once. He was flying to Japan, and really needed some books to read. We filled up a shopping bag with mysteries and paperbacks that he hadn't read. Those things happen—we're like a candy store, except it doesn't rot your teeth.
Durney: Sometimes interior designers come in and fill up two or three carts of books to go into one of the multimillion-dollar mansions around here. We make $10,000 or $15,000.
What upcoming releases are you anticipating?
Spektor: South of Broad, by Pat Conroy, which comes out in August. For the politically-inclined, Howard Dean has a new book on health care due in July.
Durney: Tracy Kidder has a new book coming out in August called Strength in What Remains, and in September, David Byrne's Bicycle Diaries.
Salardino: Thomas Pynchon's Inherent Vice. We're staying open until midnight on Aug. 3, the day before it's released. People across the country do it for Harry Potter; we do it for Thomas Pynchon.
What books are customers embarassed to be seen with? Spektor: A few years ago, Kim Cattrall and her then-husband came out with a book, kind of a play-by-play about having sex. Soon after we got it, every day at 3:30 we'd see a stream of 13-year-old boys come in. They would bring their snack and juice box, look at the book, then leave. Salardino: Some people get irked when they are forced to buy the edition of the book that says "Oprah's Book Club pick." Or worse is the movie tie-in cover … people want to read Richard Yates's Revolutionary Road, not Leonardo DiCaprio's. I have also noticed some men get a little shy when they buy Twilight.
Photos: Aspen, Nancy Barker; Los Angeles, Nick Bygon.