Respect Trailer: Jennifer Hudson's Take on Aretha Franklin Is Already Generating Oscar Buzz
Jennifer Hudson portrays Aretha Franklin on her journey from Detroit church choir singer to international superstar Queen of Soul (and shade) in Respect.
---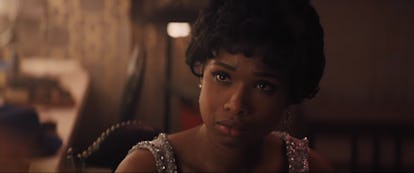 Image courtesy of MGM.
It is difficult to imagine anyone portraying someone as singular as the Queen of Soul, but before Aretha Franklin passed away in 2018, she already knew who she wanted to fill her shoes on screen: Jennifer Hudson.
The biopic about her life had been in development for many years, but Franklin was involved in many steps of the process before her death. Now that the first official teaser trailer for Respect has been released, it is clear that Hudson appears to really do the icon justice, while providing her own vocals for the classic songs that made Franklin a legend.
Joining Hudson are Forest Whitaker and Audra McDonald as Franklin's parents, C.L. and Barbara; Marlon Wayans as the singer's manager and first husband, Ted White; Mary J. Blige as Dinah Washington; and Marc Maron as R&B producer Jerry Wexler.
Respect, which was directed by acclaimed stage director Liesl Tommy, chronicles Franklin's trajectory from Detroit church choir singer to international super star and Queen of Soul (and shade). When the trailer dropped during the 2020 BET Awards, many viewers on social media were reminded of Hudson's Oscar winning performance as Effie White in Dreamgirls, and others sent up their prayers for Blige to get her second acting Oscar nomination as well. (She was nominated in 2018 for Best Supporting Actress for her role in Mudbound and Best Original Song for her performance of the film's song "Mighty River").
Franklin may not be here to see the final product, but knowing she gave her blessing for Hudson to portray her in Respect, and seeing how the first teaser trailer has played out, one has to imagine she'd have more to compliment than just the gowns donned by the lead actress in the film, which will be in theaters this December.
Related: A Look Back at Aretha Franklin's Crucial Support of the Civil Rights Movement