Restaurateur John McDonald's Guide to SoHo, New York
The owner of Lure Fishbar, Bowery Meat Company and Sessanta on his favorite date night restaurant, the best place to get a slice, and what he orders at Dominque Ansel Bakery (hint: it's not the Cronut).
---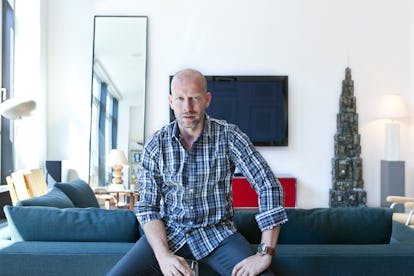 As the owner of Lure Fishbar, El Toro Blanco, Bowery Meat Company, and Sessanta inside the Soho Sixty Hotel (among other restaurants), John McDonald certainly makes the downtown rounds. In fact, he's been eating and drinking his way through the Soho neighborhood for 20 years. Here, he shares his favorite hole-in-the-wall spot, the local delicacy he can't live without, and the best place to get a slice.
Tell us about your neighborhood: While Soho has changed substantially over the past 20 years it still has a unique energy and local chemistry that other areas will never possess. Often people yearn for the past but having been so close to the evolution I just accept that everything changes. Walking the cobble stone streets of Mercer, Greene, Wooster and the surroundings never get old.
Best place to take a visiting restaurateur for drinks or dinner: For 22 years, it was MercBar. Now it's drinks at Temple Bar — super dark with no windows to street. For a quiet dinner, I'll sit in the lobby of Sixty SoHo or the Mercer Hotel or just stick to Lure Fishbar, where I know I can cater to any craving.
Great spot off the beaten track: For years I walked past it because it has a near solid white wall with a thin sliver of a window: Hirohisa. Very traditional Japanese cuisine and great sake list. Don't go if you're expecting a scene; it's quiet and very charming.
Best place to get a slice of pizza: Still go to Ben's on Thompson and Spring, classic plain and pile on the crushed red pepper.
Local delicacy you can't live without: Forget the Cronut. I crave Dominque Ansel Bakery's morning Egg Sandwich.
Best place to buy gifts: I still miss Moss on Greene. Since they closed nothing has replaced it as the one-stop gift spot. You have to just meander around to a variety of great ones.
Favorite date-night dinner spot: Raoul's on Prince Street.
Favorite bar or club for a late night on the town: Weather permitting, A60 Rooftop Bar at Sixty. Otherwise there aren't really any clubs in Soho anymore.
The best day trip out of New York: Sticking to the food theme, Blue Hill at Stone Barns. But go two hours early and get a tour of the entire farm, then sit for early dinner around 6 p.m.
Favorite place to see art in the neighborhood: Just north of Houston Street and tucked away inside a courtyard of a lower Manhattan apartment building sits a massive Picasso sculpture, Bust of Sylvette (1967).
Favorite fashion store: John Varvatos on Spring and Greene.
Local motto you live by: Lately, "You've got to be a thermostat rather than a thermometer. A thermostat shapes the climate of opinion; a thermometer just reflects it." Cornell West.
Go Behind the Scenes with Irina Shayk, Joan Smalls, and Stella Maxwell As They Bring the Hottest Fall Fashion to Life