Revisit the Heidelberg Project's Colorful History in Detroit Before It Disappears
After 30 colorful years, the engine of artist Tyree Guyton's longstanding installation might be finally coming to a halt.
---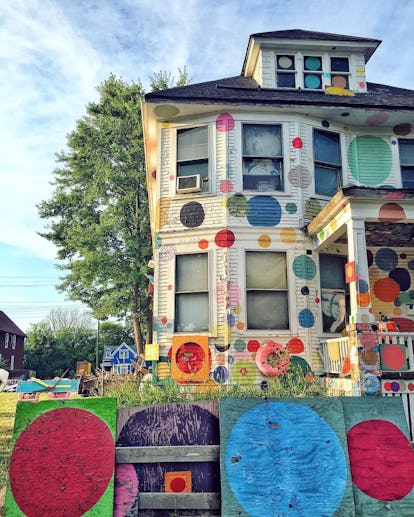 Through the Recession, some dozen attempts at arson, and couple threats of bulldozing from city officials, the Heidelberg Project has stood its ground as Detroit's landmark outdoor art campus for the last 30 years. That's exactly half of founder and local artist Tyree Guyton's life, which is why it's finally approaching the beginning of an end. Guy has decided to dismantle it piece by piece over the next few years, though it's not all entirely in his hands: Since snowballing from an installation with his grandfather to a full-on artist community and cultural landmark, the Project's also become a nonprofit with its own board and, now, set of plans. With the help of an as-yet fundraised million dollars, they're hoping to turn signature structures like the polka-dotted Dotty Wotty House into its own museum — keeping and expanding what's left in Detroit, while other parts are likely headed off to institutions like the Smithsonian.
Whether or not that goes through, this is not the first time the houses have gotten a facelift: Since Guyton first started converting abandoned homes on Heidelberg Street in the '80s, the two-block stretch has been in a constant state of transformation. The houses have been repainted and its found objects kept on heavy rotation, from stuffed animal after stuffed animal to car frames, street signs, dolls, TV sets, misplaced shoes, and plain old junk. Those assemblages usually draw about 200,000 visitors a year, meaning there's always a glimpse at its current permutation on Instagram. Get a look at how it stands now before the motor stops, here.
Watch W's most popular videos here: