How Did Lena Dunham End Up in So Much Drama Over Sweatshirts?
An explainer of LPA and Revolve's anti-trolling initiative, which ended up spectacularly backfiring.
---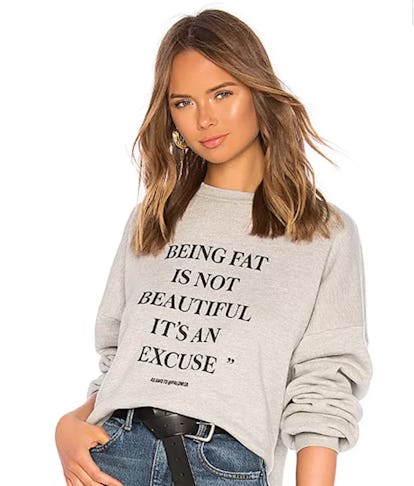 Fashion Week rarely ends without some sort of sticky controversy, but the drama that broke out on the final day of the spring 2019 New York shows was online, in the feeds of people like Lena Dunham, rather than on the runway, in the form of, say, cultural appropriation. It all started when the retailer Revolve added its new collaboration with the LPA to its online offerings, which turned out to be a series of sweatshirts that appeared to be begging for backlash. Indeed, the initial reaction when the promotional images of a sample-size white model wearing a gray sweatshirt that read, in all-caps, "being fat is not beautiful it's an excuse" began circulating was in large part disbelief—particularly when another photo surfaced, featuring the slogan "too boney to be boned."
What had seemed too offensive to be true, though, turned out to be very real. The slogans are quotes reportedly said to the models Paloma Elsesser and Cara Delevingne, respectively, and are part of LPA's partnership with Dunham in response to her and the LPA founder Pia Arribo's "experience with internet trolling." Arribo announced the collaboration on Tuesday, adding that it would benefit one of their favorite charities. She adopted an entirely different tone, though, in the DMs that the London-based artist Florence Given posted on Wednesday, shortly after reposting the marketing photos with the caption, "@revolve Selling fatphobia to rich skinny women at £162 a pop? Am I missing something? HOW is this okay? I'm confused." (According to Given, Instagram has since deleted the post for violating its community guidelines, though you can see screenshots of the two shirts featured in the gallery below.)
Within just an hour, Given followed up with news that Elsesser had told her she is "MORTIFIED about how this quote has been used, and is asking for her quote to be pulled," and shared what appears to be Arribo's side of things via a conversation the pair had over DMs. Apparently, "for some reason," Revolve posted the imagery—which Arribo said she has since made them remove—early, meaning without the context of it being a collaboration with five women with "the worst troll quotes," in an aim to "shine the light on how horrible trolling is" and raise money for the charity. (Fashionista reports that Suki Waterhouse is also involved, with the quote "If you translated a bum onto her face, she'd have a better face," as well as Dunham, with the quote "Horrible Result of Modern Feminism." The quotes are emblazoned above tiny lettering reading "as told to" the name of each woman.)
Arribo said that each woman submitted her own quote, which of course come across quite differently when worn by a thin, white, industry-accepted model. As Given put it, "a thin woman in a fatphobic message is inexcusable," and Arribo appeared to agree, telling the artist that she had planned to promote the sweatshirts on LPA's site with selfies each women took of herself wearing them. Neither Arribo nor Revolve has yet addressed the fact that the sweatshirts were only available in sizes up to XL, though Arribo did tell Given that the launch had been planned for the next day—and that "this is a nightmare."
A few hours later on, Wednesday afternoon, Dunham made it clear she also considered the whole matter to be "inexcusable" via a lengthy post on her Instagram story, explaining that she's spent months working with her friend "Pia's" company through its parent company, Revolve, on what she summed up as "sweatshirts that highlight quotes from prominent women who have experienced internet trolling & abuse," adding that it was meant to benefit charities and the cause is "very close to [her] heart." She then summed up the situation as such: "Without consulting me or any of the women involved, @revolve presented the sweatshirts on thin white women, never thinking about the fact that difference and individuality is what gets you punished on the internet, or that lack of diversity in representation is a huge part of the problem (in fact, the problem itself.)"
While she made clear that she still loves and respects Arribo—who appears to be friendly with all of the women involved—and what she's done with LPA, Dunham stated that she could no longer support the collaboration or lend her name to it in any way, having been "deeply disappointed in @revolve's handling of a sensitive topic." On a lighter note, she said she would be making donations to the charities of choice of women who felt equally wronged, and extended her "love and support" to her "hero," Elsesser, whose quote she said was "promoted and mangled," after, like Dunham, "she gave her quote in good faith and shared her vulnerability in order to support arts education and to spread her message of empowerment."
Elsesser has not yet responded to a request for comment, though last year, she spoke extensively with W about dealing with comments like "you're fat," and made the case that the word isn't even an insult: "Call me stupid or call me ignorant—that's more insulting to me."
Update, 9/12/18, 12:30 p.m.:
After walking in Rihanna's Savage x Fenty show, which she described as full of "big body cuteness," Elsesser posted on her Instagram story to say that she need to "get [her] grips," was "tired, triggered, and still at a loss for words," and would "address all of the f—ery that ensued with revolve & LPA" today.
Since then, Revolve has removed the collection from their site—a decision that LPA expressed support of in a blank Instagram posted on Wednesday night with a lengthy caption, detailing how "what was conceived as a statement on today's internet culture and its treatment of women has gone terribly wrong." After summing up how diligently and closely they worked with Dunham on the capsule collection, and their excitement about benefiting the charity Girls Write Now, LPA then said they "faltered" not in terms of "intention, sincerity or conception, but in my own lack of communication that lead to how the collection was portrayed on Revolve.com and the pre-mature release of the e-commerce imagery, a day prior to the launch." You can read the full statement, which concludes with apologies, below:
A couple of hours later, Given Instagrammed what appeared to be Revolve's statement on the collaboration, explaining that the images on its site were prematurely released, "not only without context of the overall campaign but regrettably featured one of the pieces on a model who's [sic] size was not reflective of the piece's commentary on body positivity." Revolve also apologized and announced that it would be donating $20,000 to Girls Write Now. You can read the full statement below:
Related: Paloma Elsesser, Face of Fenty Beauty and Pat McGrath Muse, Would Like You to Know "Fat" is Not an Insult