Rianne ten Haken, Dutch Model and Yoga Instructor, Gets Her Beauty Tips from Pat McGrath
From tea tree oil toothpicks to her favorite tip from Pat McGrath, the model-turned-yoga instructor shares her wellness and beauty secrets.
---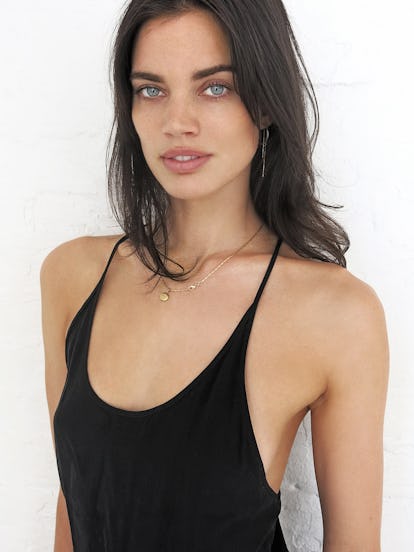 Courtesy of Women Management
The Dutch model Rianne ten Haken may not have known who Marc Jacobs was when, fresh from "middle of nowhere" Holland, she made her debut opening his show at just 16, but her career has scarcely faltered in the decade-plus since—indeed, she's gone on to become buddies with not just Jacobs, but Donatella Versace and Jean-Paul Gaultier. All that means she's picked up some beauty tips along the way from pros like Pat McGrath, which have lately melded with her own down-to-earth version of wellness as she's fully embraced her side hustle of being a yoga instructor. She shares her tips, from two-hour facials to brow pencils to fresh squeezed orange juice, here.
Your look in three words:
Keep it cute.
Go-to skincare products:
Anything Sisley.
Good skin starts with:
A good scrub—get rid of the old, make space for the new! I love the Buff and Wash gel from Sisley.
A good hair day starts with:
Oribe dry texturizing spray.
Makeup miracle:
Laura Mercier tinted moisturizer.
Most underrated product:
Toothpicks. I'm obsessed with the Desert Essence tea tree oil ones. Good for your smile and your gums!
Mask of choice:
SKII facial treatment mask.
Five-minute look:
If I only have five minutes to get ready, all I'm really worried about then are my eyebrows. Anastasia brow pencils are my best friends.
Nails must be:
Just don't cut your cuticles!!
Beauty from the inside out:
Eat well, live well. Mostly plant-based diets are the future, not just for our own beauty but the planet's beauty as well.
Exercise obsession:
Yoga, yoga, yoga. I love Jivamukti Yoga School and Woom Center. And I bike all around town.
Drink of choice:
Fresh orange juice gets me every time.
Product that you picked up from the pros:
Shiny sticks from Queen Pat McGrath!
Appointment you'd love to nab:
I love Carol at Ling Spa—she gives the best facials. They last two hours and you feel like you're 14 again when you walk out!
Spa-cation at:
Ion in Iceland is on top of my list at the moment. I love the idea of sitting in a geothermal pool and watch the Northern Lights.
In-tub must-read:
Bonjour Tristesse by Françoise Sagan. The French and their complicated love affairs… it just never gets boring.
Best advice from the industry pros:
Don't try to brush out teased hair—just put lots of conditioner in and eventually it will be back to normal.
Definite doppelgänger:
You mean my twin sister Sara Sampaio?
Related: Rianne ten Haken Starts Frieze Week With Strong Words For Young Models
Meet India Salvor Menuez's Version of Botticelli's The Birth of Venus, Who's Still Naked, but Much Snarkier: