Rianne van Rompaey: The Model Who Reads Baudelaire
She shares both book and beauty tips.
---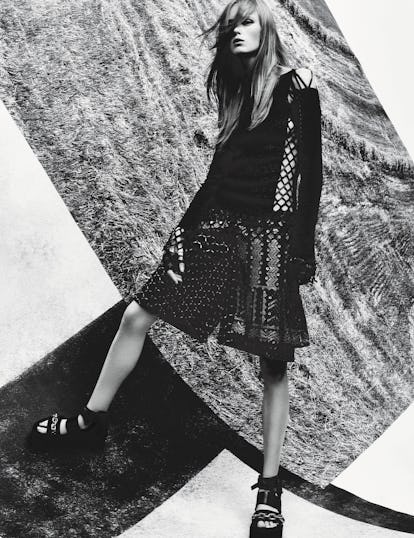 Rianne van Rompaey is one of the top 50 models in the world. She not only appears in W's February issue, in the "Day Dreams" editorial shot by Craig McDean, she's also scored the Louis Vuitton and Coach spring campaigns. When she's off duty, though, you're more likely to find the Dutch model reading Baudelaire than splurging on a facial.
Your look in three words: Golden. Freckles. Big eyes.
Never leave the house without: Lip balm.
Beauty from the inside out: Salmon, avocado, nuts, all those beautiful fats!
Exercise regime: When I am traveling I try to do some stuff in my room (which is impossible most of the time!) like yoga or pilates. When I am home I like to go swimming or jump on my race bike.
Snack of choice: I like things that are covered in chocolate—pretzels, almonds, raisins, coffee beans—you name it. If we go the healthy way I would say figs. I think figs are beautiful and delicious.
Beauty essentials: I have the Aesop classic shampoo and purifying facial cream cleanser. Most of the time my hair and skin would get a little bit sad when I use a product for too long, but with these two they have been happily married for quite a while.
Skincare splurge: I never really get a facial or anything. I think my most expensive skincare is my Dior face cream.
Favorite hair professional: Paul Hanlon cuts my hair almost every time. He does it perfectly and it's never boring.
Pharmacy find: Embryolisse Lait-Crème Concentré.
In-tub must-read: Fleurs du Mal by Charles Baudelaire.
Spa-cation at: When it is sunny and I can smell the sea, it's one big spa for me. I went to Puerto Escondido in Mexico for only three days a few weeks ago, and I'm still benefiting from that.
Always in your suitcase: Bioderma Crealine – it cleans your face and takes off all your makeup.
Fragrance of choice: Florabotanica by Balenciaga.
Best advice from mom: 'Why are you wearing so much make-up?'
Best advice from the pros: Keep it clean. Keep it moisturized.
Beauty icons: Debbie Harry.
Photos: Rianne van Rompaey: The Model Who Reads Baudelaire