Riccardo Tisci, a Beyoncé and Kim Kardashian Favorite, Leaves Givenchy
Riccardo Tisci has left Givenchy after twelve years at the helm and his next step is a source of industry speculation.
---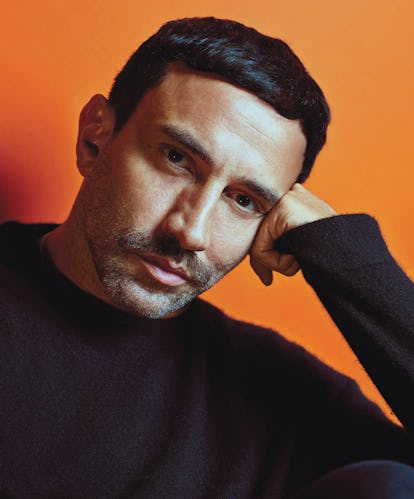 Photographs by Mario Sorrenti, Styled by Edward Enninful
Riccardo Tisci will exit the house of Givenchy after serving nearly 12 years as its chief designer. The longest-serving creative director aside from Hubert de Givenchy himself, Tisci helped push the French house to a cultural relevance it had not seen in years. With a flair for adding gothic touches and a speed dial that seemed to include everyone from Kim Kardashian and Beyoncé to Marina Abramović and Pedro Almodovar, Tisci's influence, both at the legacy French house and on his own, is felt throughout culture.
In a statement on Instagram attached to a picture of a sun setting, Tisci wished a public farewell to his Givenchy staff.
"A giant heartfelt thank you to #givenchy, #lvmh, my incredible team, the magical atelier and everyone who made these 93 collections possible and all the other crazy adventures," he wrote. "Your love and support, in the day and in the night, will forever remain in my heart."
On Twitter he was blunter, simply writing, "That's all, Folks!"
The news comes just a short time after the Italian-born designer showed both the label's Fall 2017 men's collection and Fall 2017 couture. WWD reports that his split from the company was effective as of January 31st, after his most recent contract expired. Givenchy's parent company LVMH, which also owns Louis Vuitton and Dior, will have its in-house studio design the fall collection to show retailers in lieu of a runway show on March 5 during the upcoming Paris Fashion Week, though custom dresses Tisci was working on for celebrity clients for both the Grammy and Academy Awards red carpets will still be completed. Fittingly, Givenchy became a red carpet favorite under Tisci's tenure.
Tisci's exit comes amid growing speculation that he may take over the reigns at Versace. Tisci, who is from Southern Italy, is good friends with Donatella Versace, and even took the unusual step of casting the competing designer in Givenchy's own ad campaign back in 2015. And just eight weeks ago, Tisci posted a picture of Gianni Versace on Instagram to commemorate the late designer's birthday and hashtagged the photo with "#idol" and "#master."
For the moment, however, indications of his future plans remain just that—speculation.
Tisci had brought stability to a couture house the had come to be known as something of a springboard after the 1995 retirement of Monsieur de Givenchy. John Galliano briefly held the position of creative director for two years after Givenchy's retirement, but the English designer was quickly reassigned to fellow LVMH brand Dior and Alexander McQueen, who replaced Galliano, didn't stay long either and found greater success with his namesake label. Julien MacDonald helmed the house in the early '00s, but his time is mostly forgotten. Tisci was named creative director of couture and the women's line in 2005, and soon took over duties as the menswear designer in 2007.
He had a gift for putting high fashion in touch with popular culture without necessarily cheapening the brand. He designed Kardashian's wedding gown for her marriage to Kanye West, for instance. Givenchy T-shirts bearing images of an angry rottweilers and Disney's Bambi became streetwear sensations. He also designed tour costumes for Beyoncé, Rihanna and Madonna.
Tisci had a direct line several artistic and underground figures as well, like Abramovic and the musician Anohni, for whom he art directed a Naomi Campbell-starring music video called "Drone Bomb Me. Tisci was also an early champion of transgender models on the runway—Lea T, a transgender model, is a close friend and frequent muse and model for the house.
With Tisci's flair for capturing the interest of high culture, pop culture and underground culture, it only seemed natural that the designer would one day be destined for bigger things. Only time will tell where he goes next, though it's unlikely we'll have to wait long for more clarification.
Every Time Beyoncé Slayed in Givenchy
Beyoncé in Givenchy at the 2015 Met Ball.
Photo by Sherly Rabbani and Josephine Solimene.
Jay Z and Beyonce in Givenchy at the 2014 Met Ball.
Photo by Sherly Rabbani and Josephine Solimene.
Beyoncé Knowles in Givenchy Haute Couture at the 2012 Met Ball.
Givenchy by Riccardo Tisci's silk satin bra and skirt, mink glasses, and necklace.

Photographer: Patrick Demarchelier Stylist: Alex White
Marc Jacobs's silk organza top; Givenchy by Riccardo Tisci's silk satin bra; Atsuko Kudo's latex briefs. Prabal Gurung gloves; Marc Jacobs headband; Ofira's 18k black gold, sapphire, and diamond earrings; Louis Vuitton belt, socks, and shoes; Wolford hosiery.

Beauty Note: Showstopping eyes are easily mastered with L'Oréal Paris Studio Secrets Professional Color Smokes Eye Shadow in Blackened Smokes.

Photographer: Patrick Demarchelier Stylist: Alex White
Givenchy by Riccardo Tisci's angora sweater, crinoline and wool skirt, cap, and shoes. Lorraine Schwartz's 18k white gold and emerald earrings, David Yurman's 18k yellow gold and diamond ring.

Beauty Note: Hair stays shiny and smooth with L'Oréal Paris EverSleek Humidity Defying Leave-In Crème.

Photographer: Patrick Demarchelier Stylist: Alex White
Beyoncé wears Louis Vuitton's silk top, cashmere shorts, hat, and mask; Givenchy by Riccardo Tisci's silk satin bra. Lorraine Schwartz's earrings, ­David Yurman's ring.
Marc Jacobs's cotton and silk lace blouse; Givenchy by Riccardo Tisci's silk satin bra; Louis Vuitton's leather and fur shorts. Marc Jacobs beret; David Yurman's silver, black rhodium, and diamond earrings; de Grisogono's 18k white gold and diamond cuff; Givenchy by Riccardo Tisci shoes.

Photographer: Patrick Demarchelier Stylist: Alex White
Watch Riccardo Tisci recount his wild 40th birthday party: