Riccardo Tisci: Tisci's Tribe
Givenchy designer Riccardo Tisci is a man of many muses. Diane Solway goes inside the gender-bending ad hoc family that reinvented the house Hubert built.
---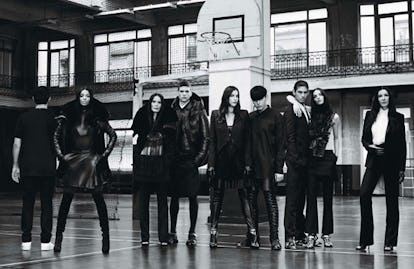 Last May, on the final day of the art event of the season, Riccardo Tisci, Givenchy's 36-year-old artistic director, was pacing unrecognized among the throng that had gathered at the Museum of Modern Art to watch Marina Abramović conclude her marathon performance, "The Artist Is Present." Without moving or speaking, Abramović had been sitting in the same straight-backed wooden chair almost daily for three months, clocking more than 700 hours and locking eyes with some 1,545 members of the public, who came to sit opposite her, one at a time, after enduring a long line. Tisci and Abramović, 63, are close friends, and while he wanted to summon the nerve to sit with her, he has always considered himself exceedingly shy. "I don't know if I can do it," he'd confided to me the day before, adding that it was the worst time of year for him to make the trip to New York. Tisci, the youngest major couturier in Paris, had men's and haute couture shows to prepare and a resort collection to unveil. "But I want to give her the last kick of this really long performance. It's a big goal for me." The previous summer the two had gone to Santorini together on holiday, but since each had just broken up with someone, they had spent most of their time "crying and crying—we were like an island," said Tisci, who is appealingly forthcoming, if given to drama. "I told her in Greece, 'Forget it. I prefer to cut off my hands than sit in front of people.'"
Now, in the atrium, as Abramović's performance approached its denouement, there were at least 2,500 people jostling for a view. Over the course of the three-month show, she had drawn as much press attention as the rock royalty Tisci dresses, a roster of muses that includes Björk, Courtney Love, and Madonna. Beads of sweat began to form on Tisci's brow. Tall and solidly built, the result of daily kickboxing sessions, he wore a scruffy two-day beard, and was dressed in his by now familiar uniform of jeans, baggy black Givenchy Homme T-shirt, and superwhite Pumas, a rosary around his neck. His smile revealed a mouthful of metal braces.
With 20 minutes to go before the artist made her exit, Tisci sat down across from her. Surprised to see him, and looking into what she calls "those huge eyes like coffeepots," she began to cry.
Like Abramović, Tisci goes in for extremes. "Everything he does is intense, and that's why we connect," Abramović told me afterward. When I asked Tisci about their bond, he acknowledged, "It's like a mother and son, a very strong friendship. We can spend hours and hours really vomiting ideas and energy. If you wrote down all the things Marina and I want to do together, one life is not enough." So far he has asked her to direct a fashion show for him, and they're planning to sit together for a portrait. "I thought it would be funny if we did Riccardo drinking milk from my breasts," she said, "because that's really what it is—we feed each other. We're family." Seeing the trial she had put herself through convinced Tisci to push himself beyond his own comfort zone, something he has always strived to do in his work. "In the last three years," he said, "I've gone through a real metamorphosis."
Tisci and muses Pablo Otero, Jared Buckhiester, Malgosia Bela, Lea T, and Daphne Groeneveld.
If Tisci has changed, so has the maison he's headed since 2005. At the time he assumed the reins, 10 years after Hubert de Givenchy's retirement, John Galliano, Alexander McQueen, and Julien Macdonald had already come and gone. And yet Givenchy, founded in 1952 and best known for its storied association with Audrey Hepburn and her little black dress, remained a prisoner of its fusty, ladylike aura. When Tisci nabbed the job, seemingly out of nowhere, he was working in Milan on a shoestring budget, a Central Saint Martins graduate with just two collections to his name. Like Galliano at Dior, Stefano Pilati at Yves Saint Laurent, and a host of other young designers, Tisci had to find a way to riff on the codes of a legendary house without limiting his own self-expression. "For the first year and a half at Givenchy, I was always questioning myself, which had never happened to me before," he said. "I'd ask, 'Is it very Givenchy? Is it very Riccardo Tisci?' Because I wanted to keep the elegance, the chicness, the DNA of the house but bring the darkness, the romanticism, and the sensuality—things that were missing." His talent for making women feel not just powerful and sexy but practically totemic—plus his willingness to suspend his own independent label, something his predecessors had refused to do—revitalized the moribund house. By 2007 it was profitable, and a magnet for modern waifs and über fashionistas, like French Vogue editor Carine Roitfeld, an influential early champion, who were drawn to his darkly romantic and feminine yet tough brand of chic.
While his visual bravado was at once apparent, critics initially considered his goth-gamine aesthetic and high-concept shows overwrought. But in the past year Tisci has become part of the firmament of designers who set the fashion agenda. Even Pierre Bergé, Yves Saint Laurent's partner in life and business, remarked of Tisci in March, on leaving Givenchy's fall 2010 ready-to-wear show, "Of all the designers in the world today, he is the most talented."
"At first people wondered, Is he the right fit?" recalls Marco Gobbetti, former CEO of Givenchy Couture and the man who hired Tisci. "But already he had a 360-degree vision. It wasn't just the clothes, or the woman. He could put her in a universe." Now, he adds, "there is no longer a distinction between Givenchy and Riccardo Tisci."
That singular vision was clearly at work at the closing dinner Tisci hosted at MoMA to celebrate Abramović's feat, just 26 hours after she'd completed it. The dress code of black, white, and gold had been dictated by Abramović, but the fabulous parade of personalities, clothes, and statement footwear all bore Tisci's distinctive stamp and monomaniacal eye for detail. Many of the guests he'd outfitted personally. There was plenty of sheer chiffon, lace, gold-spiked hardware, and goddess gowns with frayed edges or ostrich-feather fringe. Björk wore a gold lamé gladiator minidress, while singer Antony Hegarty of Antony and the Johnsons arrived in a custom-made floor-length zigzag-print chiffon cape, with the words oh no drawn in black on his forehead.
Tisci and Abramović had gotten ready together in her downtown loft and she was now glammed up in a belted black dress with a train and a jacket Tisci had patched together from assorted snakeskins. Also in Givenchy haute couture were Liv Tyler, Courtney Love, and R&B star Ciara. Love had missed out on "Marina's staring thing," she told me, but was there for her good friend Riccardo, who, in 2007, had invited her to perform in-house at the Givenchy salon. "You have not lived until you've seen Suzy Menkes and Karl Lagerfeld moshing in front of you while you're playing rock in a couture dress," Love said, noting that onstage these days she wears only "Riccardo, Marc [Jacobs], and Rick [Owens]." Tisci's clothes, she added, "have a rock 'n' roll inherent value to them. He understands women and masculine energy in women. He can take some of the strangest elements, put them together, and they work."
The same might be said of Tisci's tribe, who orbit him with near- cultish devotion and were also on hand at MoMA that night contributing to the cozy mood, which felt more like that of a family wedding than a red-carpet photo op. In addition to Abramović, Love, and Antony, they include Italian model Mariacarla Boscono, transgendered Brazilian stylist Lea T, London-based Greek stylist Panos Yiapanis, and Argentine-born, Milan-based DJ, event planner, and stylist Marcelo Burlon, who has one of Tisci's initials tattooed on each elbow.
Tisci's world, says Abramović, is very much of his own making. "There's a big difference between Courtney Love and Antony and Lea T," she said the following week. "He's able to bring together people from underground and pop culture, music, art, and fashion in the most unusual way, and that's why the scene looks so interesting. Normally these people would never get together, but Riccardo unites them."
It was Abramović who introduced Tisci to Antony at a dinner party two years ago. Music inspires Tisci; it's always playing when he designs, and Antony's work, he says, "gives me emotion." For the singer's 2009 summer tour, Tisci created an ensemble for him that was "men's, women's, and couture all together," he said at the time. "I told him my cat had died, and he made me this beautiful coat," recalls Antony. "It had hundreds of layers of felt separated by pearls, and it was layered to form the impression of a cat's head curling around my shoulder. And on the back were all these skeletal plumes. It felt so personal."
Long before he gathered round him this fantastic constellation of muses, Tisci imagined what it might be like to live in such a world. Growing up in Como, in a poor family from Taranto, in the south of Italy, he was the youngest child and only boy in a household with eight sisters. He was four when his father, a fruit seller, died, and at 12 he started working after school for his uncle, a plasterer, because his family needed the money. "My mom treated me as a man, not a boy," he told me on a return trip to New York to present his 2011 resort collection. It was the end of a long day, and he was sitting in his suite at the Mercer hotel, his bare feet tucked under him, chain-smoking his way through a pack of American Spirits. "She saw me as the person who replaced the love of her life. She said, 'You have to learn how to work.' I am what I am today thanks to my mom, because she gave me this education."
A "supershy" kid who was less well-off than his classmates, he relied on his sisters as playmates. Watching them get ready to go out on the weekends, he saw up close, times eight, the transformative power of clothing. "I would sit on the little bidet watching them put on makeup and dress up for the club, and I was so attracted by the metamorphosis they were making," he said in Italian-accented English. "It was the Eighties, so there was lots of red lipstick, big shoulders, and gleeter."
Locking himself in his room to be alone and draw, he'd blast Alice Cooper and the Cure, and make what he calls "these strange collages" of male and female faces and body parts that he'd ripped out of magazines. Sometimes he would create figures that were half human and half animal. "It was always my dream to have a brother," he recalled. Only in Tisci's dream his brother was "a faun—half man, half goat," he said. "My second collection was inspired by that. Lea T came out with these big fur boots and looked like a faun."
His inspiration for this year's men's, resort, and haute couture collections was Frida Kahlo. "I'm a big freak of Frida—her obsessions are similar to mine," Tisci said, ticking off animals, religion, sexuality. "She loved exotic animals, and saw their bones and skeletons as positive things." He collects animal skulls and bones; mounted on the wall in his bedroom in Paris is a unicorn head. It's actually a horse head with a narwhal tusk jutting from its forehead, and it was his first splurge on assuming the reins at Givenchy. Kahlo's strength and ambiguity are no less of a draw. "She's also a masculine woman, which I love," he continued. "The fact of the eyebrow—this masculinity left raw, and at the same time this elegance. When I found out she was a Leo like me, I got more fascinated."
From his earliest days Tisci embraced an inclusive, nonconventional idea of beauty. As a student at London's Central Saint Martins College of Art and Design in the mid-Nineties, he persuaded Mariacarla Boscono to pose for his graduation-show invitation after asking a mutual friend to introduce them. She was then new to modeling and just 16, but he loved the way she looked like a "supersexual tomboy, like an alien," with her short hair and gamine physique. They've been friends ever since, and she has inspired many of his designs.
When he met Lea T in Milan a few years later, she was a boy named Leo, the son of a former Brazilian soccer star, and as Tisci remembered, "a beautiful, superskinny boy wearing jeans and a T-shirt with curly afro hair. We grew up together. We'd walk around Milano and people would call her lei [she], and she would look at me and say, 'But I'm a boy.' I could see she was suffering in her own body."
Tisci saw other possibilities. "He was the one who had the courage to tell me I should think about a sex change," confided Lea—who has been undergoing hormone treatments since last year—when we met in Paris in June. Tall and striking, with impossibly narrow hips, pronounced cheekbones, and long black hair, she has about her an air of fragility, even in open-toe bondage sandals with thick wedge heels. "We had a party to go to, and he was like, 'Why don't you try these shoes?' They were high heels." Soon Tisci helped Lea step into her new identity by making her his fit model while a fledgling designer in Milan. "I've got a lot of transsexual friends," Tisci said in New York. "I like the fact that they have the strength of a man and the femininity of a woman. But Lea T, she's got something very special—like a Greek goddess." As Abramović sees it, transsexuals "are a kind of abandoned race who he can include in his work. They have this advantage or disadvantage not to be one sex or the other but to be in between."
That fascination with opposing forces plays out in Tisci's designs, whether in his predominantly black and white palette or in his juxtaposition of unlikely elements—scuba and skiwear, as in his fall 2010 ready-to-wear collection, or frothy chiffon dresses with utilitarian zippers. But testing ideas of gender has been a constant. From the first he opted for men's tailoring in women's jackets, and in his spring 2011 men's wear show in June, he sent athletic male models out on the runway in white lace shirts and skorts. "My men and women are confident in their sexuality, so they can play with both worlds," Tisci said. "His world is strong women and sisters, and transgendered and gay people," says Antony, who is himself a study in contrasts: a tall, broad-shouldered man with a delicate, quavering, melancholic voice. "Transgender and gay sit at the divide between male and female, and that's a very alchemical place."
This past spring Tisci decided to feature Lea T prominently in his fall 2010 advertising campaign, sparking buzz in the fashion press over his use of a transsexual. In June, at the Givenchy men's show in Paris, she was on hand to make her runway debut. "She's going to have an operation, but that's secondary," Tisci told me when I arrived. "She's a woman, and I believe in her beauty." For the first time he was planning to include women in his men's show, and Lea would be joining Boscono and Malgosia Bela in the ornate salon of the Intercontinental hotel, along with perhaps the most ethnically diverse cast of male models yet seen on a Paris runway. He wanted to make Lea a part of his cast, he said, to drive home the point that the ad wasn't some kind of a stunt.
This was Tisci's fifth collection since taking over Givenchy men's wear in 2008. Backstage he was huddled in his private room—a black box in a corner of the dressing area—with Yiapanis, his men's stylist, sorting out the show's final 36 looks, pared down from an initial 500. Just outside, male models in geometric haircuts with killer physiques were milling about, gauze strips affixed to their heads to keep their hairstyles in place. Some wore leopard-print suits and matching pointed shoes, others vertebrae necklaces and trompe l'oeil jackets—one piece that looks like two.
Tisci likes to mine what he calls "the darkness inside of me." His designs are rife with references to his Catholic roots and to memories of Baroque churches and funeral processions. He prays before each presentation, and already that day he'd put a bag of salt in each corner of the venue, another preshow ritual.
The theme of this collection was Victorian Circus. As his models began to line up, Tisci described how he'd drawn on Mexican wrestling masks, religion, and the 1932 Tod Browning film Freaks, which was novel in its day for having been cast with actual carnival folk. "I think it's romantic and quite melancholy," he said of the movie, which he's watched "about 200 times. The fact of all these strange people, all outside of society, getting together to make something that is quite beautiful." I asked if there weren't obvious parallels to his own circle. "Today is a celebration of what is my circus," he said. "This is my family—like it or not."
Tisci's mother, Elmerinda, always comes to Paris for his shows, and this time she was there 30 minutes early, sitting with her two eldest daughters in the front row. You couldn't miss her for her flaming orange coif, her Givenchy Melancholia shoulder bag firmly in her lap. For her birthday every year, Tisci gives her something from Givenchy. But at Christmas he likes to work a little harder, and last year bought her a Chanel bag. Brand loyalty, it seems, goes only so far, even when you're the brand's designer.
As models in leopard-print suits and buglike masks passed by, I couldn't help but wonder what she made of them. Then I remembered something Tisci had told me soon after we first met: that even during his silent teenage goth years—when he wore his black hair long, his face smeared with white makeup—his mother would staunchly defend him when the neighbors in their small town would ask if everything was all right with her son.
After the show, though he had worked around the clock doing fittings and hadn't slept in 48 hours, Tisci insisted on continuing the celebration later that night at the Chacha Club, the hot spot du jour near Les Halles. He arrived past midnight, joined by a group that included Abramović, Lea T, Boscono, Burlon, Yiapanis, erotic-jewelry designer Betony Vernon, and a clutch of male models. When the private room Givenchy had reserved grew unbearably hot, the group moved outdoors, smoking and laughing. "For all the innate darkness in his work, he has a lighthearted, childlike quality," Yiapanis told me the next day. "His sense of humor is very naughty. There's lots of teasing, and you regress very quickly around him." At 2:30 a.m. Tisci was still going strong, his arm around Lea T as he chattered away, but by then even Abramović, she of the legendary stamina, had gone home to bed.
Four days later, on a humid Tuesday morning, Tisci was sitting in Givenchy's couture salon on the posh Avenue George V, pressing an ice pack to his swollen right cheek with one hand and holding a cigarette with the other. The day before, he explained, he had undergone four hours of oral surgery to repair the results of years of poor dental care. Still, he was surprisingly cheerful and in the mood to talk. He was dressed in baggy black shorts he had designed himself and a black T-shirt, and his streetwise vibe made for a striking contrast with the room's Parisian elegance, with its delicate white moldings and windows fronted by black Art Nouveau balconies. It was just the sort of aesthetic mash-up he relishes.
As he snapped open a can of Coke, Tisci recalled that he was 17 when he left home for London. He arrived with no expectation that he could afford any sort of training, hoping only to learn English and "escape Italy." ("I really wanted to go to New York," he told me, "but I didn't want to be so far from my mom.") In London he worked as a shop assistant and in the studio of designer Antonio Berardi before winning a government grant that enabled him to attend Saint Martins, the alma mater of Galliano and McQueen. His life in London, he said, revolved largely around the club scene. "It was the best moment—supercrazy," he recalled of the brew of personalities he saw nightly at Bambina, Trade, Torch, and Chocolate, among them Galliano, Leigh Bowery, Boy George, and Naomi Campbell. He didn't know any of them, he frankly admitted, but he loved being steeped in "the big fermentation of creativity."
He and Boscono were inseparable at the time, and often slept at each other's apartment. Before hitting the clubs, he would handcraft a look for her. One in particular stands out in his memory—a skirt made of fur he'd found at a vintage market that he paired with a fishnet top studded with military hardware and tulle. He even did her makeup: black smoky eyes, a Tisci signature ever since. Then, as now, he felt as at home in the clubs as he did in church, relishing the mystery and the sense of occasion he found in them. "You're in the dark, so you see things in a different way," he said. "It doesn't matter which music, which sex; any club is a celebration of beauty, because from the most simple to the most extravagant person, when they go out, they get ready. It's a kind of transformation." When asked if he has ever been in love, he launched into a story of heartbreak, careful to avoid the use of pronouns. "I don't want to specify sexuality," Tisci said. "The big love of my life happened two or three years ago. For the first time I opened myself 100 percent, and I got, literally, a knife in my heart. This person had me in their power, and for a while it destroyed me."
Called back from London in 1999 to help out at home, he felt "enclosed in a box," he said. But, remembers Boscono, "he could not stop doing clothes, even if he was just doing them for himself." Soon he moved in with Burlon in Milan, and while working for designer Stefano Guerriero, began filling orders he'd received for his own designs from the owner of the cult London boutique Kokon To Zai, who had loved his graduation show. His first client there was Björk; other intrepid fashion types followed. But with no funds to produce garments, he enlisted his mother and sisters to assist him. "You'd go to his mom's house in Como," says Burlon, "and he'd be sitting around the TV with his sisters and they'd be laughing, very loud, and embroidering. His mom would be knitting. It was like something from the old days."
By the time he was 28, Tisci was a designer at Puma but left after one year to work at Ruffo, whose experimental Ruffo Research line he was invited to relaunch. In July 2004, just as he was completing his first collection, the line was shuttered, sending Tisci into despair and back to his mother's house. An older colleague saved him, he recalled, by pushing him to go out on his own and offering to put at his disposal her embroidery workshop in New Delhi. He left for India that August, and there, as he put it, "Riccardo Tisci was born." Clothes, shoes, jewelry—"everything was made by me." As his collection came together, he sent pictures via e-mail to Boscono. Wowed by what she saw, she convinced Tisci to hold his first show that September and model friends such as Karen Elson to participate for no fee. Boscono also implored every fashion editor she knew—from International Herald Tribune critic Suzy Menkes to Roitfeld—to come witness the birth of an important new designer.
Tisci borrowed a derelict warehouse on the outskirts of Milan and filled it with burning candles, a BMX bike, and two smashed-up cars he'd bought at a demolition shop. His mother finished embroidering the clothes, Lea served as a fit model, and Burlon and others drummed up publicity. Many of the models came to his presentation directly from the Gucci show, so to save money he kept them in the same Pat McGrath makeup and had his sisters help out with their hair. Instead of a catwalk, he opted for a series of tableaux vivants, with the models walking around in long goth skirts and dresses as if unaware of the viewers surrounding them behind metal barriers. Such a show was an anomaly in commercial Milan at the time, and its DIY spirit makes Tisci nostalgic. "I believe in emotion and love and celebration," he told me as he reapplied the ice pack and popped a chocolate macaron into his mouth. "Because they all came, my family and friends, and said, 'We'll help you make it.'"
For his second collection five months later, Tisci pushed the theatrics further: in an incense-choked factory, complete with a Crucifixion-size wooden cross, the models moved solemnly in a procession wearing sinuous black dresses and beaded shearling coats. Tisci recalled being "shocked" at seeing the fashion establishment arrive en masse after word had leaked out that he was to be tapped for Givenchy. He himself suspected no such thing; though he had been asked to submit a proposal to Marco Gobbetti a few months earlier, he considered himself a long shot. "People were taken aback by the mood of that show," remembers Gobbetti, who had "snuck in and out," so as not to fuel the rumors. "Some didn't understand it, but there was something there that clearly stood out. I thought, Here's someone who can do something." Tisci, he adds, "is like an incredible DJ. He has this capacity to analyze a huge amount of information from different sources—from art, the street, music—and synthesize all of it into a vision." Says Madonna, who asked Tisci to design costumes for her 2008 Sticky & Sweet Tour, "He has a classical point of view with a punk-rock sensibility."
Four days after his June men's show, Tisci was immersed in preparations for his 2010 haute couture collection. It was eight days away, and he was back in the salon, sans ice pack, to oversee a fitting with Lea T. As he waited for her to change out of a gray mini T-shirt dress and black patent-leather ballerina flats, he showed me photos of models in his 10 new looks, all inspired by Kahlo and Mexico's Day of the Dead. Forgoing black in favor of bone, blush, and gold, he pointed out the skeletal patterns and skulls intricately worked in lace, the silk tulle gown ending in a flurry of degradé ostrich feathers—and a beaded gold dress, which took a team of 29 people a total of 2,320 hours just to embroider. Unlike seasons past, the clothes would not be shown on models on a runway but by private appointment on hanging forms in a gilded hôtel particulier on the Place Vendôme, to provide his clients with both privacy and the opportunity to see his clothes up close. When he started at the house, he told me, he had just five clients, among them "Queen Rania of Jordania" (as he called her); now he guessed that number was closer to 50.
As he spoke Lea T emerged from behind a screen in a flesh-tone bodysuit and a fluffy fur jacket. "I wanted to use monkey," Tisci said, examining the goat-hair plaiting with laserlike focus. "But it's illegal, so we got the best goat's fur and hand-dyed it. We're calling the color 'skin.'"
For a few minutes Tisci went back and forth between Italian, French, and English, as Andrew Heather, his "right arm" in couture, held up patches of goat fur, and Tisci discussed whether to replace the braided collar on Lea's jacket with leather. "Walk," he said suddenly, wanting to see the way the jacket moved on her body. Lea walked the length of the salon. After she turned around I noticed that in the back, the fur was formed in the shape of a heart, making her look as if she'd suddenly sprouted wings. "Yes," he said smiling, when I mentioned it. "Fauns, angels, devils. It's always coming through."
In his first days at Givenchy, Tisci would have Lea T try on the clothes he was making after his official fit models had gone home. I asked him about it. "She's got an energy that's really my world because she's romantic and dark," he explained. "So my clothes look really good on her. I never made a dress that's super, 100 percent feminine. You always have, like, a twist, something that's masculine."
As with each of his presentations beforehand, he was worried he'd be misunderstood. "He always says 'They'll kill me,'" said aide-de-camp Lucia Medeghini, who's been ringside for all of them. But as it turned out, the critics didn't. The reviews for this collection would be the best of his career.
Earlier that day, as he was nursing his gums, Tisci described how much he and Monsieur de Givenchy had in common, beyond their taste for black, severity, and white shirts. "We're both related to the art world, to celebrity, without being a celebrity," he said. "And it's a real relationship. I have what Hubert used to have with Audrey. Mariacarla, Lea, Marina, Courtney, Antony—they're my Audrey."
Tisci and Givenchy met just once, five months after the younger designer arrived in Paris. Tisci fondly recalled their tête-à-tête in Givenchy's rue de Grenelle manse (one of the few times he's worn a suit), noting how they conversed about gardening, art, Venice, and Italian actresses before Givenchy advised him, "Remember one thing only: Don't try to be somebody else. Be yourself." Givenchy's take on their chat, however, was not quite as generous. "When I see in the press what he does, there's no feeling of the house," he told Women's Wear Daily in 2007. "I ask myself, 'What end does a conversation like that serve?'"
But, in fact, Tisci did follow his advice. Five years in, he's still very much his own man. "It was pretty tough in the beginning," Tisci allowed, "because people didn't want to accept me. So I thought: You know what? I clean it up. And when the house is in nice condition, I invite you for dinner. And that's what I did. I thought: You don't want to give me a chance? I take my chance. And now everybody wants to come for dinner."
All clothes by Givenchy, fall 2010 couture, and fall 2010 and spring 2011 ready-to-wear.Hair by Odile Gilbert at Atelier (68); makeup by Carole Colombani using MAC cosmetics at Atelier (68); manicures by Huberte Cesarion at Marie France Agency. Production by Management Artists Paris.