Mini-Me Givenchy Isn't Just for North West Anymore
Riccardo Tisci plots a children's line; YSL Beauté gets a new face in Hedi Slimane muse Staz Lindes; and Art Basel Miami Beach ends not with a whisper, but a blowout HBA fashion show and a Madonna-hosted party.
---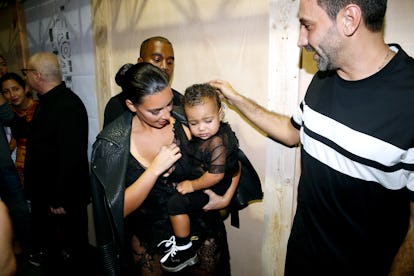 French Select/Getty Images
Hood By Air Put on a show during Art Basel Miami Beach, and recruited a few locals via Instagram to model. See Shayne Oliver's newest crop of faces, here.
Givenchy Child-sized versions of Riccardo Tisci's aren't only available to the Givenchy creative director's close personal friends anymore, with the launch of the label's kids' line.
Light, Judith The star of Transparent is also an advocate working tirelessly on HIV and AIDS prevention and education, particularly in the LGBTQ community.
Lindes, Staz The former Hedi Slimane muse, rocker, model, and daughter of Dire Straights' Hal Lindes is now the face of YSL Beauté.
Madonna Sang Britney Spears; flirted with Sean Penn; earned around $7.5 million for her Raising Malawi charity. All in a night's work, when it comes to Art Basel.
Mouret, Roland Making a small move, considering the upheavals in the fashion calendar and among creative directors this year, but a move nevertheless: After 10 years presenting in Paris, Mouret will return to London to present his next two seasons celebrating 20 years in design.
Pipeline, Dakota Access After months of protests surrounding the proposed pipeline that would burrow under North Dakota's Lake Oahe, threatening the water supply and ancient burial grounds of the Standing Rock Sioux tribe, the Army Corps of Engineers announced it would halt work on the project and consider alternate routes around the Sioux territory.
Trump, Donald The president-elect, formerly host of The Apprentice and embattled real estate developer, has appointed one-time opponent Ben Carson as Director of Housing and Urban Development, a position for which his qualifications aren't entirely clear. That's not the only controversial move he made over the weekend: Trump and Taiwanese president Tsai Ing-wen spoke over the phone, making Trump the first president or president-elect to speak directly with Taiwan in nearly 40 years.
See W's most popular videos: