From New Balance to Riccardo Tisci's Nike, It's All About Activewear
Music legend Leonard Cohen dies at 82; how Americans across the country are demonstrating against Trump.
---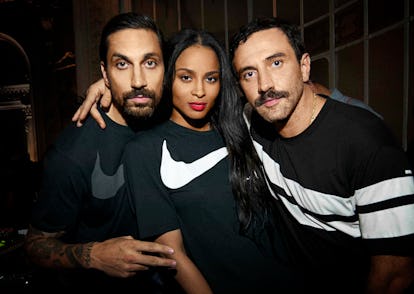 Getty Images for Nike
Balance, New The sneaker brand is getting political, falling in line behind Donald Trump, now president-elect. In response, some New Balance customers have started setting fire to their sneakers — while others have urged their peers to recycle, rather than burn, their discarded shoes.
Burch, Tory Debuts a new holiday campaign with model Jessica Hart. You could probably use a bit of holiday spirit right now. Tory Burch has you covered.
Chalalai, Rose The art world's favorite chef, whose 11th-arrondissement restaurant — Thai food, a rarity in Paris — draws the likes of Haider Ackermann and Christophe Lemaire.
Cohen, Leonard The Canadian folk legend died Thursday at 82.
March, Anti-Trump What it looked like on the ground at one of the myriad anti-Trump demonstrations across the country on Tuesday evening — here, we go inside the New York City march.
McCartney, Stella The British womenswear and childrenswear designer has been talking for a while about her plans to branch out into menswear. Finally, the results have been revealed.
Stefani, Gwen The pop star's go-to apothecary, In Fiore, is making holistic beauty super chic thanks to its naturally minded founder Julie Elliott.
Tisci, Riccardo The Givenchy designer just debuted his next project with activewear brand Nike, rainbow-heeled Nike Air Zoom Legend sneakers reimagined as marathon-worthy Chelsea boots. It's available in stores today, and goes wide later in the year.
http://www.vogue.com/13501330/riccardo-tisci-nike-collaboration-air-zoom-legend