Fashion Remembers Richard Nicoll, British Designer Who Died Suddenly at 39
Richard Nicoll, a stalwart of British fashion, passed away suddenly at the young age of 39. Kylie Minogue, Lily Allen, and others offered their remembrances.
---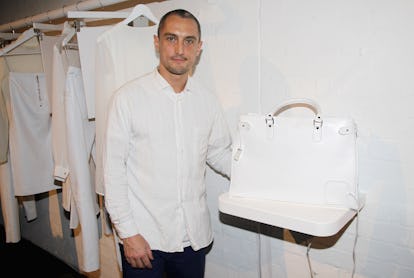 Getty Images for Vodafone
Richard Nicoll, a stalwart of both the British and Australian fashion scenes, died suddenly Thursday night at the age of 39 at home in Sydney, Australia. According to this family, the cause was a heart attack.
Nicoll was born in London but then moved with his family to Perth, Australia where he was raised. He returned to London to pursue an education in fashion at Central Saint Martins. A standout pupil, his 2002 graduate collection was famously bought by Dolce & Gabanna. He went on to work under Marc Jacobs at Louis Vuitton before launching his own label outright in 2005.
His womenswear was noted for its innovative sculptural qualities and menswear-inspired tailoring. He was lauded with the British Fashion Council's Fashion Forward Award in both 2006 and 2007 and would go on to design capsule collections for both Topshop, Thomas Pink, Sweaty Betty, and Fred Perry. He also served stints as creative director for French brand Cerruti and British High Street brand Jack Wells.
However, in 2015, Richard Nicoll began to rethink his career, growing tired of the increasing demands of the industry and shut down his eponymous line.
"I needed a break," he told The Telegraph. "My sales weren't going very well and the last couple of years have been super-stressful. It's so different from how it was when I started and I'm just not sure if I'm signed up to what it has become."
Nicoll had recently signed a contract with Adidas to become the brand's creative director in Germany, a post he was scheduled to take up in early 2017.
Nicoll's designs had been worn by many a British celebrity, including Kylie Minogue, Sienna Miller, and Keira Knightly.
Remembrances poured out on social media from the British fashion community, and beyond.
Kylie Minogue
Emma Bunton
Lily Allen
Givenchy designer Ricardo Tisci
Thom Brown, who is currently guest curating A Magazine's Instagram account
Central Saint Martins
Brix Smith Start, British fashion personality and former guitarist for The Fall
The Fred Perry Brand
Model Olivia Rose David
Model Charlie James
British menswear designer Daniel Jenkins
Fashion Historian Laura McLaws Helms