Richard Prince Is Being Sued. Again.
The artist might have turned getting sued into performance art.
---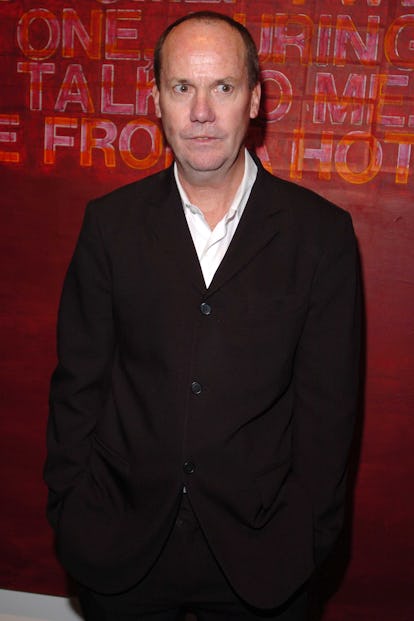 Patrick McMullan via Getty Images
If anyone could claim being the defendant in copyright lawsuits as performance art, it would be Richard Prince.
The artist, who has long used appropriation and tested the limits of copyright law in his art, is being sued once again over his series "New Portraits." In two separate shows, one at New York's Gagosian gallery in 2013 and another at the Frieze Art Fair in London in 2014, Prince printed out photographs of other people's Instagram images on which he had left comments. The reception to the work was, shall we say, mixed, but some believe that might have been exactly what Prince wanted.
The latest suit was filed by Los Angeles-based Mynxxi White (real name Ashley Salazar), a make-up artist who has worked on productions for Kelly Clarkson and Kanye West. She's also modeled in the past, and claims to have appeared in the pages of Elle Japan and Vogue Italia. She's also racked up 46,400 followers on Instagram.
Prince took a mirror selfie White posted to Instagram ((which she adorned with e-stickers from the app CatWang) and blew it up to sell at Frieze.
With his own Instagram account, he had commented on White's post: "Angel Investors 50/50 InTheDark Wonderful. What do Zu want Zu Zu. Big tire event?."
United State's law claims that reproducing a work is fair use if the reproduction is used as commentary on the original piece. Obviously, Prince is obviously testing that language by literally commenting on the original piece.
In the suit, White's attorneys argue that Prince "wrongfully created copies of the copyrighted Subject Image without [White's] consent and engaged in acts of affirmative and widespread self promotion of the copies directed to the public at large by distributing said copies, falsely representing that the Subject Image was their own." White has since registered a copyright for her original image.
Prince's former gallery Gagosian (which he reportedly split with this year) is also named as a co-defendant.
The Prince work was sold, and thanks to the power of Snapchat, White is aware of where it currently hangs.
According to The Art Newspaper,, who were the first to notice the latest allegations, Prince has also been sued by two others who had their Instagram posts appropriated. Both of those plaintiffs were professional photographers, and both cases are still pending. Meanwhile, White's lawsuit, originally filed in California, will be refiled in New York.
Joshua Schiller, of the firm Boies, Schiller and Flexner, is representing Prince. He believes Prince's repurposing of the work will hold up in court. "I think the facts will show that people perceive Richard Prince's work to be different — the audience is different, the purpose is different," he told the Art Newspaper.
While Prince has also created more original work, he's famous for cribbing from others to make a statement, coming to prominence in the 70's for a style he dubbed "Rephotography," which involves altering photographs of existing photographs from magazines and newspapers.
In perhaps Prince's most notable turn as a copyright lawsuit defendant, he was sued by photographer Patrick Cariou in 2008. Prince has used several of Cariou's original photographs of Jamaican Rastafarians in an exhibit. After a years-long court battle, a U.S. Court of Appeals judge ruled that Prince's use of most of the photographs were in fact fair use because he in some way transformed the original image.
Watch W's most popular videos here: