Richard Woods D.I.Y
The British artist Richard Woods's new exhbition, "D.I.Y.," opens at London's Alan Cristea Gallery.
---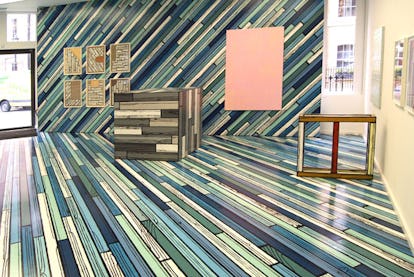 The British artist Richard Woods has transformed security booths into red-brick castles, covered rural cottages in multicolored stone motifs, and dressed up downtrodden suburban buildings with mock-Tudor façades. A gleeful mash-up of art, architecture and design, Woods's work is fun, garish and immediate – an array of immersive structural makeovers that simultaneously derides and celebrates the human desire to make a mark on the urban landscape.
For "D.I.Y.", Woods has clad the white-cube interior of London's Alan Cristea Gallery in his trademark wood-grain motif. "I tend to work with more loaded architecture," said the artist, calling from his south London studio. "But because this was a nice white box we thought we'd play with the angles, distort the cube a little bit more aggressively than we have done."
The exhibition also includes two sets of prints – "remnants that look like they've been cut off or around previous installations," he says, – and a couple of sculptures featuring the print blocks Woods and his small team use to create his motifs. The overall effect is dizzying – the a riot of color and handprinted pattern – but that's exactly how Woods wanted it. "The name of the show acts as an axis," he explains. "There's a bunch of prints that have been made on radiator covers you can buy from [British hardware store] B&Q, so they relate very literally. And then there are paintings and print blocks, so you can see how the installation is made. It's a bit of a collage – all of the work informs each other."
"D.I.Y." is on view at Alan Cristea Gallery, London April 29—June 1. alancristea.com.
Images: © Richard Woods and courtesy of Alan Cristea Gallery, London