Chloé Model Richie Hines Is Getting Famous On Instagram, Thanks to Her Drawings of Models Off Duty like Bella Hadid
Meet the model slash artist behind the Instagram project "Girls at Castings."
Photography by Taylor Tupy
---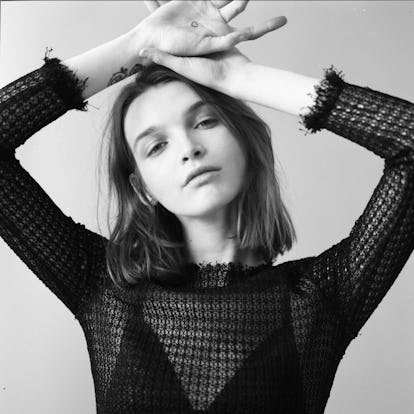 Visual Editor: Biel Parklee.
There's plenty of glamour associated with modeling—Hair! Makeup! Photoshoots!—but there's also a lot of sitting around and waiting, both backstage and on set.
To pass the time, up-and-coming model Richie Hines, who is also an artist, started drawing the models she saw at castings slumped over chairs and splayed across floors. "I was really bored one day," she recalls of when she first had the idea to start her Instagram account, @girlsatcastings. "We were sitting there for five hours and there was no Wi-Fi!"
Hines saw something beautiful in the models' bored, candid poses. She drew Bella Hadid, for example, sitting in a robe and slippers with a chopstick in her hair. (Hadid was so taken by the image that she even posted on her own Instagram stories.)
Born in a small town outside of Boston, Hines attended the Massachusetts College of Art and Design for one year before dropping out. "I really wasn't that inspired and thought I needed a change of pace," she said. She moved out to California with her boyfriend at the time and was scouted by IMG within two months of being there. "I'm not an L.A. girl at all," she said though of her career on the West Coast. "It's really commercial there and I'm more editorial." So, in 2015 she packed her bags for Brooklyn.
Hines's first major season was at the Spring 2016 shows, when she was flown out to Paris to walk Chloé and Yves Saint Laurent. "There was so much anticipation and build up to that moment," she said of her nerves before the Chloé show at the Grand Palais. "I was wearing a really long dress, so I was like, 'Oh my god, there's such a chance that I could trip on this thing.' But halfway through the walk, I calmed down because I realized I was literally just walking."
This season, she walked Derek Lam and Dennis Basso in New York.
Prior to being scouted, Hines had never considered a career in fashion—her only style icon to this day being Kurt Cobain. "If you ask anyone from my hometown who knows me, this is such a 180," she says of her career shift. "I've always been the artist chick who sits in the back of the classroom and draws."
During her brief stint in art school, Hines was introduced to names like Anders Zorn, John Singer Sargent, and James Whistler, whose portraiture would later inspire her work and even her "Girls at Castings" Instagram account. Growing up, she also read Japanese manga: "It really how I taught myself how to frame and compose an image."
Currently, Hines is obsessed with pointillism, which works with her long casting hours, as each small work can take up to 40-50 hours to complete with an ink pen. She's also developing a comic series with a friend about two cashiers who work in a supermarket—all inspired by her own experience working at Whole Foods for a year. "When you work at a Whole Foods you see too much," she said with a laugh.
While both her runway and artistic careers are just taking off, Hines hopes to combine her passions in the future by applying her prints to clothing (she's already working on a pitch that features her Japanese woodblock-like clouds print on denim jackets), and she would also eventually like to bind all her "Girls at Castings" portraits into a behind-the-scenes coffee table book. This way, even if she doesn't get the call back, at least her patience can pay off.
Related: Meet the 10 Breakout Models of New York Fashion Week
Meet the 10 Breakout Models of New York Fashion Week
Agency: Wilhelmina; from: Florida; Age: 17

Photo Courtesy of Wilhelmina
Age: 18 From: France Agency: The Society

Photo by Biel Parklee
Age: 18 From: Brazil Agency: Ford Paris

Courtesy of Ford Paris
Age:18 From: Ukraine Agency: Elite

Photo by Biel Parklee
Age: 17 From: Wisconsin Agency: Ford Models

Courtesy of Ford Models
Age: 24 From: Vermont Agency: Next Models

Photo by Biel Parklee
Age: 19 From: Russia Agency: The Society

Courtesy of the Society
Age: 21 From: Australia Agency: Women Management

Photo by Biel Parklee
Age: 19 From: New York, US Agency: MC2

Courtesy of MC2
Age: 20 From: South Korea Agency: The Lions

Courtesy of the Lions
Butterflies of Paris: How Street Style Stars Do Paris Fashion Week