Rick Owens, Kanye West's Favorite Designer-Slash-Furniture Maker, Recommends Regular Naps
The designer, whose new furniture exhibition opens at the Los Angeles Museum of Contemporary Art, waxes rhapsodic on his wife, Michèle Lamy, and explains why naps are an important part of his daily routine.
---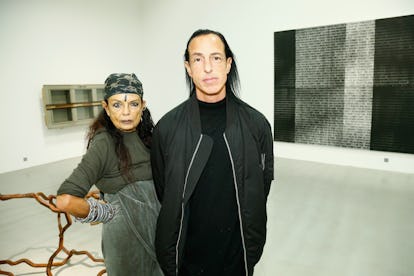 Getty Images
Benton, Denée The new star of the Broadway musical Natasha, Pierre & The Great Comet of 1812 talks race, playing a Russian aristocrat, and co-starring with Josh Groban.
Gomez, Selena The pop star reportedly signed a $10 million deal with Coach, finally cashing in on all that influencer influence.
Howard, Bryce Dallas The Black Mirror and Jurassic World actress wore yet another off-the-rack design to a red carpet: Topshop, to the Critics' Choice Awards. Chartreuse is definitely her color.
Obama, Barack Atlantic writer Ta-Nehisi Coates on the last eight years under the first black president — and what will follow.
Owens, Rick As his furniture exhibition in Los Angeles (where Kanye West was spotted recently) comes into place, Owens discusses how, at least when it comes to installations, his wife Michèle Lamy is the brains of the operation.
Wade, Cleo Instagram's most inspirational poet, a big fan of Oprah, newly politically woke and staying that way.
See W's most popular videos: