Rick Owens Punches Male Model
In case you missed them, here are the top style news stories of the week.
---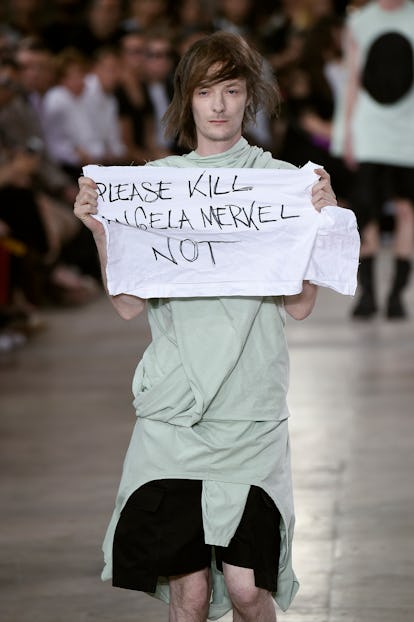 Beckham, Harper The It baby's best pieces are up for auction. Start shopping.
Coach Drew inspiration from Frasier for new campaign. Tres chic.
Crocs Sold out after Prince George wore a pair. Made enough money to put on a fashion show that included a synchronized swimming performance.
Dolce & Gabbana Demonstrates a commitment to traditional families with new ad campaign.
Ford, Tom Will finally sell ready-to-wear collections online. Thanks, Net-a-Porter. We owe you.
Knowles, Solange Wears a skirt over pants because she can.
L'wren Scott The late fashion designer's brand will dissolve.
Lululemon Has yet another recall. Needs to step it up.
Mayer, John Defends his love of layering to the end of time in hopes the Olsen twins will take notice.
Mazar, Debi Joins Cher, Anthony Kiedis, and Willow Smith as yet another unlikely face of Marc Jacobs.
Mitte, RJ The Breaking Bad actor hit the runway in Milan.
Moss, Lila Grace Kate's daughter admits she's embarrassed by her mother; leaves no hope for the rest of us.
Owens, Rick Punched a male model for carrying a "Please Kill Angela Merkel – Not" sign.
Richards, Ella Keith Richards's granddaughter stars in Burberry's campaign alongside other Hollywood progeny. Because progeny loves company.
Rihanna May launch her own fashion line. Please, bad gal, please!
Versace, Donatella Is the unlikely star of Riccardo Tisci's new Givenchy campaign. Will not return the favor.
Wang, Alexander To reissue fave runway pieces from the past 10 years. You're welcome.