Rico Nasty Cements Herself as a Maximalist Fashion Icon in the "Own It" Video
It's just physically impossible to handle it all.
---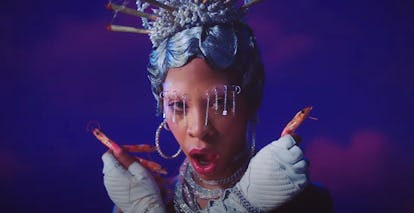 In her new video for "Own It," Rico Nasty wears a manicure adorned with the heads of shrimp, a tiara with lit blunts in place of jewels, and a series of charms that spell out her name hanging from piercings where her eyebrows should be. And that's just a few select details from the top half of one of the video's many, many looks.
If you've felt drained by the lack of fashion and burnt out from everyone's work-from-home casual wear these past few months, the "Own It" video, which was styled by Aquiles Carmona, is here to drench you in style in the most maximalist way.
The clip starts with Rico Nasty standing in a yellow face mask, icicle-like horns protruding from every direction. Her nail game is so strong that her acrylic toenails are hanging over the front of her platform heels.
Next thing we know, she is hanging at a playground with some opossums, with her own name casually spelled out in her braids.
Then, suddenly, she's looking like a queen outside of some acid-induced reimagining of Alice in Wonderland. We mentioned the shrimp, charms, and tiara, but please direct your attention to her feet as well.
Finally, she's seen rocking a dress from Thom Browne's latest collection, except she's paired it with a wig fashioned to look like a small cage.
As a member of XXL's 2019 Freshman Class alongside Megan Thee Stallion, Rico Nasty has her hip-hop credentials. Though, she's never let strict genre definitions get in her way. That would be boring. She freely mixes elements of trap with everything from punk rock to screamo to the most sugary of pop. She's collaborated with Lil Yachty and Juicy J, but also feels right at home alongside Boys Noize and 100 Gecs.
Her quest for experimentation bleeds into her fashion sense (not to mention her beauty game), but "Own It" sees Nasty not only channeling the iconically outré '90s styling of the likes of Missy Elliott and Busta Rhymes, but pushing it forward as well.
After a string of standout mixtapes, her debut album Nightmare Vacation is expected to drop this fall. Watch the video for "Own It" below.