Going for Gold
After decades of frustration, director Ridley Scott takes aim at an Oscar.
---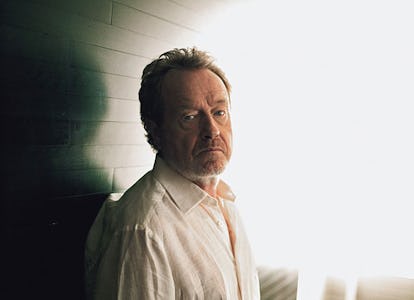 On an overcast Los Angeles morning, Sir Ridley Scott is sitting in a second-floor suite at the Four Seasons Hotel as a doctor examines his knee. Once the physician snaps his valise closed and exits, Scott explains that he recently underwent arthroscopic surgery. "I've got a terrible knee from too much tennis," he says. "I've had bone on bone for the last 10 years." Three decades of living in Bel-Air might have softened his hardscrabble English accent, but Scott's British upper lip remains stiff; he continues to play nearly every day. "It hurts a bit. You take ibuprofen," he says. "You've got to have a ball to pursue. You must."
After directing 18 movies over the past 30 years, Scott has reached an age when cartilage crumbles and what is left to be done can sometimes obscure what has already been accomplished. Though his credits include the genre-redefining hits Gladiator, Thelma & Louise and Blade Runner, his colleagues have yet to anoint him with an Academy Award; Scott has not entered the pantheon of directors who merit their own video store section. So he keeps making movies. His latest, the star-studded crime saga American Gangster, hits theaters in November, and he's already at work on his next two.
But even as he moves forward, Scott thinks about his legacy. He begins to muse, "As you get closer to my age—" but that word stops him cold. His age, he continues with a stern look, "you will not publish, because this business is about that. It pisses me off. And I can still kick the butt of most."
So a compromise is offered: How about saying that five years ago a magazine profile said he was 64? "Yeah, that's good," he says. "Go backward."
Scott—a trim, ginger-haired man with just a hint of gray in his beard—came to his craft rather late, directing his first feature at 40 after a career in advertising. While growing up in northern England, he spent his Saturdays watching the works of Orson Welles, David Lean, Akira Kurosawa and Ingmar Bergman. Upon seeing a film that struck him, he says he'd ask himself, "What was good about that film? Who was the guy who actually did it?" Ultimately, he concluded, "The guy who really did it was this credit that they run at the front, where it always said director." Though he hoped to follow in the footsteps of his idols, there were no British film schools in the Fifties. "I wanted to make movies," he says, "and I didn't know how because there was no path."
So instead, Scott enrolled at London's prestigious Royal College of Art, where he studied graphic design, painting and photography. After graduating he did a stint as a production designer for the BBC before leaving to direct commercials. In 1968 he and his younger brother, Tony (who went on to direct such films as Top Gun and Man on Fire), started a commercial production company, known today as RSA, which is considered one of the most respected creative firms in the ad world. Though it now has offices in London, New York and L.A., RSA remains something of a family concern, with all three of Scott's grown children—sons Jake and Luke and daughter Jordan—working there as directors. (After two marriages, Scott has been involved with actress Giannina Facio for the past 17 years.)
Scott had never given up his dream of a film career, but even after directing more than 2,000 commercials he couldn't land a meeting in Hollywood. So, in 1976, he used his own money to buy a script, The Duellists, based on a Joseph Conrad story, and set off to shoot in France with young stars Keith Carradine and Harvey Keitel.
The film barely registered at the box office, but it received enough critical notice to get him through the studio gates and win him a directing gig on a B-grade monster movie. Applying the visual sense and economical storytelling techniques he had honed in his ad career, he turned the movie into Alien (1979).
Despite that film's overwhelming success, navigating the studio system remained an uphill battle for Scott. On his next movie, Blade Runner (1982), studio marketers panicked when test audiences seemed confused; they demanded that Scott add hokey voice-overs and tack on a happy ending to the bleak script. In the years since, various recuts closer to Scott's original vision have surfaced, but, busy with other projects and hindered by a now resolved legal dispute over who owns the film, he felt like he never had the chance to release the movie he had intended to make. Last year Warner Bros. secured rights to the film and 25 years after its premiere will release Blade Runner: The Final Cut on DVD in December.
Again, on the 2005 film The Kingdom of Heaven, studio meddling transformed Scott's three-hour epic about the clash of Muslim and Christian cultures during the Crusades into a two-hour action-adventure romp with a romantic subplot. The film was panned when it was released and tanked at the box office. Again, Scott turned to a director's cut DVD, released last year and warmly received by critics. "Does it drive me mad? Yes it drives me f—ing crazy," Scott says of such frustrating experiences. "I was beaten up, and I knew I'd done something fairly significant in the movie world."
On American Gangster, however, Scott says there's no chance he'll be looking for a DVD do-over. This time around, Scott's directing contract gave him final cut on Gangster. He compares making a movie to painting—a pursuit he's taken up again in the past few years. "You just don't know when you get all the paint across the canvas how it will turn out," he says. "When you step back after you've finished, you say, 'This one is not so good. This one is good.' And this one comes up as pretty damn good."
Based on a true story, the movie stars Denzel Washington as a Harlem kingpin who took over New York City's heroin trade in the Seventies by using body bags returning from Vietnam to smuggle his supply. Russell Crowe plays the cop who tries to bring him down. The film shows all the hallmarks of Scott's steady hand: a taut, complex narrative; stunning visuals; and top-shelf performances by both Washington and Crowe.
Before Scott agreed to direct in February of last year, the project was notoriously difficult to get off the ground. "It was harder than any of the 70 movies I've made," says producer Brian Grazer, who optioned a magazine profile of the real-life drug dealer in 2000. The project went through a number of titles and configurations of actors, directors and writers, and was extremely close to being made in the fall of 2004 with Antoine Fuqua directing, Steve Zaillian writing the script, Washington starring and Benicio Del Toro in the cop role. But just four weeks away from shooting and having already spent $40 million on the movie, Universal abruptly canceled the production, citing concerns that the film would bust its already hefty $100 million budget.
Ridley Scott directing Russell Crowe and Denzel Washington in New York City.
Nonetheless, Grazer kept trying to push the project through. With Washington still interested, Grazer offered the cop role to Crowe, who like Scott had passed on the film a number of times over the years. Grazer asked what he could do to interest him. Recounts Crowe: "I said, the only way you're going to get me interested is if you get someone like Ridley."
Scott had always liked the script but could never fit the film into his schedule. But in early 2006, he and Crowe had just wrapped the romantic comedy A Good Year and were looking for another project to do together. "I've just sort of taken this attitude that if it fits in, I'll just keep working with him," Crowe says. "There's always other things around, but over time our schedules are sort of locked in together. It's a basic working-class thing: To work with Ridley I'm going to finish the day satisfied that I did my best." Scott's next two films, the CIA thriller Body of Lies and Nottingham, a retelling of the Robin Hood story, will also star Crowe.
Early screenings of American Gangster have stirred up awards buzz, and with Washington, Crowe, Grazer and Zaillian already in possession of Oscars, there's hope among the film's team that this will be Scott's year. The man himself is not coy about the matter. "I'm not going to be English about it," he says. "At the end of the day, you can say it doesn't count, but actually it does. So yeah, it would be kind of nice. Let's just cut to the chase. It's about being competitive, and I'm very competitive. It makes me tick, really."
Film still: David Lee/Universal Pictures