Rihanna Says Her New Music Will Be "Next Level," But First, She Has a Cookbook
She already has eight albums. Give her time.
---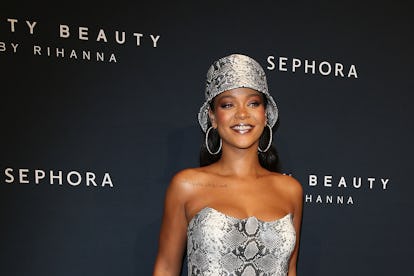 Caroline McCredie/Getty Images
Rihanna used to keep her fans fed, figuratively speaking. During her first eight years of stardom, she released seven albums, more than some artists put out in their entire career. Then, however, she slowed down her release schedule, and the Navy has been waiting for a new album ever since 2016's Anti. In a new interview, Rihanna hints that more music is on the way, but right now she might be more interested in keeping her fans fed—literally.
The multi-hyphenate says that 2020 has, at the very least, allowed to her slow down and enjoy the little things. "I am always busy and quarantine gave me the time to do things I wouldn't always have been able to do: watch an entire box set in a day, cook, go for walk. It's important we do little things we enjoy and are kind to ourselves," she told U.K. tabloid Closer. The interview came amidst rumors that she's working on a cookbook of her favorite Caribbean-inspired recipes. The singer is spending the holidays in her native Barbados (and was recently spotted at a gas station on the island).
Though, Rihanna also says that she's spent at least some of lockdown working on her original career. She's "always working on my music," according to the interview. And the downtime may have given her time to reflect on where she wants to take her music career next.
"2021 is a little unknown for everybody, and nobody is sure what restrictions there are going to be," she said. "My creativity is within my control though, and I want to take my music and my brands to a different level."
The approach jives with recent changes in the music industry and the expectations of her brand. For the first decade of her career, Rihanna played by the rules of a radio hit-courting artist whose career depended on the strength of individual singles more than statement albums. The albums were perfectly great pop collections, but unlike many contemporary pop artists, her "eras," as the stans like to call them, sort of melted into each other with frequent collaborations blurring the lines in between. That happens when your contemporaries wait two to three years between albums and you wait, in some cases, just 11 months (and in Rihanna's defense, she already has more solo albums to her name than Beyoncé, Lady Gaga, Adele, Katy Perry, and more—despite not having released one in four years. So she deserves the break).
Anti saw Rihanna moving toward the direction of an artist who thought of an individual album as an artistic statement that could propel and drive her career for the next few years, and it seems like the inevitable arrival of the ninth studio album will continue on in that vein.
Until then, however, fans might have to settle for her favorite rum punch recipe.
Related: Rihanna Has Secretly Been Living Part-Time in Mexico