Rihanna and Adam Driver Will Star in Annette, an Original Musical Movie
Rihanna, art-rock band Sparks, French auteur Leos Carax and Adam Driver are all working on a new project. Sounds like a good time.
---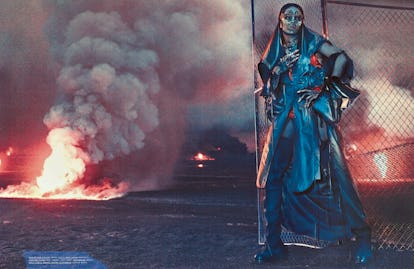 Photographs by Steven Klein, Styled by Edward Enninful
There are few prospects as exciting as Rihanna in Ocean's 8, or so we thought until the prospect of Rihanna in an original musical became a reality. The star is set to be one of the leads in Annette, a musical being directed by French auteur Leos Carax. And no, it is not about the inimitable Annette Bening.
Variety reports that Rihanna joins Adam Driver to front the film, which is also looking for a third lead. Rooney Mara was previously attached but had to step away from the project due to her commitment to another out-there-sounding musical, Son Lux (she'll play a Britney Spears-style character with songs provided by Sia in that one).
Carax, best known for his Cannes Film Festival hit Holy Motors, is making his English-language directing debut, and Annette is getting its script and original songs from the classic art-rock band Sparks. Amazon Studios has already stepped up to distribute the film. The only thing we know about the film's plot is that a stand-up comedian figures prominently into the film.
For Rihanna, Annette is yet another step into the acting world. She completed a multi-episode arc as Marion Crane on Bates Motel this season and has finished filming for Ocean's 8, in which she has a highly anticipated role as a hacker.
Still, it's clear that Rihanna isn't ready to give up everything else for the acting bug. In addition to her ongoing musical career, the star has showed a powerful commitment to philanthropy in recent months, even being honored as Harvard's Humanitarian of the Year just a couple of weeks ago. In her acceptance speech for that award, Rihanna encouraged others to follow her example, saying, "I know that each and every one of you has the opportunity to help someone else. All you need to do is help one person, expecting nothing in return."
The advent of Annette also might be signaling something of a La La Land effect when it comes to original movie musicals. While that film very memorably did not win Best Picture at this year's Academy Awards, it was a huge hit and a fan favorite. Might it be sparking a wave? Disney's slate of remakes of its animated musical classics are certainly worth mentioning in any conversation about musicals, but Annette is one of the first big signs that the form could become more popular for independent, original features too.
Sure, Carax had been planning the film since before the La La Land-buzz, but that film's hype might have inspired Rihanna and Amazon to sign on.
Butterflies of Paris: How Street Style Stars Do Paris Fashion Week: