Rihanna Is Now an Official Ambassador of Barbados
Rihanna has been named the "Ambassador Extraordinary and Plenipotentiary" for Barbados, which will require extensive responsibilities to promote tourism.
---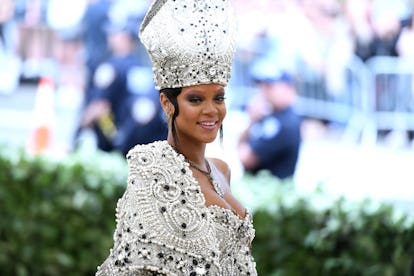 Noam Galai/Getty Images
It's no secret that Rihanna has encouraged and advocated for philanthropic efforts across the globe, but now she is stepping into a new political position. After ten years of being one of the cultural ambassadors for her home country of Barbados, the singer has been appointed as the "Ambassador Extraordinary and Plenipotentiary" for the nation, which gives her much more responsibility than before.
Rihanna will now have "specific responsibility for promoting education, tourism, and investment for the island," according to a statement from the Barbados Government Information Office, issued on behalf of Prime Minister Mia Amor Mottley. The singer-mogul has been a cultural ambassador for Barbados since 2008, but now with her new title, Rihanna will be considered "a person, especially a diplomat, invested with the full power of independent action on behalf of their government, typically in a foreign country," per a report from CNN.
Barbados's Prime Minister commented on Rihanna's appointment as the Ambassador Extraordinary and Plenipotentiary, saying, "Rihanna has a deep love for this country and this is reflected in her philanthropy, especially in the areas of health and education. She also shows her patriotism in the way she gives back to this country and continues to treasure the island as her home."
"She has also demonstrated, beyond her success as a pop icon, significant creative acumen and shrewdness in business. It is therefore fitting that we engage and empower her to play a more definitive role as we work to transform Barbados," the politician further pushed, citing Rihanna's work as a Fenty beauty and fashion mogul as well as a chart-topping international pop star as informing her ability to bring tourism and promote education in the nation. Rihanna also responded to her appointment with a statement of her own. "I couldn't be more proud to take on such a prestigious title in my home country," she said. "Every Barbadian is going to have to play their role in this current effort, and I'm ready and excited to take on the responsibility. I look forward to working with Prime Minister Mottley and her team to reimagine Barbados," the singer continued.
If Rihanna could handle being the Pope of the Met Gala, she'll be a natural as the official ambassador for Barbados.
Related: Go Inside Rihanna's Fourth Annual Diamond Ball, With Childish Gambino, Issa Rae, and the Bad Gal Herself