Rihanna's Marion Crane Needs a Room in New Bates Motel Promo
In her first tv role, Rihanna puts her spin on the iconic Marion Crane.
---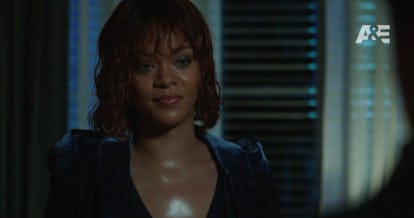 A&E
Rihanna is about to torture us with a heavy dose of dramatic irony, thanks to her upcoming stint on Bates Motel.
Rihanna is starring as Marion Crane in multiple episodes of A&E's TV take on Psycho, focusing on the tortured relationship of young Norman Bates (Freddie Highmore) and his mother Norma (Vera Farmiga). As fans of the Alfred Hitchcock-directed suspense classic well know, Marion is set up as Psycho's protagonist, only to get killed in the film's first act after checking in at the infamous lodgings. Of course, Bates Motel has taken plenty of liberties in crafting its own story, so the series may go a different route in playing out the buildup to the greatest argument for taking baths in cinema history. Still, the dread level will be high.
Bates Motel is entering its fifth and final season, just now getting to the events that take place in Psycho. Rihanna signed on for the show after enjoying it as a fan. The singer has been doing more acting of late, also gearing up for her turn as a hacker in Ocean's 8.
Rihanna has played her fair share of killers before. She's offed men in her videos for "B**** Better Have My Money," "Needed Me," and "Man Down." We suppose it's only fair she play a victim for once, though, given the show's tendency towards twist. And with their casting of Rihanna, you never know quite how the story will end.
Watch W's Most Popular Videos: