The Stories Behind the 2,000 Diamonds Rihanna Wore on W's September Cover
The Music Queen wore a legendary tiara that first dates back to 1902.
---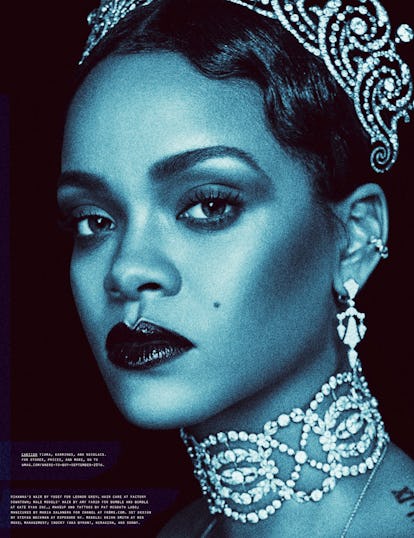 Photographs by Steven Klein, Styled by Edward Enninful
For her coronation as queen of the end of the world, Rihanna wore custom pieces by Jonathan Anderson of Loewe, Proenza Schouler, and John Galliano at Maison Margiela. To top it off, Rihanna also wore a diamond tiara and choker, both from the historic Cartier Collection, which contains 1,600 pieces from the 1860s through the 1990s that Cartier has purchased at auction. Many of these rare, one-of-a-kind pieces have traveled to museums including the Petit Palais in Paris, the British Museum in London, the Kremlin Museum in Moscow, the Palace Museum inside the Forbidden City in Beijing, and the Metropolitan Museum of Art in New York.
The Cartier tiara (below) that Rihanna wore on the cover of W contains 1,048 diamonds and dates back to 1902. It was initially designed and commissioned for the Countess of Essex. In 1953, Clementine Churchill, the wife of former Prime Minister Winston Churchill, wore the spectacular piece to the coronation of Queen Elizabeth II.
The choker (below), which Rihanna also wore on W's September cover, was first commissioned in 1906 by Mary Scott Townsend, a woman in high society in Washington in the early 20th century. The Cartier Collection bought back the piece in 1991 at a Sotheby's auction. But this isn't the last time you'll see this remarkable piece–in 2018, it will be on exhibition at the National Gallery of Australia in Canberra.
See all the photos from Rihanna's W magazine cover shoot here:
Rihanna: Baddest Bitch of the Post-Apocalypse in W's September Cover
Cartier tiara, earrings, and necklace; Rihanna's own cuff earring and chain necklace (throughout). Hair by Yusef for Leonor Greyl Hair Care at Factory Downtown; makeup and tattoos by Pat McGrath Labs; manicures by Maria Salandra for Chanel at Fr8me.com. Set design by Stefan Beckman at Exposure NY.

Photographs by Steven Klein, Styled by Edward Enninful
Rihanna wears a Gareth Pugh coat and headpiece; Bordelle bra, harness, and briefs; Mugler Archive arm piece; Lynn Ban rings (right hand, throughout); Manolo Blahnik boots. On models, from left (throughout): Craig Green trousers; Chrishabana mouthpiece; Patrick Ian Hartley collar; Una Burke Leather arm brace. Hood by Air pants; Ben-Amun by Isaac Manevitz necklaces; model's own sunglasses and ring. Hood by Air shorts; Falconiere mask; (from top) Jennifer Fisher necklace, Chrome Hearts necklace; Rob Goodwin shoulder harness; Una Burke Leather arm brace. Rothco boots (on all models).

Photographs by Steven Klein, Styled by Edward Enninful
Maison Margiela Haute Couture created by John Galliano especially for Rihanna cape; Jennifer Fisher earrings; Rachel Freire neck piece; Fannie Schiavoni bustier; Prada belt, Key chains, agenda, and boots; (left hand) Fallon rings; her own harness.

Photographs by Steven Klein, Styled by Edward Enninful
Loewe dress, corset, and cuffs (left wrist); Jennifer Fisher earrings; Jennifer Fisher x Net-A-Porter choker; (right wrist, from top) Nina Runsdorf bracelet, Loewe cuffs; (left hand) Jovana Djuric rings; Christopher Kane mesh sack.

Photographs by Steven Klein, Styled by Edward Enninful
Prada jacket, corsets, belt, key chains, keys, charms, agenda, tights, backpack, bag, furs, and boots; Cartier necklace; Jennifer Fisher hoop earring (worn as belt charm, top right); Jovana Djuric pendant necklace (worn as belt charm, bottom, middle). Beauty note: Make a bold statement with givenchy Le rouge lipstick in heroic red.

Photographs by Steven Klein, Styled by Edward Enninful
Fenty Puma by Rihanna jacket, corset, and pants; Cartier necklace; Maison Margiela boots. On model, left: Hood by Air pants; General Eyewear goggles; Alexander Wang belt (around neck); Lost Art necklaces (on arm); Rachel Freire belt; models's own earrings.

Photographs by Steven Klein, Styled by Edward Enninful
Hood by Air Atelier dress; E.L.F Zhou London bodysuit; Jennifer Fisher body chain; (left hand) Chrishabana rings; David Samuel Menkes Custom Leatherwear vintage boots.

Photographs by Steven Klein, Styled by Edward Enninful
Dior peacoat and sunglasses; Marina Hoermanseder body piece; Prada backpack, bag (attached to backpack), furs, agenda, belt, key chains, keys, and charms; Vetements boots. On Model, left: Lauren Klassen necklace (worn as bracelet).

Photographs by Steven Klein, Styled by Edward Enninful
Rihanna wears Proenza Schouler dress; Jennifer Fisher earrings; Manuel Albarran face plate, bra, and leg pieces; Lynn Ban finger rings. On model: Hood by Air shorts; Falconiere mask; (from top) Jennifer Fishernecklace, Chrome Hearts necklace; Una Burke Leather arm brace; Rothko boots.

Producers: Anastasia Suchkov and Marcus Ward for North Six Productions; Digital Technician: Tadaaki Shibuya; Photography Assistants: Alex Lockett, Mark Luckasavage, Austin Kennedy, Tim Shin, Willy Ward, Adam Kaniowski; Fashion Assistants: Ryann Foulke, Dena Giannini; Hair Assistant: Naphia White; Set Design Assistants: Michael O'Connor, Yoni Zonszein, Nick Kozmin, Jamen Whitelock; Production Assistants: Manuel Somoza, Ryan Blythe, Stephen Hutchinson; special thanks to pier 59 studios

Photographs by Steven Klein, Styled by Edward Enninful
Cartier tiara, earrings, and necklace.

Rihanna's hair by Yusef for Leonor Greyl Hair Care at Factory Downtown; male models' hair by Amy Farid for Bumble and bumble at Kate Ryan Inc.; makeup and tattoos by Pat McGrath Labs; manicures by Maria Salandra for Chanel at Fr8me.com. Set design by Stefan Beckman at Exposure NY. Models: Deion Smith at Red model management; Chucky (aka Byron), Hirakish, and Sunny.

Photographs by Steven Klein, Styled by Edward Enninful
See the making of W's September issue here: