10 Rihanna Covers by Indie Rock Artists That Prove Her Influence Knows No Bounds
Everyone from Cat Power to Xiu Xiu wants Rihanna to "stay."
---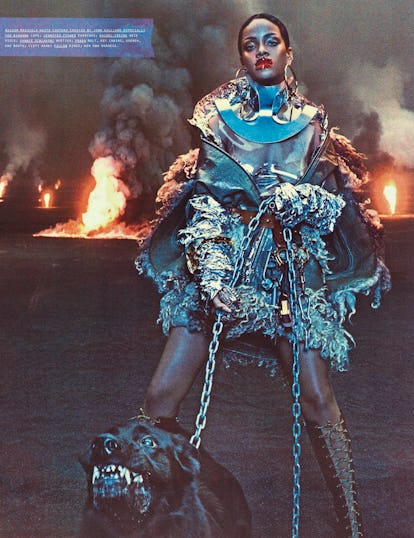 Photographs by Steven Klein, styled by Edward Enninful; W Magazine September 2016.
Rihanna's influence on culture truly knows no bounds. You can see it on the runways of major designers, at the box office and, increasingly, in your makeup cabinet. Her influence even shows up in places you might suspect. Rihanna is queen of Top 40 radio, so much so that she's the number one artist in the entire history of Billboard's Pop Songs chart, and, yet, she seems to have the power to continually inspire her fellow musicians more identified with college radio.
This week, Cat Power, high empress of indie rock and, not to mention, a former Chanel muse otherwise known as Chan Marshall, released a haunting cover of Rihanna's "Stay" as the second single from her upcoming 10th studio album Wanderer. With two acclaimed covers albums under her belt, Marshall is no stranger to putting her own spin on other artists' songs, though she usually prefers to tackle the output of previous generations, like The Velvet Underground or James Brown. Her spin on Rihanna confirms what probably most of us knew—that Rih's discography is destined for similar timeless appeal. Though, Marshall is far from the first indie rock heavyweight to tackle a Rihanna record. Here, 10 times the hipster set revealed themselves as members of The Navy.
1. "Stay," Cat Power
In an interview with The New York Times, Marshall says her decision to cover the song as a single stems from a breakup and a night of karaoke. "An old lover, he was picking me up and he opened the door and that song was on the radio," she recalled. "He said, 'Oh, there's my girl,' and I thought he was talking about me, you know? Then the song ended and he turned off the radio, and I realized he was talking about Rihanna." Years later, she heard the song on the radio in another taxi cab, cried the entire ride, and then decided to sing it 16 times at a karaoke bar that night. Now also seems like a perfect time to mention that, yes, the first single from Cat Power's new album was indeed a duet with Lana Del Rey.
2. "Diamonds," Jessie Ware
The British's singer own R&B-tinged bops aren't that dissimilar from some of Rihanna's work, so covering "Diamonds" in BBC's Live Lounge was a nice choice.
3. "Only Girl in the World," Xiu Xiu
When Xiu Xiu first appeared on the scene in 2002, critics couldn't describe them as anything other than "avant garde." Though, in the years since, Jamie Stewart, the band's only consistent member, has become increasingly interested in the structure of pop songwriting (while still keeping intact the group's more outre production and instrumentation). So this b-side cover of Rihanna's EDM anthem is evidence of both Rihanna's universal appeal and Xiu Xiu's own central creative paradox. It will also probably creep the hell out of you.
4. "Stay," Low
This is not the first cover of "Stay" on this list, nor will it be the last. Something about this particular song really resonated with other artists, including Low, a band that never quite broke through to mainstream consciousness like some of their peers, but who have been a steady if not format-defining presence on college radio since the early 90's. The band officially released their cover in 2013, with proceeds going towards charity.
5. "Take Care," Florence and the Machine
Here's a wild ride. "Take Care" heavily samples a remix of a Gil-Scott Heron song by Jamie XX, of the English indie pop group The XX, so it's a natural fit for Florence, another English indie mainstay, to tackle. For good measure, Rihanna herself returned the favor by covering Florence's "Only If For a Night."
6. "Consideration," St. Vincent
Even the queen of guitar can't resist covering a Rihanna bop.
7. "Umbrella," Manic Street Preachers
You'd really think there's be more "Umbrella" covers on this list, but we guess indie artists are not going to go for the most obvious choice when picking their Rihanna covers. Still, these English rock favorites aren't afraid of going too pop. They once famously collaborated with Kylie Minogue.
8. "Stay," CHVRCHES
Yep, another "Stay" cover, this one recently recorded by the Scottish electro-pop band for Spotify.
9. "What's My Name," Everything Everything
The English band's choice is a little out of left field, sure, but Rihanna's inspiration strikes in surprising ways.
10. "Diamonds," Zola Jesus
Even Seattle-based neo-Goth icons have a soft spot for Rihanna.
Go Inside Rihanna's Fourth Annual Diamond Ball, With Childish Gambino, Issa Rae, and the Bad Gal Herself
Rihanna at her fourth annual Diamond Ball benefitting the Clara Lionel Foundation at Cipriani Wall Street on September 13, 2018, in New York City. Photo courtesy of Getty Images.

Kevin Mazur
Childish Gambino/Donald Glover and the actress Issa Rae attend Rihanna's fourth Annual Diamond Ball at Cipriani Wall Street on September 13, 2018, in New York City. Photo courtesy of Getty Images.

ANGELA WEISS
A$AP Rocky attends Rihanna's fourth Annual Diamond Ball benefitting the Clara Lionel Foundation at Cipriani Wall Street on September 13, 2018, in New York City. Photo courtesy of Getty Images.

Dimitrios Kambouris
Rihanna attends her fourth annual Diamond Ball benefitting the Clara Lionel Foundation at Cipriani Wall Street on September 13, 2018, in New York City. Photo courtesy of Getty Images.

Kevin Mazur
Joan Smalls attends Rihanna's fourth annual Diamond Ball benefitting the Clara Lionel Foundation at Cipriani Wall Street on September 13, 2018, in New York City. Photo courtesy of Getty Images.

Dimitrios Kambouris
Paris Hilton attends Rihanna's fourth annual Diamond Ball benefitting the Clara Lionel Foundation at Cipriani Wall Street on September 13, 2018, in New York City. Photo courtesy of Getty Images.

Kevin Mazur
Issa Rae speaks onstage during Rihanna's fourth annual Diamond Ball benefitting the Clara Lionel Foundation at Cipriani Wall Street on September 13, 2018, in New York City. Photo courtesy of Getty Images.

Dimitrios Kambouris
The artist Sasha Velour attends Rihanna's fourth annual Diamond Ball benefitting the Clara Lionel Foundation at Cipriani Wall Street on September 13, 2018, in New York City. Photo courtesy of Getty Images.

ANGELA WEISS
Candice Swanepoel attends Rihanna's fourth annual Diamond Ball benefitting the Clara Lionel Foundation at Cipriani Wall Street on September 13, 2018, in New York City. Photo courtesy of Getty Images.

Kevin Mazur
Tiffany Haddish attends Rihanna's fourth annual Diamond Ball benefitting the Clara Lionel Foundation at Cipriani Wall Street on September 13, 2018, in New York City. Photo courtesy of Getty Images.

Kevin Mazur
Rihanna watches Childish Gambino perform during her fourth annual Diamond Ball benefitting the Clara Lionel Foundation at Cipriani Wall Street on September 13, 2018, in New York City. Photo courtesy of Getty Images.

Kevin Mazur
Childish Gambino performs onstage during Rihanna's fourth annual Diamond Ball benefitting the Clara Lionel Foundation at Cipriani Wall Street on September 13, 2018, in New York City. Photo courtesy of Getty Images.

Kevin Mazur
Teyana Taylor attends the 2018 Diamond Ball at Cipriani Wall Street on September 13, 2018, in New York City. Photo courtesy of Getty Images.

Taylor Hill
Seth Meyers speaks onstage during Rihanna's fourth annual Diamond Ball benefitting the Clara Lionel Foundation at Cipriani Wall Street on September 13, 2018, in New York City. Photo courtesy of Getty Images.

Kevin Mazur
Ellen von Unwerth attends the 2018 Diamond Ball at Cipriani Wall Street on September 13, 2018, in New York City. Photo courtesy of Getty Images.

Taylor Hill
Justine Skye attends the 2018 Diamond Ball at Cipriani Wall Street on September 13, 2018, in New York City. Photo courtesy of Getty Images.

Taylor Hill
Keyshia Ka'Oir and Gucci Mane attend the 2018 Diamond Ball at Cipriani Wall Street on September 13, 2018, in New York City. Photo courtesy of Getty Images.

Taylor Hill
Melii attends the 2018 Diamond Ball at Cipriani Wall Street on September 13, 2018, in New York City. Photo courtesy of Getty Images.

Taylor Hill
Rihanna speaks onstage during her fourth annual Diamond Ball benefitting the Clara Lionel Foundation at Cipriani Wall Street on September 13, 2018, in New York City. Photo courtesy of Getty Images.

Kevin Mazur