What Should We Expect From Rihanna's $25 Million Documentary?
It's not #R9, but it's still mysterious.
---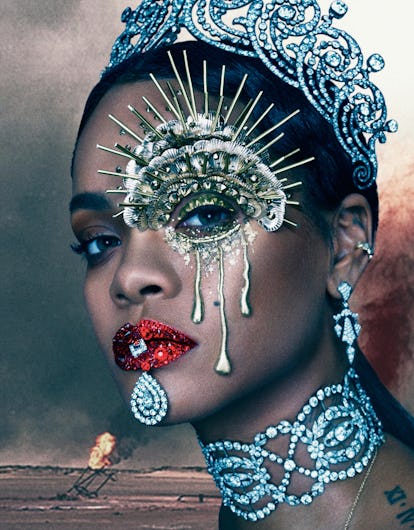 STEVEN KLEIN
Rihanna fans have anticipated the arrival of the singer's near-mythical ninth album so loudly that perhaps another major upcoming Rihanna project has been overshadowed: her documentary debut. Late last year, the singer sold the film for $25 million to Amazon, though we've heard very little about it since.
Pop musicians producing their own documentaries has become standard practice over the past few years. They've practically replaced the primetime sit-down interview with Diane Sawyer or Barbara Walters as a star's chance to show the public an intimate, "real" side. Of course, the fact that the stars themselves have so much control over the productions tends to render their status as actual documentaries questionable (see: Taylor Swift's recent Ms. Americana). Sometimes it's even called into question whether the films are actual enjoyable entertainment, for that matter.
Even if these docs tend to be exercises in brand management, what Rihanna chooses to share is usually worth our time (whether that be music, or off-the-cuff Twitter shade). So, what do we know about the film?
Well, for one thing it's reportedly (thought not officially) titled, simply, Rihanna: Volume 1. Which, of course, implies plans for future installments.
The film also reunited Rihanna with her Battleship director Peter Berg. While Berg is better known for big-budget action flicks (often starring Mark Wahlberg), he has some documentary experience, including an executive producer credit on the Serena Williams documentary Serena.
In fact, Berg first discussed the project back in 2017, when he revealed he had spent a summer tagging along with Rihanna through Europe.
"I'm finishing that now," Berg told The Hollywood Reporter at the time. "We've got about a thousand hours of footage. That was a fun change of pace. After Lone Survivor and Deepwater and Patriots Day, where all these men run around with guns, [I] travel with Rihanna around Europe, and Rihanna is surrounded by girls. We were in Nice, [France]. She was going to do a concert on Bastille Day. And that truck driver who killed all those people plowed through them right in front of our hotel. So even in me trying to do something light, I had a very, very front-row seat to something horrific."
Brushes with tragedy aside, that makes the film sound like it may merely cover a leg of Rihanna's European tour.
Recent developments suggest that the film may take a more expansive look at Rihanna's life and career. Billboard reported at the time of the Amazon deal, that the film "offers private insights into Rihanna's personality, sense of humor, work ethic, family, and love."
Now that Vulture released an oral history of Rihanna's debut hit "Pon De Replay" the suggestion that the documentary may stretch back to the very beginning of her career has been floated.
"There's actual footage of us signing the contract that's going to be in this upcoming documentary that Rihanna's releasing on Amazon Prime," Evan Rogers, co-producer of the song, says in the article.
Which not only suggests an expansive view of Rihanna's life, but that the film is in a state where people in her inner circle know what's in it, and have possibly seen it. Unfortunately, its release date remains as mysterious as that of #R9's.