Rihanna Is the Latest Musician to Ask That Her Songs Not Be Played at "Tragic" Trump Rallies
Please do stop the music.
---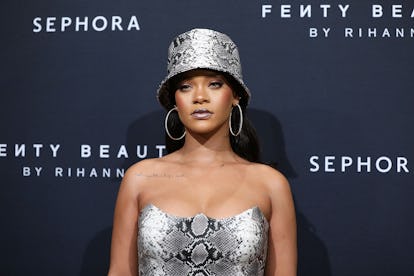 Caroline McCredie/Getty Images
Donald Trump can most certainly not stand under Rihanna's umbrella. On Sunday, after the singer found out that her music had been played at one of Trump's recent rallies in Tennessee, she vowed to do everything in her power to ensure that never happens again, joining an ever-growing list of musicians who have requested, to varying degrees of success, that they and their songs not be associated with the president.
According to The Washington Post, ahead of Trump's appearance at the University of Tennessee at Chattanooga on Sunday, Rihanna's "Don't Stop the Music" played over the speakers in the school's McKenzie Arena. When the Grammy winner learned, via a Post reporter's tweet, that her song was being used to hype up the POTUS's crowd, she responded, "Not for much longer…me nor my people would ever be at or around one of those tragic rallies, so thanks for the heads up philip!"
Rihanna's dismissal came only a few hours after she'd endorsed the opponent of Trump's pick for governor of Florida. On Instagram, she shared a photo of a protest sign reading, "Grab em by the midterms," and encouraged voters in the Sunshine State to elect the Tallahassee mayor Andrew Gillum for governor. "The US has only had four black Governors in its entire history, and we can help make #AndrewGillum the next one and Florida's first! If you're tired of feeling like you don't matter in the political process, know the most important thing you can do in supporting a candidate is finding someone who will take on critical issues such as: making minimum wage a livable wage, paying teachers what their worth, ensuring criminal justice reform, making healthcare a right, and repealing Stand Your Ground," she wrote.
Earlier on Sunday, Axl Rose expressed his own disapproval of Trump's continued co-opting of Guns N' Roses songs, despite the band's having asked him to stop. "GNR like a lot of artists opposed to the unauthorized use of their music at political events has formally requested r music not b used at Trump rallies or Trump associated events," Rose tweeted. "Unfortunately the Trump campaign is using loopholes in the various venues' blanket performance licenses which were not intended for such craven political purposes, without the songwriters' consent. Can u say 'shitbags?!'" He added, "Personally I kinda liked the irony of Trump supporters listening to a bunch of anti Trump music at his rallies but I don't imagine a lot of 'em really get that or care."
Per the Post, it's true that, unlike when a song is used in a film, TV show, or advertisement, for a song to be played at a rally or other event in an arena or similar venue, permission need only be obtained from the song's copyright holder—typically one of a handful of performance rights organizations—rather than from the artist. The two largest performance rights orgs, ASCAP and BMI, do both have provisions in place to protect musicians who don't want their music used in certain political settings; artists like Adele, Neil Young, Aerosmith, Queen, and, as of last week, Pharrell have reportedly issued cease-and-desist letters asking the Trump administration not to use their music. That said, since those provisions have yet to actually be tested in court, it's up to politicians to decide whether they want to respect musicians' wishes—or if Trump would prefer to be a "Rude Boy" and continue using Rihanna's music until she takes more substantial legal action.
Related: Rihanna