THE ONES THAT LOOK LIKE SOCKS
Rihanna Endorses Balenciaga's Divisive Toe Shoes
She's one of the first to dip her toes into the waters of individually showcased digits.
---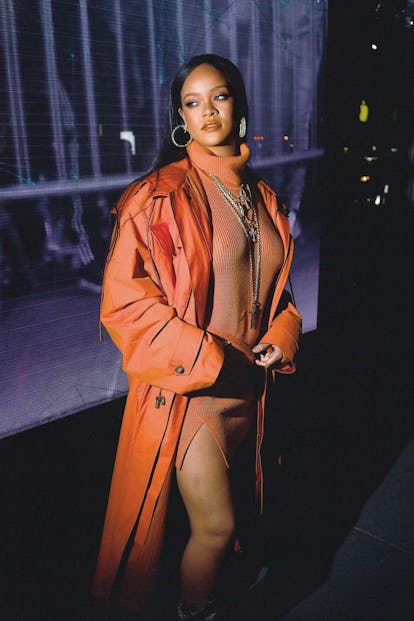 Photo by Robert Kamau/GC Images/Getty Images
Earlier this month, Matthew Williams boldly made his debut as Givenchy's creative director with a runway show featuring "three-toed" shoes. While actually a high-fashion reference, harking back to the house's history with Alexander McQueen, the footwear was rather divisive; paired with brown socks, the straps dividing models' digits into three distinct segments made their wearers' feet resemble the paws of one Scooby Doo.
But compared to the other contender for 2020's most divisive shoe, Williams actually toned it down a notch. Back before the pandemic really took hold, Demna Gvasalia made an even bigger statement by showcasing individual toes at Balenciaga's fall 2020 show. The shoes, which have a foam insole that apparently "hugs the foot like a high-tech glove," were a collaboration with Vibram—a riff on the footwear brand's signature "FiveFingers" design, meant to ease walking and climbing with a tactile grip. The Balenciaga versions are markedly less practical; Gvasalia transformed them into heels.
Nine months later, the Balenciagas are finally starting to make waves. While unmissable in the daylight, the shoes were largely obscured by the water that sloshed around its fall 2020 runway earlier this year. Now, they're available for purchase, meaning e-commerce platforms have clearly photographed them in their full divisive glory. The response is still mixed, to say the least, but Balenciaga Toes have still managed to land fashion's most covetable endorsement: Rihanna has worn the $1,290 heel version at least twice in a little over a week.
It took Rihanna to prove it, but the shoes are surprisingly versatile. According to her best friend Melissa Forde's Instagram, she's so far worn them tucked under a pair of Vetements track pants, as well as with an anklet and bare legs.
If you aren't ready to jump on the toe train just yet, consider the alternative: Forde's slightly tamer choice of Balenciaga socks, showcased above. In Cardi B's case, anyway, they've done wonders. Her "I like those Balenciagas / the ones that look like socks" lyric landed her a Balenciaga campaign.
Related: Rihanna Has Secretly Been Living Part-Time in Mexico