Rihanna and Fenty x Puma Are Heading Back to Paris
The City of Lights better brace itself for another season to be usurped by the athluxury queen. Plus, Super Bowl aftermath and a Kylie Cosmetics pop-up.
---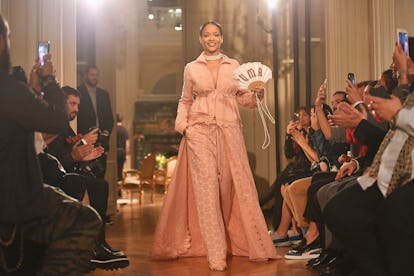 Getty Images for Fenty x Puma
Bündchen, Gisele We considered it our civic duty to compile a history of the supermodel's relationship to the sidelines of football history — and to her husband, Tom Brady. She's long played the role of supportive football wife; today, with the Patriots' victory, she's probably adding "triumphant" to that title.
Harris, Naomie In Moonlight, British actress Harris plays Paula, the crack-addicted mother of a young boy named Chiron growing up in the projects of Miami. It's a role that earned her a Best Supporting Actress nod at this year's Oscars — and though she predicts it's Viola's year, that doesn't mean she won't be writing a speech.
Jenner, Kylie The youngest Jenner wouldn't be one to be left out of the pop-up trend, while it lasts: Kylie Cosmetics is coming to a Mercer St. storefront near you the day before Valentine's Day. Weren't we just saying the holiday is prime time to gift yourself a new red lip?
Kehlani With her new album SweetSexySavage, the pop-R&B star is embracing a brand new self. Bella Hadid is on board.
McCarthy, Melissa While the Super Bowl might now be the talk of the office, it was Melissa McCarthy's turn as Sean Spicer on Saturday Night Live, hosted by Kristen Stewart, that captivated Twitter and your mom alike this weekend. McCarthy makes an uncannily on-point Spicer.
Meirens, Jenny Where there was Martin Margiela, there was also Jenny Meirens. The designer's business partner nearly from the outset, Meirens helped forge the unmistakable blank Margiela tag, sold a pair of his shoes to none other than Rei Kawakubo, and directed him towards Hermès, where he was creative director for six years. Plus, they were the original street-casters.
Rashad, Condola Billions is back. After a series of stage roles, actress Condola Rashad returns to the small screen — and the big screen, while still juggling the theater. It promises to be a busy year.
Rihanna Heading back to Paris for the second straight season to show her Marie Antoinette lifestyle brand Fenty x Puma. Venue still TBD.
Stranger Things Coming back for a second season. Spoiler alert: If season one was strange, this one is… stranger.
See W's most popular videos: