Rihanna Goes Platinum Blonde, Internet Loses Its Mind
In Rihanna news, the singer debuted a new platinum blonde look that had fans rejoicing in the return of Blondanna.
---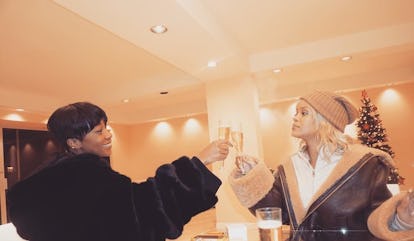 mdollas11/Instagram
Forget dreaming of a white Christmas, this year Rihanna is dreaming of a platinum one. That's because the 28-year-old seems to have shed her dark, long locks for a shorter, brighter look just in time for the holiday season.
Fans got their first peek at the new style on Saturday when the entertainer's friend, Leandra Goodrich, posted a video on Instagram of the two attempting the "Juju on Dat Beat" challenge. Though the singer's devotees undoubtedly loved seeing the pair playfully try their best to hit all the right steps, it was Rihanna's shoulder-length platinum tresses peaking out from under a beige beanie that caused an online frenzy, with many rejoicing at the return of "Blondanna."
Later, Rihanna's other friend and personal photographer, Melissa Forde, gave members of the Rihanna Navy a closer look when she posted a photo of the two of them toasting with glasses of champagne, captioning the photo "Blessed&Thankful #4evaaevaaa" with Rihanna's new hair clearly visible from the side.
Though Rihanna's "Juju on Dat Beat" challenge attempt left something to be desired, the hairdo underscores Rihanna's knack for chameleon-like transformations. And whether she's rocking sexy long locks or a more vibrant cut and color, one thing that's certain is that she will never not inspire hair envy.