Rihanna, Musician and All-Around Icon, Is Having Her Humanitarian Moment
Plus, drama out of Paris, Donald Trump's first address to Congress, and a new ABC miniseries that's the antidote to a Trump presidency.
---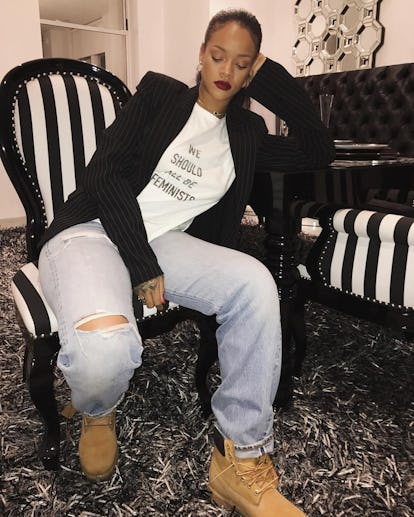 @badgalriri
Balenciaga Cut ties with casting directors Maida Gregori Boina and Rami Fernandes after casting director James Scully alleged in an Instagram post that the duo, while casting for the Balenciaga show, had left models waiting in a dark stairwell for three hours.
Majors, Jonathan At 27, Yale School of Drama graduate Jonathan Majors is just getting started. His first challenge? The Dustin Lance Black-Gus Van Sant miniseries When We Rise, which chronicles the rise of the gay rights movement from 1970s San Francisco to the historic Supreme Court decision striking down the Defense of Marriage Act.
Museum of Art, Metropolitan Soon to be without an art director and chief executive; current director Thomas Campbell announced Tuesday he would step down at the end of June, amid a rising deficit at the Met and in spite of its record attendance rates and significant acquisitions under his guidance.
Rihanna In 2012, Rihanna founded the Clara Lionel Foundation, an organization that supports education and healthcare initiatives in underserved communities around the world. Now, Harvard has named her Humanitarian of the Year. And some of the proceeds from Maria Grazia Chiuri's Spring 2017 "We Should All Be Feminists" t-shirts will go to the Clara Lionel Foundation. Rihanna, samaritan, is having a moment.
Stenberg, Amandla Back on the big screen once more. On the occasion of the premiere of As You Are, Stenberg reflects on taking projects with impact — and also, being 18 and wanting to have a little fun while she's at it.
Trump, Donald Delivered his first joint address to Congress Tuesday evening. The full, annotated transcript is here.
Van Noten, Dries The old-school Belgian designer is still independent, after all these years, operating at a slight remove from the rest of the industry. (It helps that he's still based in Antwerp, rather than any of the major fashion capitals.) Also, he thinks fashion is done and everyone can look fantastic in H&M.
Vanderperre, Willy Legendary fashion photographer, go-to for Raf Simons at Calvin Klein (Vanderperre shot the men of Moonlight for the brand's newest campaign), zine-writer. His latest effort, /12, features longtime muses like Julia Nobis and Clément Chabernaud.