Rihanna Live-Streamed Her Reaction to Her Bates Motel Debut
Rihanna live-streamed herself watching her TV debut and invented a drinking game along the way.
---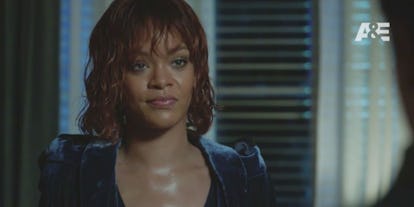 A&E
Rihanna made her debut on Bates Motel Monday night as Marion Crane, she of the most infamously unappealing cinematic shower scene this side of frigid water. It's still early days for Rihanna's arc—the A&E series is taking its time, and Marion hasn't even checked in the titular poor man's Airbnb yet—but Rihanna wasn't going to let her debut go by without some commentary.
The accomplished singer who is still relatively new to the whole acting thing marked her Bates Motel introduction with an Instagram Live video of her watching herself on the show.
Thanks to some kind souls on the interwebs, the whole experience is now on YouTube, and it is charming above all else. The star clearly starts out nervous about seeing the final product, repeating demurring, "This is so weird" and "I can't," two very reasonable reactions to watching yourself make out onscreen. But she soon visibly loosens up, thanks to the implementation of a handy drinking game: drink any time someone says "Norman." If you've ever seen Bates Motel before, well, you know that Rihanna's liver very much appreciates your prayers and well-wishes.
Bates Motel marks Rihanna's first major acting project to come to fruition, and her new beginning arrives just as the show is nearing its end; the series is in the middle of its fifth and final season. The show cast Rihanna in Janet Leigh's famous part after Rihanna told Vanity Fair that Bates Motel is her favorite show on television. (No offense to Bates Motel or Rihanna's taste here, but the Rihanna watching Rihanna on Bates Motel show is now a clear rival.)
It's unclear exactly how long Rihanna's stay will last, with producers only initially describing her stint as a multi-episode arc. Here's hoping she continues to live stream the rest of her appearances.
"Women's Rights Are Human Rights": 62 Fashion Insiders Speak Out in a Powerful Video for International Women's Day: