Has the Rihanna-Lupita Nyong'o Film Gone from Twitter Meme to Actual Possibility?
What started as a Twitter joke has caught the attention of Ava Duvernay and Issa Rae. Plus, Dior changes hands—for a cool $13 billion.
---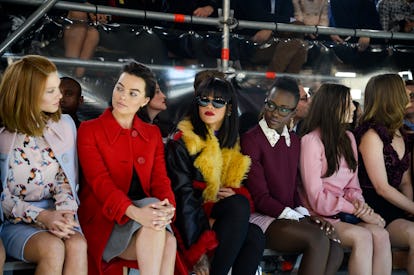 Pascal Le Segretain/Getty Images
Dior, Christian
The couture and ready-to-wear house currently helmed by Maria Grazia Chiuri and owned by the Arnault family is about to be acquired by LVMH. Fashion's game of musical chairs just raised the stakes—by $13 billion, to be precise.
Grant, Chuck
Photographer and sister of one Lana Del Rey. Who, incidentally, she also sometimes photographs.
Knowles, Solange
On style icons, music, and museums, in conversation with the Metropolitan Museum of Art's Kimberly Drew, also the curator of the Tumblr Black Contemporary Art.
Lynch, David
Has an eye for complex female protagonists (or antagonists, ranging from Mulholland Drive to Blue Velvet. On the occasion of Twin Peaks's return to the small screen, four of Lynch's go-to collaborators—Laura Dern, Patricia Arquette, Hailey Gates, and Naomi Watts—open up about their work with the famed director, and maybe even tease the upcoming Twin Peaks revival.
Miller, Mac
Try as he might to be a bit more guarded, the rapper—and now singer—is just as candid as ever. Here, he discusses his new music, his favorite show ever (Coachella, of course), and his relationship with Ariana Grande.
Nyong'o, Lupita; Rihanna
What started as a Twitter meme is looking more and more like a viable screen project. What do you get when you put Lupita Nyong'o, Rihanna, Ava Duvernay, and Issa Rae in a room together? We're guessing only good things.
Rodarte; Schouler, Proenza
Both American brands, both announced they were moving their operations to Paris Fashion Week next season. The French seem to have welcomed them openly: Both labels will be guest members of Couture Week this summer, as determined by the notoriously closed ranks of the Chambre Syndicale de la Haute Couture.
Williams, Pharrell
The musician and Chanel muse is the latest face of the Gabrielle bag to get his own campaign video. In the clip, Pharrell enters an empty concert hall and starts to bound over roadie cases, scaffolding, and speaker sets, turning the room into his own personal balancing act. Naturally, there's a Gabrielle Chanel bag slung over his shoulder.
Inside Chanel's Gabrielle Bag Dinner with Katy Perry, Pharrell, and More
Bella Heathcote, Phoebe Tonkin, and Lily Collins, wearing Chanel, at a dinner in celebration of Chanel's Gabrielle Bag.

Billy Farrell/BFA.com
Caroline de Maigret and Pharrell Williams, both wearing Chanel, at a dinner in celebration of Chanel's Gabrielle Bag.

John Salangsang/BFA.com
Katy Perry, wearing Chanel, at a dinner in celebration of Chanel's Gabrielle Bag.

Billy Farrell/BFA.com
Langley Fox Hemingway and Dree Hemingway, both wearing Chanel, at a dinner in celebration of Chanel's Gabrielle Bag.

Billy Farrell/BFA.com
Margaret and Rainey Qualley, both wearing Chanel, at a dinner in celebration of Chanel's Gabrielle Bag.

Billy Farrell/BFA.com
Kenya Kinski-Jones, wearing Chanel, and Sistine Stallone at a dinner in celebration of Chanel's Gabrielle Bag.

Billy Farrell/BFA.com
Kiernan Shipka, wearing Chanel, at a dinner in celebration of Chanel's Gabrielle Bag.

John Salangsang/BFA.com
Ana de Armas, wearing Chanel, at a dinner in celebration of Chanel's Gabrielle Bag.

John Salangsang/BFA.com
Lily Collins, wearing Chanel, at a dinner in celebration of Chanel's Gabrielle Bag.

John Salangsang/BFA.com
Teresa Palmer, wearing Chanel, at a dinner in celebration of Chanel's Gabrielle Bag.

John Salangsang/BFA.com
Amber Valletta, wearing Chanel, at a dinner in celebration of Chanel's Gabrielle Bag.

John Salangsang/BFA.com
Margaret Qualley, wearing Chanel, at a dinner in celebration of Chanel's Gabrielle Bag.

Billy Farrell/BFA.com
Poppy Delevingne, wearing Chanel, at a dinner in celebration of Chanel's Gabrielle Bag.

Billy Farrell/BFA.com
Pharrell Williams, wearing Chanel, at a dinner in celebration of Chanel's Gabrielle Bag.

Billy Farrell/BFA.com
Ana de Armas, wearing Chanel, at a dinner in celebration of Chanel's Gabrielle Bag.

Billy Farrell/BFA.com
Bella Heathcote, Phoebe Tonkin, and Lily Collins at a dinner in celebration of Chanel's Gabrielle Bag.

Billy Farrell/BFA.com
Pharrell Williams and Katy Perry, both wearing Chanel, at a dinner in celebration of Chanel's Gabrielle Bag.

Billy Farrell/BFA.com
Amber Valletta and Caroline de Maigret at a dinner in celebration of Chanel's Gabrielle Bag.

Billy Farrell/BFA.com