Rihanna, Virgil Abloh, and Tory Burch Want What's Best For The Youth
Three designers make school their priority, while two Andersons start new projects on stage and screen.
---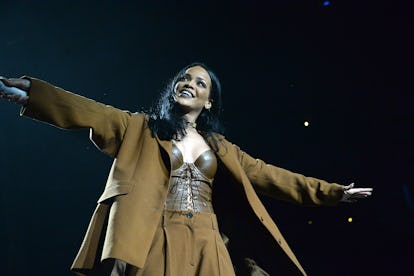 Anderson, Gillian X-Files and Hannibal actress — no relation to Anderson, Pamela — fulfilling a Blanche Dubois-shaped dream.
Anderson, Pamela Former Baywatch star, 14-time Playboy cover girl, unlikely muse of Vivienne Westwood and DSquared2, newly minted Serious Actress.
Bieber, Justin Not to be outpaced by Harry Styles, Bieber gets a little cosmetic upgrade. Tattoo artist Jonboy explains Biebs' new face tat.
Billion, $12.94 The combined income of the 25 best-paid hedge fund managers outpaces the GDP of some small countries, and this, amid a year of relative turbulence in the market.
Bourelly, Bibi Songwriter to Rihanna, Usher, and Selena Gomez breaks out on her own — and it's anything but "Bitch Better Have My Money."
Greenwald, Alex Former Phantom Planet frontman whose claim to fame is now that he's Brie Larson's fiancé.
Rihanna Helping kids pay for college with a new scholarship under the auspices of her Clara Lionel Foundation. Imagine putting that on your resume. (She's not the only one: Off-White's Virgil Abloh and Tory Burch have both started their own mentorship programs.)
Twins, Lejonhjärta Swedish social media stars who made it into Drake's Views, and then made their mark — literally — on the Toronto rapper.
Watch W's most popular videos here:
How to Get Rihanna's "Anti" Tour Look