A Curated Guide to Rio, Brazil's New Art Destination
Just in time for Rio 2016, the Brazilian city of fun and sun has suddenly transformed into a cultural destination. A curated tour, here.
---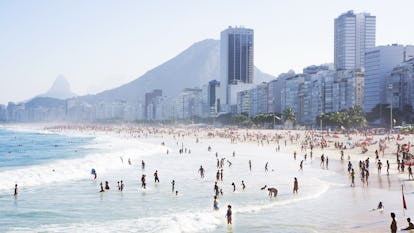 Massimo Vitali/Courtesy of Benrubi Gallery, New York.
Spurred by attention from the 2014 World Cup and upcoming summer Olympics, an influx of new museums and galleries to Rio de Janeiro may challenge help the sandy haven challenge São Paulo's long-established dominance of the art world in Brazil. Not to mention a series of starchitecture projects, like a swooping museum by Santiago Calavatra and a residential tower from the late Zaha Hadid. Zika notwithstanding, Rio is on the rise.
Praça Maua
No place is Rio's 450-year history and new look more readily observed than at its heart, in the Centro. Take the Praça Mauá, where the pier and surrounding plaza are now being hailed as the star of a new Rio. The Porto Maravilha project, still underway, has transformed Praça Mauá into a quadrant of austere angles, granite expanses, and aquamarine reflection pools. Revival is part of Rio's makeup: the plaza was also 100 years ago as a 20th century trade hub, after a history as a slave port. This ugly detail has been swept under the glittery language being used to describe the Porto Maravilha revitalization (literally, Marvelous Port), complete with a grandiose Santiago Calavatra-designed museum.
MAM-Rio
The Museu de Arte Moderno shows an international array of modern and contemporary art as well as hosting a permanent collection. The concrete architectural gem, steps away from the domestic airport, is a highlight of the famed Flamengo Park. Designed by Roberto Burle Marx and Lota de Macedo Soares, the park is a hub of activity in the city (albeit one that limns the now-infamous Guanabara Bay).
MAR
The Museu de Arte Do Rio, or MAR, opened in 2013 on the Praça Maua with a split architectural personality: half 1916 palatial mansion, half sleek modernism on stilts. In just a few years the museum has developed a solid program, with at least four major exhibitions on at any moment, such as a recent series on twentieth-century Brazilian photojournalists.
A Gentil Carioca The Centro resurgence has been building for years from the ground up. A Gentil Carioca, a top contemporary gallery in the city, was founded in 2003 by three prominent local artists. On view during the Olympics is a group show Alma: Acervo Gentil, featuring the work of Brazilian artists such as gallery cofounder Laura Lima and São Paulo Biennial participants José Bento and the Rio-based collective OPAVIVARÁ.
Nara Roesler
Paulistas took notice of Rio's potential as well. Major São Paulo player Galeria Nara Roesler invested in an Ipanema space blocks away from the beach in 2014. Director Daniel Roesler says they were attracted by the city's new spate of collectors, though the mood has obviously changed as the economic and political moment play out.
Studio-X Rio
Around the corner is the Columbia University-helmed Studio-X, which has mounted exhibitions and talks on architecture with help from the city for five years. Exhibitions tend to look at the realities of Rio, from photography show focusing on favelas raised to make way for Olympics-related development, or a recent survey of architectural interventions into Rio and Sao Paulo's squats.
Copacabana Boardwalk
Even Copacabana, haven of tiny bikinis and, in more recent decades, brothels, has become higher-minded. The offices for ArtRio, the city's premier art fair, are located there, in the penthouse of a complex dominated by swimsuit shops. Two starchitect projects are also underway on the main ocean drag, Avenida Atlantica. Zaha Hadid's residential tower, Casa Atlantica, will evoke a stack of blooming beach umbrellas. And when it is finished, Diller Scofidio+Renfo's Museu da Imagem e Som (MIS), or Museum of Image and Sound, will feature external sloping ramps with views of the boardwalk.